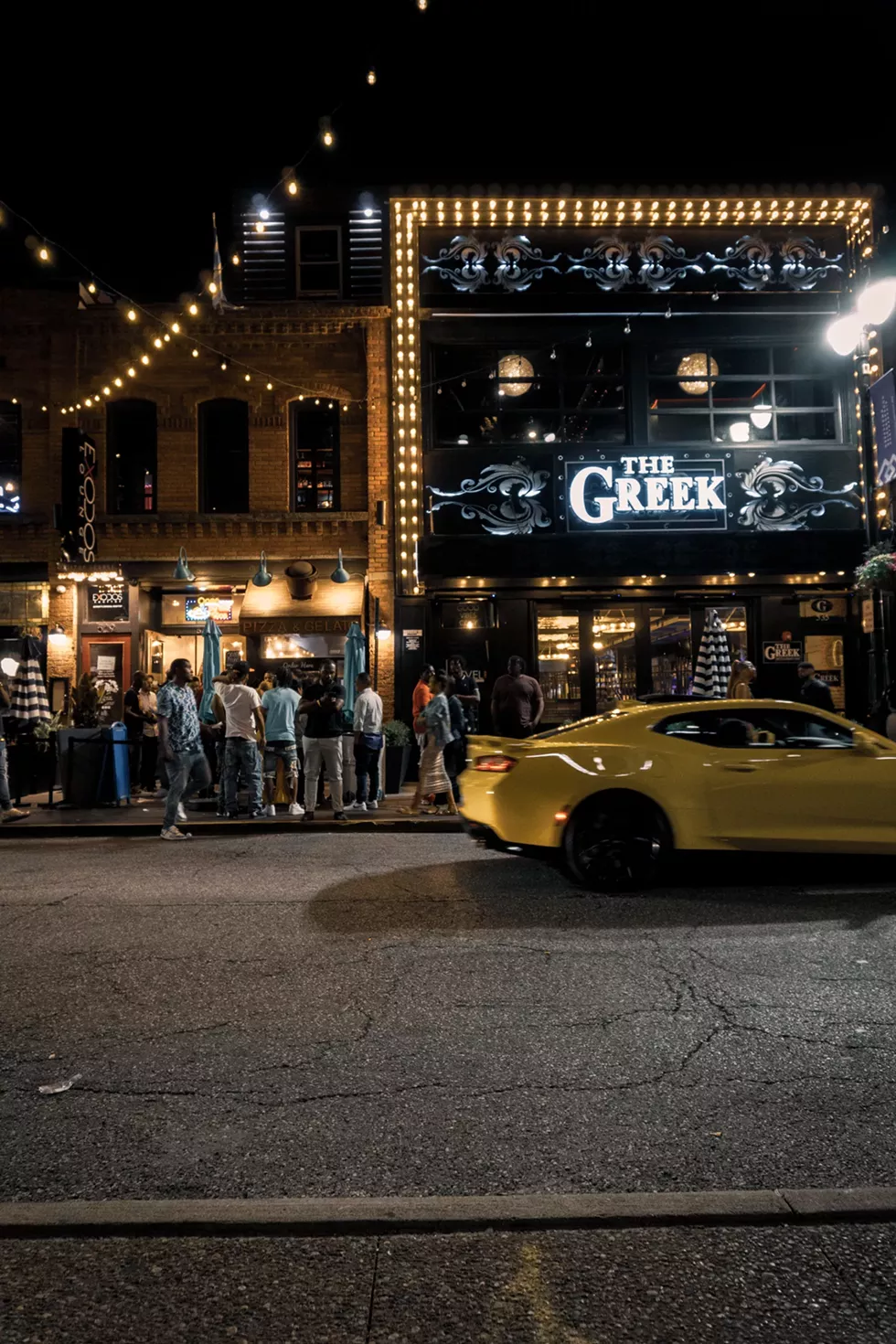 A changing neighborhood in a changing city
Greektown wasn't always the party scene it is today.
A nationally registered historic district at the eastern edge of downtown, the entirety of Greektown covers a block of commercial buildings between Gratiot and Lafayette. The neighborhood's name and cultural identity date back to the late 19th century, when newly arrived Greek immigrants to Detroit settled into the area, replacing what had once been a largely German immigrant enclave.
By the 1920s, Greektown had largely transformed from a residential immigrant ghetto to a commercial district. Many of its Greek residents had moved out by then, but Greek proprietors still owned and maintained a range of boutique businesses in the neighborhood, leaving a mix of Greek, Polish, Italian, Lebanese, Mexican, and Black residents to occupy what little residential space was available.
Decades later, in the 1960s, Greektown was reduced to a single block after several buildings were razed to make way for downtown parking and institutional buildings along the city's newly constructed I-75 and I-375 freeways.
Under the banner of "Urban Renewal," Detroit's freeway projects of the '50s and '60s reshaped its downtown landscape. The largely Black neighborhoods surrounding Greektown, like Black Bottom and Paradise Valley, were wiped from the map to make way for the new road system — intentionally displacing tens of thousands of the neighborhood's Black residents.
Paradise Valley had been a premier entertainment district downtown up to that point. Home to Black-owned nightclubs and venues, the area was known as both an economic and cultural center for Detroit's growing Black community in the 20th century. Paradise Valley clubs hosted many legendary jazz artists that attracted Black and white audiences alike. But after the events of the 1943 riots, as racial tensions rose in the city, mixed audiences became less common. Areas like Black Bottom, long-neglected by property owners who mostly resided outside the city, were labeled slums, and became the prime target of bulldozers during the push for urban renewal.
In the absence of Paradise Valley, Greektown would emerge as one of downtown Detroit's most revered dining and tourist destinations. This was helped along in 1965, when Greek business owners sought to preserve the area's cultural identity by holding the first of many Greek festivals there, a celebration that eventually outgrew the area and moved to Hart Plaza.
Two years later, the uprisings of 1967 would intensify demographic trends that Detroit's freeways and growing racial tension had already ignited, plunging Detroit into an era of white flight, disinvestment, population decline, deindustrialization, and financial instability.
Though Greektown's reputation as the go-to scene downtown was continuing to grow by the early '80s, not everyone was happy with the neighborhood's changing character. Once known for its quaint Greek cafes, Greektown was becoming more commercialized as the financially ailing city and its administrators tried to find new ways to bring people and money back downtown.
"The businessmen took over, that's what it is," John Proventgas (described as a curly-haired Greek from the island of Chios) told the Detroit Free Press in 1981. "You see all the restaurants up there (on Monroe)? There's a lot of money there. You can make a lot of money in Greektown now."
Around this time, new attractions like arcades, and a shopping center in the renovated Trappers Alley complex, began bringing younger — often rowdier — crowds to the neighborhood.
"Anti-Arcaders complain that youths use up their money on video games then roam the streets, dance on sidewalks to beats from blaring radios, nurse dizzy heads while sitting on curbs or intimidate suburban couples strolling by on dinner dates," the Free Press wrote in 1983.
"The concern here is real," Jim Pappas, owner of the Pegasus Taverna, told the Free Press in a 1982 article, when asked about the arcades. "All it takes is three or four bad incidents and the press picks it up and people (will be) afraid to go to Greektown."