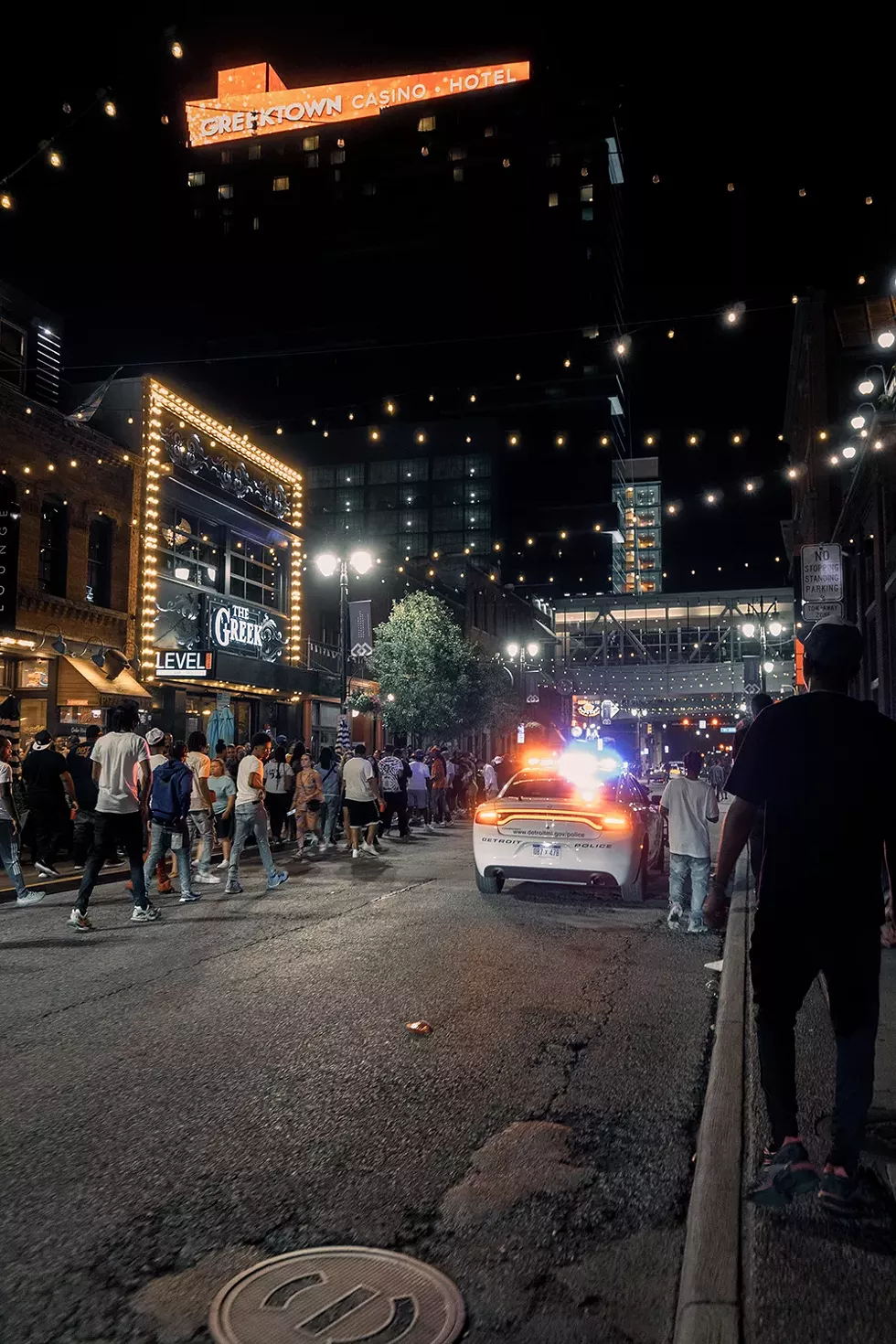 A casino comes to Greektown
Dimitrios "Jim" Pappas and his business partner Ted Gatzaros would become two of Greektown's major developers over the coming decades, helping to influence both the transformation of Greektown and Detroit as a whole.
Starting as owners of a painting and construction contracting business, the two Greek immigrants who came to Detroit as teenagers in the '60s became co-owners of the Odyssey restaurant in Cadillac Tower before selling it and opening up the popular Greektown eatery Pegasus Taverna in the early '80s.
The duo were vocal opponents against Greektown's growing arcade culture, joining with the Greektown Merchants Association to lobby then-Detroit Mayor Coleman Young to "replace the video parlors with businesses more harmonious to the character of the area." Mayor Young took up Greektown's cause, issuing an 11 p.m. curfew on the weekends for kids under the age of 18, a policy the ACLU took issue with.
By the '90s, Pappas and Gatzaros would increase their holdings across Greektown and greater Detroit, with development projects that included Trappers Alley, the International Marketplace, Fishbone Rhythm Kitchen Café, 400 Monroe Associates (investment partnerships), and the Atheneum Hotel, among others both in and outside the city.
The duo had reputations as "risk takers," raising money for development projects downtown that others wouldn't touch. The projects helped the partners gain a foothold in Detroit politics. The two would also foster cozy, often scrutinized relationships with the Young, Archer, and Kilpatrick administrations.
But around 1988, Pappas and Gatzaros began to change their attitudes toward gaming in Greektown. Arcades were no longer the concern, however. Gaming — more specifically, games of chance — would save the city, they believed. Pappas and Gatzaros would become instrumental in the push to bring casinos to Detroit.
Introducing casinos to the city was a contentious idea that had been around for a while. Between the late '70s and the mid-'90s, five different ballot initiatives would be defeated by voters, preventing Detroit from opening casinos.
Proponents like Gatzaros and Pappas touted the potential of casinos to bring thousands of jobs to a city where unemployment was rampant, while opponents feared the casinos would fail to live up to those promises and would lead to more "compulsive behavior and crime." While there are many studies that link casinos to increased instances of crime, substance abuse, mental illness, and suicide, the extent and nature of the correlation is still debated.
In November 1993, as part of a publicity stunt to influence then-Governor John Engler to throw his support behind a proposal for Detroit casinos that wouldn't require voter approval, Gatzaros put out a fake ad for 10,000 casino jobs, attracting hundreds of unemployed Detroiters to wait in line for hours, all for jobs that didn't yet exist.
"Since 1980, Detroit has lost more than 105,000 jobs — 21 percent of the city's job base," Gatzaros wrote in response to an opinion column opposed to the casinos in the Free Press. "The Phoenix proposal will not require one penny of tax incentives for employment stimulus. What does that leave Detroit? Hope. A future. A chance. The ability to become a community again."
Many people were offended by Gatzaros's ploy, as well as what they perceived as the "undemocratic" method by which he wanted to achieve his ends.
"As an American of Greek descent I protest the shenanigans of Ted Gatzaros and Jim Pappas, who came into Greektown and proceeded to oversee its destruction," wrote Harold Gottleib, a Birmingham resident. "Now they have the bright idea of casino gambling, which has been voted down four times by the citizens of Detroit. Gatzaros and Pappas are greedy opportunists."
Pappas, Gatzaros, and other proponents would pour thousands of dollars into pro-casino election efforts over the next several years, until finally in 1996, a ballot initiative to legalize casinos in Detroit (Proposal E) passed by a narrow margin of 51 to 48 percent.
Greektown Casino would be the last of the three Detroit casinos to open its doors to the public, and the last to complete a permanent facility and hotel. Greektown Casino would change hands several times over the next decade. In the aftermath of the 2008 recession and after the casino filed for Chapter 11 Bankruptcy, the Sault Ste. Marie Tribe would turn over their majority stake in the casino to Greektown Superholdings Inc. and Greektown Newco Sub Inc. In 2013, Dan Gilbert's Rock Gaming venture bought a majority stake in Greektown Casino as part of his vision for downtown, which he called "Detroit 2.0." Rock Gaming would later sell its majority share to Vici Properties and Penn National Gaming in 2019.
Whether the casinos actually fulfilled the promises that they would bring jobs and revitalize the city would probably depend on who you ask. The revenue they brought certainly wasn't enough to prevent Detroit from becoming the largest American city to file for bankruptcy in 2013, though it did make clear just how much the city depended on casinos as a source of revenue. The three casino properties brought in as much as $170 million in taxes as the city was struggling to piece itself back together during the worst of its financial crises. And during their forced shutdown because of the pandemic in 2020, it was estimated that Detroit was losing as much as $600,000 a day, or 16 percent of the city's general fund revenue.
Past opponents of bringing casinos to Detroit feared they would bring more crime and that residents would succumb to gambling and other addictions if they were allowed to open. But in the end, it seems it was the city itself that had become the addict.