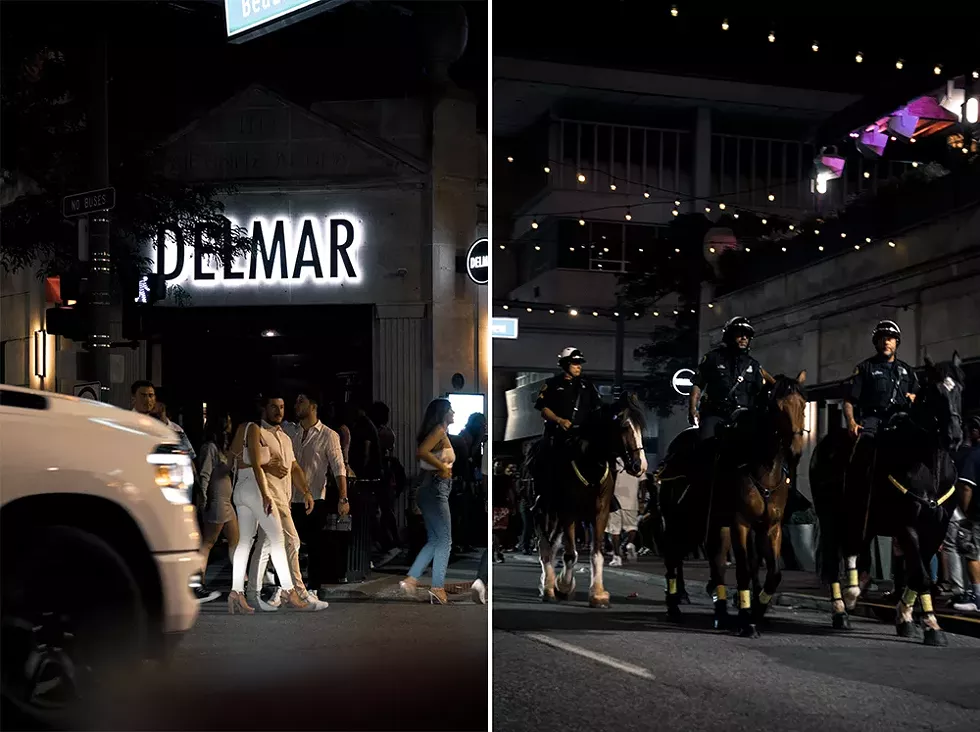 Dispatches from the district
When
Metro Times
visits Greektown a week after White and Duggan announce their five-point-plan, the large increase in police presence in the area is impossible to ignore. DPD takes up positions at every street corner, and every hint that there might be trouble is greeted by dozens of officers who step in to intervene. Regardless, the neighborhood is still full of people out enjoying the night.
At times, it feels like there's an unspoken "stop and frisk" policy at work — something that feels more like intimidation than enforcement. We see several young Black men stopped by groups of patrolling officers and asked questions, seemingly for no reason other than the officers' gut suspicions. One man who's stopped stands there and answers questions as his friend walks away shouting about how the police have no right to stop him. Still, many people we ask don't mind the throngs of police and say they're happy the cops are here to "keep people in line."
"We're just out here to make sure people have fun and stay safe," says one Black officer who doesn't want to be named.
As we stop to watch people along Monroe in front of The Greek, we strike up a conversation with a young kid who introduces himself as Michael. Michael, who is Black, is visiting Greektown with his family, happily eating an ice-cream cone from Cold Stone Creamery. In front of us stands a row of four officers on horseback. A group of mostly young white women in neon wigs — likely a bachelorette party — gathers in front of them to pet the horses.
"I want to be a policeman one day," Michael says.
As Michael begins to talk about his favorite Sonic the Hedgehog video game, some yelling breaks out on the street in front of us; a white cop on horseback barrels over a young Black man on the street. The horse hovers so closely over the top of the man that we're afraid he might accidently trample him.
"Don't touch the horse!" the officer angrily shouts.
Apparently, "the dude was petting the horse too hard or something," one bystander tells us.
As we begin to walk away, we gaze up above the top of the two-story commercial buildings along Monroe and can't help but notice how the Old Wayne County Jail — a large monolith-looking building in the design of brutalist architecture from a bygone era and a site infamous for its inhumane conditions — hangs above the entire strip, as if it were looking down and watching people on the street. Never mind the blinking green lights.
Whether it's past or future plans for urban renewal, revitalization, or snappy buzzwords like "Detroit 2.0," the fate of Detroit, downtown, and Greektown is constantly in flux, spurred with what are perhaps well-intentioned but often grandiose ideas for development and change. But who benefits and who is invited to be a part of these changes — White or Black, rich or poor, developers or marginalized communities — is the real question.
Though Pastor Mo doesn't agree with slogans or ideas like "Defund the Police," when we ask him what he thinks is really at the heart of violence in Detroit or Greektown, he doesn't actually sound that different from activists or protesters.
"Detroit's got to stop chasing fires, bro," he says as his voice grows more anguished, almost angry. "We can't be fire chasers. We can't keep running to the issues and then when the issue is done pretend like it goes away till the next fire. We got to deal with it. You can't just deal with it with policing because the issues are way systemic.
"They go way deeper than just a child or young man with bad behavior, when you left them with no funding for school, with no food on the table — that's your robber, that's your shooter, that's your guy fighting with police. Act like you wonder why these kids roll up with 20 guys in white T-shirts and five cars and big-ass guns — it's because that's real power to them. Real power because you left them with nothing else!"
He pauses and takes a deep breath.
"You better put that in the paper."
Stay connected with Detroit Metro Times. Subscribe to our newsletters, and follow us on Google News, Apple News, Twitter, Facebook, Instagram, or Reddit.