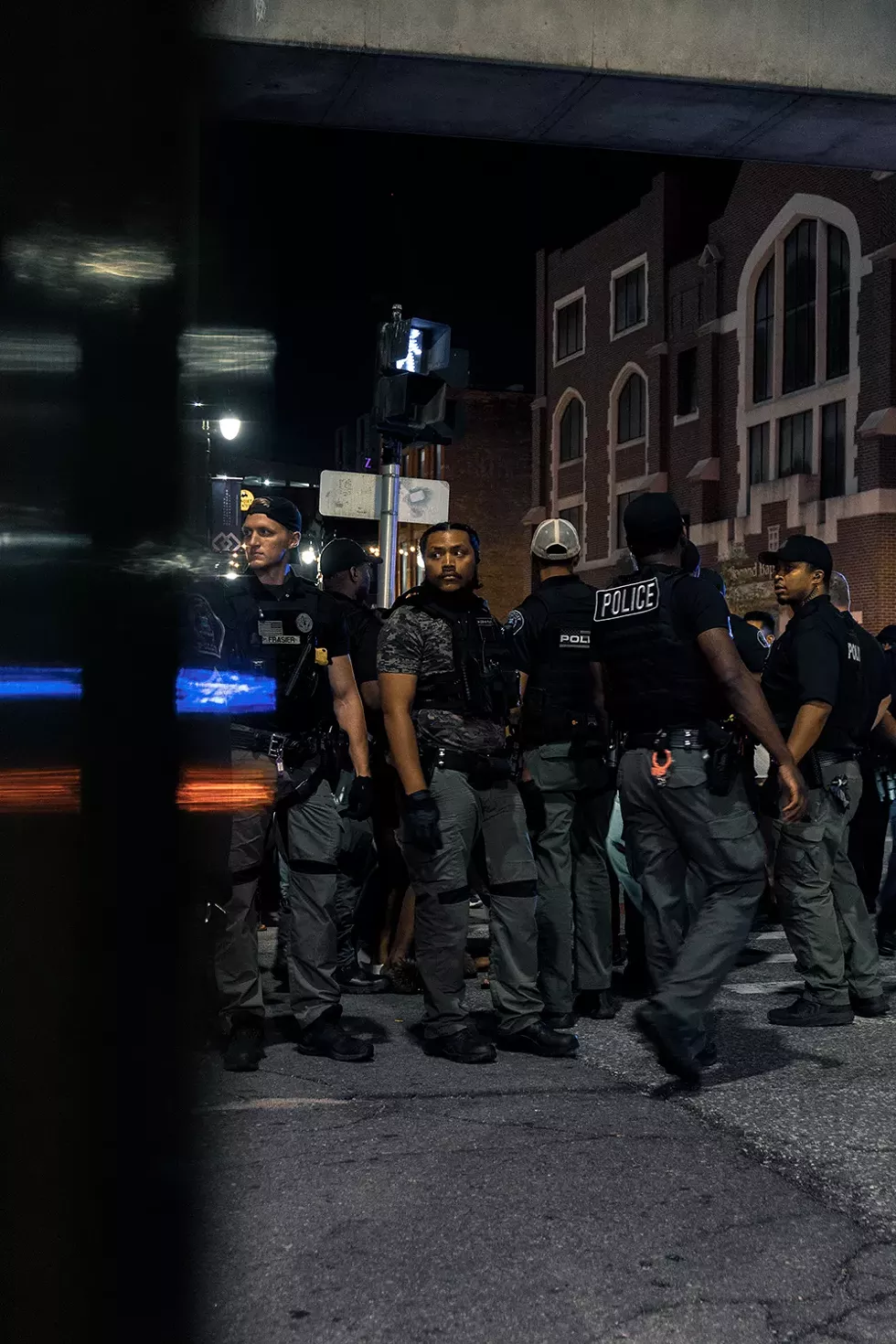 The debate around policing
Pastor Maurice "Mo" Hardwick of the Live in Peace Movement believes police generally do their best to protect people, even if they aren't always the best arbitrators and sometimes escalate situations.
"You got some police that just don't know how to talk to people," Hardwick says. "They might be tired or working overtime and then when they deal with drunk people or whatever and in that moment they take a bad attitude toward him or her and things escalate. And the same thing happens with citizens — they might be in a bad mood or not want to pour a drink [out] or put their marijuana out or just want to be disrespectful."
Hardwick, who started the Live in Peace Movement in Detroit, was in Greektown the same day Interim Chief White made a stop there after announcing the five-point-plan. Hardwick says he went to intervene in any potential confrontations, whether between groups of citizens, or between citizens and police.
While he was patrolling the strip, he says two men carrying open containers of alcohol were stopped by police. The officers told the men to pour out their alcohol, and the two men began to argue with them, but Hardwick says he and some friends got between the men and the officers before things could escalate.
"I was able to take them off to the side and talk with them and show them the error of their ways," Hardwick tells Metro Times. Adding that he believed the men were receptive to him because they knew him from "the neighborhood."
Hardwick and the Live in Peace Movement view themselves as violence interrupters: an approach to conflict intervention that utilizes de-escalation techniques to mediate potentially violent altercations.
Hardwick believes tensions between police and the community are high right now in Detroit, and that it's apparent in places like Greektown, where people go to party and "let loose." In his view, the pandemic and Black Lives Matter protests last summer made tensions between communities and police worse. He says he doesn't agree with protest demands like "defund the police."
"You need the police," he says. "They ain't there to get you because of race or the way you're dressed — they're there to police your behavior."
Markowicz says she believes violence and crime are problems in Greektown, only insofar as violence and crime in Detroit is a problem. The Greektown Neighborhood Partnership wants to work with police to ensure that visitors will be able to enjoy their experience while also feeling safe, according to Markowicz.
Christina Hapipas, owner of The Greek restaurant and member of the Greektown Merchants Association, says she believes violent incidents will have long-term effects on business there if more isn't done.
"My family has been here for 32 years," she says. "I don't want to watch my livelihood go down the tubes because you have some thugs that decided that Greektown is the block party for every weekend."
Hapipas says the majority of people who come to Greektown aren't looking to cause trouble and that most problems are caused by people loitering on the streets. She wonders if they should restrict access to Greektown at a certain time, making it accessible only to people 21 and older or even implementing a dress code. "I think that we really need to come up with creative ideas as to what we can do as a district to bring in the crowd that we want to come down here," she says.
She also believes that social media has helped exacerbate the issue.
"I think social media has done a fabulous job to invite troublemakers to the district on the weekends," Hapipas says. "I think people thrive on this. I think they see what's going down and want to be a part of it. If you go to [@crimesintheD], you see people [in the comments] saying they can't wait for Saturday night to come check out the action in the streets of Greektown. It's become the thing to do."
She adds, "[The police are] losing their authority because they're afraid."
Like Hardwick, Hapipas says police are trying their best, but says officers she's talked to feel constrained by criticisms and the potential for instances to be recorded and taken out of context.
"They're in a bad position themselves because they're afraid to do their job." Hapipas says. "They [the police] say it at every meeting we have. They say, 'Sure we can make arrests, but you know what the consequences are going to be; it's going to be someone pulling out their cameras. They're going to provoke us to maybe do something that we don't want to do. Even if that's pushing us or whatever. It turns into a gang fight against the police officer, and things get recorded and it looks horrible.'"
Though violent crime stats for nonfatal shootings and homicides did rise in Detroit and other major cities in 2020, it's unclear whether those stats have increased or decreased this year. The Detroit police issue a yearly summary of crime statistics but say they don't have data compiled for this year yet, and do not collect data specific to areas like Greektown, according to a DPD spokesperson.
Regardless, concerns about increasing crime have re-emerged as a hot-button political topic in recent weeks.
A recent poll of 500 Detroit residents found that 77% would sign on to the statement "Detroit police generally do a good job and treat people of different races fairly, even if there are a few bad apples on the force." Though, as anti-police-brutality organizations like Detroit Will Breathe were quick to point out on social media, aside from issues of methodology and sampling, the poll also showed that the majority of those polled (58%) gave Detroit police a "fair" to "poor" rating.
The same poll also found that a majority of Black men they polled attributed recent spikes in shootings and homicides to the "availability of guns" and a "lack of jobs/unemployment," while the majority of Black women who participated attributed it to the pandemic and unemployment.
Helps and Watkins have very different takes on the situation than Hardwick or the Greektown Neighborhood Partnership.
"I think there is a cycle (in Greektown) that comes from the false narrative that policing prevents crime," Watkins says. "Police are there to respond to crime. We know that enforcement strategies and surveillance don't do anything except hand out more tickets and incarcerate people."
Helps echoes those sentiments.
"When you go back through the history, you see lots of moments in Detroit where these kinds of isolated, sometimes exaggerated, instances of violence are used by politicians and other officials to create this sense that something novel is going on," Helps says. "I mean, there might be contributing factors like pandemic restrictions loosening, but every year there are stabbings and shootings associated with casinos and bars in Greektown."
Helps adds that while he thinks violence is always a legitimate concern, especially for Detroit residents who are affected by it, he feels there is often important context that is left out from conversations around issues of violence.
"We talk about statistics like how many guns were recovered or how many people were involved in this or that type of brawl, but tend to overlook that opportunities for young people — and young Black people in Detroit, especially — are all too often non-existent or hard to attain," Helps says. "I think now, more than in recent years, there is a recognition that violence and harm can't be separated from the structural problems that people are facing."
Watkins believes that there are things planners and urban designers can do to help the area. The inclusion of more public, non-privatized spaces is one of them, though they caution that public spaces alone would only go so far in mitigating or preventing violence.
"I don't think the solution is just to design your way out of these issues, but I do think there are interesting ways that we can think about urban design that could support us moving away from criminalizing and moving towards a more humanized way of relating to and being in physical space together," Watkins says. "Privatization has kind of pieced out all of the space. And so there is not, there's not public space, there's not ample opportunities for folks to create fellowship with each other. I think that's a design flaw."