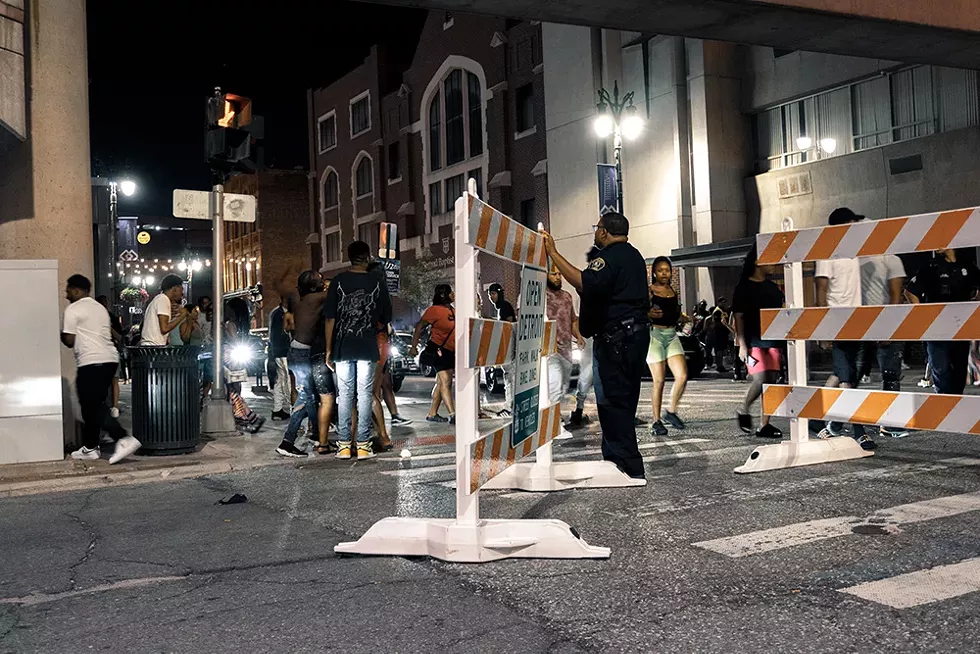 Big plans, bigger pandemic
Under new plans for development, Greektown hopes to shed the perception of a "single-use entertainment district," according to Melanie Markowicz, executive director of the Greektown Neighborhood Partnership.
"We're always going to be a center point of cultural entertainment for the city of Detroit and beyond, and that's certainly not changing," Markowicz says. "But part of our framework really [homes] in on diversifying use, so it's a family-friendly, mixed-use district."
Currently, no one actually lives in Greektown, as there's no residential space — though, that's set to change in the future with the construction of The Exchange, a 16-story residential building that recently broke ground. Perhaps the biggest challenge ahead for development is the fact that nearly 50 percent of Greektown's total surface area is allocated to parking, according to the Greektown Neighborhood Framework Vision released in September 2019.
The Framework Vision cited the abundance of parking lots and the lack of any residential space as one of the reasons Greektown isn't perceived as a more "family-friendly" experience.
"Areas with substantial surface parking areas and small, underutilized streets and public spaces can become hot-spots for undesirable behavior and can feel unsafe for nearby residents, workers, and visitors," the Greektown Neighborhood Framework Vision states.
Markowicz says parts of the Framework Vision plans are already underway, while other parts rely on how, when, and if the city develops adjoining areas, citing plans to convert I-375 into a more pedestrian-friendly surface boulevard, and plans to redevelop the Wayne County "fail jail" site, as part major steps toward the Framework's vision for the area. However, recent plans to build the Detroit Center for Innovation at the "fail jail" site recently fell through.
On top of these are some new challenges.
Greektown, like the rest of Michigan's restaurant and entertainment industry, took a major hit as pandemic restrictions forced businesses to temporarily shut their doors to customers in 2020. And Greektown was cited by Detroit public health officials as a "hotspot" for the city's rising coronavirus infection numbers in the summer of 2020.
The district was able to survive some of the economic devastation caused by the pandemic, thanks in part to recent aid from the federal government. Among the fewer than 40 percent of Michigan restaurants that applied for and received grants from the Restaurant Revitalization Fund set up during the pandemic, Greektown establishments made up some of the program's biggest recipients: The Old Shillelagh LLC received $1.96 million; Pegasus Greektown, operators of Pegasus Taverna, received $3.3 million; and the International Marketplace Inc., operators of Fishbones Rhythm Kitchen Café, received $8.6 million.
The Restaurant Revitalization fund was created as part of the American Rescue Plan Act passed by Congress in February during the Biden Administration, adding an additional $1.9 trillion to the $3.4 trillion spent during the CARES Act passed under the Trump administration. Whether the additional spending will be enough to combat the economic and social devastation brought on by the pandemic remains to be seen, but for many Black Detroiters it couldn't come soon enough.
In terms of rates of infections, deaths, and economic impact, Black Detroiters were disproportionately affected by the pandemic.
"In Detroit, Black people represent over 75 percent of known COVID-19 diagnoses by race and nearly 90 percent of deaths," a Brookings Institute study found. "Our analysis indicates the toll that systemic racism has had on Black residents of Detroit. Because of the legacies of underinvestment, redlining, jobs without benefits, poor or nonexistent and culturally incompetent health care, Black residents are less likely to be able to transcend the challenges presented by COVID-19 and are more likely to contract and die from the virus."
An analysis by The Washington Post last year showed that more than half of the money issued by the CARES Act went to the already wealthy and businesses, with only one-fifth of it going to individual relief.
While the unequal distribution of pandemic funds is not the fault of any individual proprietor or developer, it does provide another glaring example of how federal, state, and county authorities (whether intentionally or inadvertently) prioritize businesses over individual material needs, according to David Helps, a historian and fellow with the University of Michigan's Carceral State Project.
"I think it's worth emphasizing that Greektown, and really greater downtown, has been designed in the last few decades — going back to Coleman Young, but especially under Mike Duggan — designed to attract upper middle class and wealthy consumers and tourists from the suburbs and from outside of Michigan," says Helps.
PG Watkins, a community organizer, abolitionist activist, and director of the Black Bottom Archives, sees parallels between pandemic inequality and inequalities exacerbated by the urban renewal projects of the '40s, '50s, and '60s that effectively erased communities like Black Bottom and Paradise Valley.
For Watkins, the same dynamics of systemic racism and white supremacy are at play in how the city chooses to manage resources and how it chooses to police and surveil certain Detroit neighborhoods.
"I think particularly in downtown, we're seeing this influx of investment dollars, we're seeing this influx of big-name corporations wanting to have a presence down there, and in order for that to happen successfully for them, they need it to look a certain way and they need it to feel a certain way — they need a certain type of crowd or energy to not be present there," Watkins says. "Which includes these young Black folks that continue to be criminalized and punished by being down there. At the end of the day, it isn't the police that will make us safer."