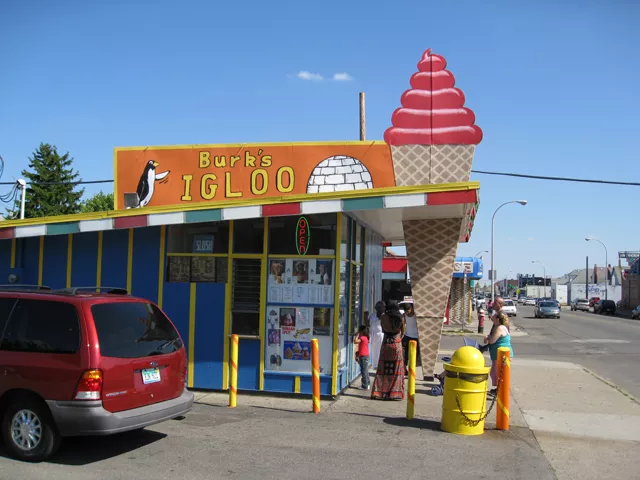 Ashby's Sterling Ice Cream Parlor 46540 Van Dyke, Shelby Twp.; 586-268-6222: This old-fashioned ice cream parlor serves 44 flavors of premium, hand-dipped ice cream. No shortcuts here: Ashby's starts off with the creamiest 14 percent butterfat ice cream mix and adds your favorite ingredients. In addition to ice cream, choose from shakes, malts, floats and sodas to settle your sweet tooth. Ashby's also carries Alpine Chocolat Haus of Gaylord items, which include caramel corn and brittle. 
Bloomberry 30274 Woodward Ave., Royal Oak; 248-554-0036: Self-serve frozen yogurt joint has several flavors to choose from, scads of fruit and candy toppings to add as well. On a recent day, flavors on tap included vanilla, chocolate, strawberry, pomegranate, California tart, birthday cake and blueberry.
Bob Jo's 4071 Fort St., Wyandotte; 734-282-6818: A fixture on Fort Street since the late 1950s (it was moved from Eureka and Fort, where it was founded in 1947), this Downriver roadside stand specializes in custard and yogurt, and patrons aren't fussy. Most people seem to like their "twist cones," the familiar combination soft-serve treat. You can get a medium twist for $2.44. Each week, Bob Jo's offers vanilla and chocolate custard and a twist, as well as one of about 25 special flavors (last week, it was Blue Moon). They also serve frozen yogurt that's free of sugar, cholesterol and fat. Sprinkles are extra, but they offer no hard-shell ice cream topping. Closing for the season in mid-September. 
Burk's Igloo 10300 Conant, Hamtramck; 313-872-6830: The corner cone booth adorned with a cartoon igloo and a friendly penguin attracts people of all ages with popular short-order menu items ranging from a coney dog and fries to their best-selling Avalanche ice cream dessert. The Avalanche (similar to Dairy Queen's Blizzard) starts with a small ($3) and ranges all the way up to a monster-sized Avalanche ($7.50 plus tax), which comes complete with 46 ounces of soft-serve ice cream crammed with whatever kind of candy you and the kid inside of you crave. Burk's has kept locals lining up for their ice cream since the 1960s, and is open this summer from noon to 10 p.m., seven days a week. After school starts, they are open until 9 p.m.
Calder Brothers Dairy 1020 Southfield Rd., Lincoln Park; 313-381-8858; calderdairy.com: Having logged 65 years of operation, the Calder Brothers' spot may be the last remaining Downriver dairy. They still make their ice cream fresh, right on their own farm in Carleton, using milk from their own moo-cows. They do not use artificial hormones to enhance milk production, instead relying on healthy feed rations, good management and lots of T.L.C. (The cows even have their own nutritionist.) And the resulting ice cream is served up in cones, malts and shakes in their own ice cream parlor. Whether you're just getting a scoop to go or loading up by the gallon, their 34 flavors, ranging from reliable vanilla to cinnamony horchata, aim to please. The ice cream is reportedly notable enough to draw the occasional out-of-state visitor. 
Clark's Ice Cream & Yogurt 3312 12 Mile Rd., Berkley; 248-541-6560: With about 60 different flavors, Clark's is a well-stocked roadside stand with a small lobby inside and benches and picnic tables outside. The stand has been in business for about 30 years, as Clark's for almost 20. They sell Blizzard-like Clark's Chillers, with soft-serve, Oreos and Butterfingers, as well as a host of hand-dipped cones. The most popular flavors of ice cream include "moose tracks" (a vanilla-chocolate mixed with peanut butter cups), amaretto cherry and butter pecan. Cones come in regular, sugar and waffle. A two-scoop cone runs between $3 (child's size) and $3.75 (adult size). Open from 1 p.m. to 9 p.m., with expanded hours as summer gets hotter.
Cold Stone Creamery 420 S. Main St., Royal Oak; 248-547-1876; for more Michigan locations, see coldstonecreamery.com: Cold Stone Creamery takes ice cream very, very seriously. The servers sport T-shirts that read, "Friends don't let friends eat grocery store ice cream." A glossy franchise with more than 1,000 stores nationwide, this place serves some damn good ice cream; whatever Cold Stone lacks in mom-and-pop authenticity, it has quality product. Servers add countless "mix-ins" to the premium ice cream on a frosty granite slab, folding in everything from fresh cake pieces to fruit to Gummi Bears. The store's Royal Oak location is larger than many of the chain's stores (which helps keep lines short) and has a cool, comfortable ambience, unlike some of the smaller locations. 
Culver's Frozen Custard and ButterBurgers 11001 Belleville Rd., Belleville; 734-699-6100; 30820 Little Mack Ave., Roseville; 586-415-8804: 14800 Racho Rd., Taylor; 734-287-3147; 6500 Newburgh Rd., Westland; 734-595-1883; 700 W. 12 Mile Rd., Madison Heights; 248-546-5311; culvers.com: The popular "Turtle" sundae is made with hot fudge, hot caramel and pecans over vanilla custard. Or try the sundae with hot fudge, peanut butter sauce and Reese's Pieces. There are about 100 flavors. Each store arranges its own flavor of the day as it sees fit; some schedule a monthly calendar, others pick a new flavor each morning. They try to select flavors suitable to holidays, like the Red, White and Blueberry on Memorial Day (vanilla ice cream with strawberries and blueberries). The menu includes the burger that made them famous, the ButterBurger (natch).
Custard Hut 25947 W. Warren St., Dearborn Heights; 313-278-5577: What makes frozen custard so much richer? It's the formula that calls for higher butterfat content, giving an added richness that draws many into this venerable custard shop. They do vanilla, chocolate, a vanilla-chocolate twist, and a flavor of the week that they can also twist with vanilla. Last week, it was creamsicle. (They have about a dozen special flavors they rotate through.) It's cash-only, and open until the end of September.
Erma's Frozen Custard 6451 Auburn Rd., Utica; 586-254-3080: Open since the 1940s, this roadside custard stand stocks a few flavors a week, but what flavors! Cashew cluster or tangerine, anyone? Located between Mound and Van Dyke roads just north of M-59, open 11 a.m.-10 p.m. daily. One of our fellow employees recommends the "Custard Puff" highly. Open through October.
Family Treats 2010 Springwells St., Detroit; 313-841-3522: This southwest Detroit ice cream joint serves your favorite heat-busting sweet treats, but also has savory fare, including burgers, dogs, fries and even tacos, all at affordable prices. That should explain the line that often queues up outside. Open through October.
Guernsey Farms Dairy Family Style Restaurant 21300 Novi Rd., Northville; 248-349-1466: You can go to Guernsey Farms just for an ice cream cone, or to buy dairy products from a little convenience store, or you can go for a meal. For less than $4, the black-and-white sundae — a combination of chocolate and vanilla ice cream with marshmallow and hot fudge, sprinkled with nuts, piled with whipped cream, and a cherry — is a meal itself! Guernsey Farms has kept families lapping up quality ice cream since 1940. With 60 flavors to choose from and an assortment of cones, sherbets, sorbets and other ice cream desserts, you'll probably have a hard time deciding what to order. There's no need to worry — free samples are available upon request. If you're stunned by the selection, ask for butter pecan, take a seat outside in the shade on one of the many boulders and lick it up — you won't be disappointed. For a fruity sensation, try their recent flavor, Grandpa's Blueberry Way — a combination of blueberry and pomegranate blended with dark chocolate pieces in honor of the founder's 100th birthday. If you can't get enough of the creamy delights, most flavors are available in both half-gallon and 3-1/2 gallon sizes for purchase.
Jim's Frostie Treats 1528 E. 11 Mile Rd., Royal Oak; 248-399-7919: A local favorite among many Royal Oak residents, this spot just west of Campbell Road offers soft-serve ice cream, banana splits, floats and coolers, shakes, brownies, cream puffs, parfaits, slush freezes, sundaes, "Jimbo bars," and more. It's open noon-11 p.m. daily.
Leason's Dairy Bar & Grille 11475 E. 13 Mile Rd., Warren; 586-977-2680: If the neon-orange sign doesn't attract you, then the nostalgic ice cream shop atmosphere certainly will. Family-owned and -operated since 1970, this shop's menu has a variety of soft-serve and yogurt delights, but also offers eight classic ice cream flavors, including cookie dough and "moose tracks." The "Glacier" is a popular item that mixes some of your favorite candies with vanilla soft-serve. Soft-serve wonders at Leason's include the "Gold Digger," with your choice of vanilla soft-serve or yogurt with hard chocolate topping, caramel and pecans; and the "Hot Fudge Crème Puff," a crème puff topped with your choice of vanilla soft-serve or yogurt, hot fudge and additional toppings. In addition to frozen treats they also serve pitas, gyros, burgers and hot dogs, and even "Chicken Sliders."
Paciugo Italian Gelato 1198 E. Walton Blvd., Rochester Hills; 248-608-6751; paciugo.com: A chain based in Texas ought to know how to cool customers off! And this joint in the Boulevard Shoppes in Rochester Hills has what it takes to put a freeze on the heat. With milk-based, water-based, soy-based and sugar-free flavors running into the dozens, there should be something here for everybody, whatever their dietary concerns or preferences.
Paul's Market 3700 Monroe St., Dearborn; 313-278-2222: A former ice cream stand, the new owners at Paul's have branched out, but they still have the ice cream, usually about 16 to 18 flavors, including ice cream made on Macinac Island, a genuine Michigan product. 
Ray's Ice Cream 4233 Coolidge Hwy., Royal Oak; 1-888-549-5256: This family-owned ice cream parlor has logged a half-century in the business. They make gourmet ice cream on premises, more than 50 flavors of it. Among the favorites are butter pecan, "Huckleberry Pie," "Almond Joy," blueberry pie and black cherry. Unique to this shop is the "Fat Elvis," a confection made with banana and peanut butter — in honor of the King's love for peanut butter-and-banana sandwiches. They have a small fountain area, a counter and booths to seat 25, in addition to two seats from old Tiger Stadium. Though they're open all year, summer is the season that provokes lines that stretch out into the parking lot. Ray's also offers gourmet ice cream molds for parties. They're open till 11 p.m. every day.
Ritter's Frozen Custard 5962 Meridian Blvd., Brighton; 810-229-6992; 31227 Eight Mile Rd., Livonia; 248-476-4571: Two local outposts of the national chain serving "legendary ice cream." folks at Ritter's say their product "is so much more than just ice cream. It's smooth and creamy. And you can taste the difference with each delicious bite."
Sanders Candy & Dessert Shop 16837 Kercheval St., Grosse Pointe Park; 313-882-4966: You'll find plenty of flavors of ice cream here: moose tracks, chocolate chip cookie dough, cookies and cream, chocolate, strawberry, butter pecan, Mackinac Island fudge, mint chip, black cherry, "Bumpy Cake 'n' Cream" and "Superman." All can be made into sundaes, shakes, sodas, malts or the venerable Boston Cooler, here dubbed a "Detroit Cooler" (Vernor's ginger ale and ice cream).
Shatila Bakery & Café 14300 W. Warren Ave., Dearborn; 313-582-1952: Don't be confused by the fruit names — these are not sherbets. They combine fruit purees with butterfat to produce that rich velvety texture that only cream can bestow. Nonfruit ice creams are equally inspired. The array of Mediterranean and European pastries is vast and changes daily. Shatila has a few nonsweet offerings, and they are quite tasty, not also-rans at all: sausage rolls, a tangy and flaky spinach pie and tiny star-shaped cheese pastries. Shatila's high-ceilinged space is filled with customers sipping coffee or raw fruit juices, busting their diets, and enjoying the air-conditioning.
Treat Dreams 22965 Woodward Ave., Ferndale; 248-544-3440: Scott Moloney is the emperor of ice cream. Read the flavor board in his Ferndale bakery and micro-creamery and you might believe that you've somehow entered a fantasy world where anything can be made into a dairy-based dessert. Who knew that purple yam, potato chips, jalapeno peppers and chicken are all legitimate ice cream ingredients? In Moloney's able hands, unconventional but inspired flavors just keep coming. He reckons he has made about 110 flavors, with another 50 or so written down and an additional 30 to 40 based on customer requests. Some flavors are quite zany (chicken and waffles, for instance), and others simply novel but appealing, such as honey-lavender, lemon-basil, dark chocolate peanut butter curry, salty caramel, avocado-lime, bananas Foster, pistachio-wasabi, and more. Open 11 a.m.-9 p.m. Sunday through Thursday, and 11 a.m.-10 p.m. Friday through Saturday.
Uncle Ray's Dairyland 1462 N. Leroy, Fenton; 810-629-1791; uncleraysdairyland.com: The Uncle Ray's empire includes not just Uncle Ray's Dairyland, with its hand-scooped, boutique ice cream treats, but also the Heavenly Halo Burger and Uncle Ray's Mini-Golf. Sounds like an outing for the whole family, with the chance to work off some calories in the bargain.
Wally's Frozen Custard 20898 Harper Ave., Harper Woods; 313-343-9059; wallysfrozencustard.net: Your typical roadside frozen yogurt stand, with vanilla, chocolate, twist or flavor of the week, ranging from $1.30 for a "baby" to $3.50 for a waffle cone. In addition, there are sundaes, shakes, coolers (floats), slushies, banana splits, frozen custard pies, strawberry shortcake, an avalanche, and more. Their ice cream is sold to go by the pint or quart. What's more, they have their very own fire engine, which has been converted into a "party engine," and it's available for rental.
See any errors or omissions? Let us know! Send comments to [email protected] or call 313-202-8043.