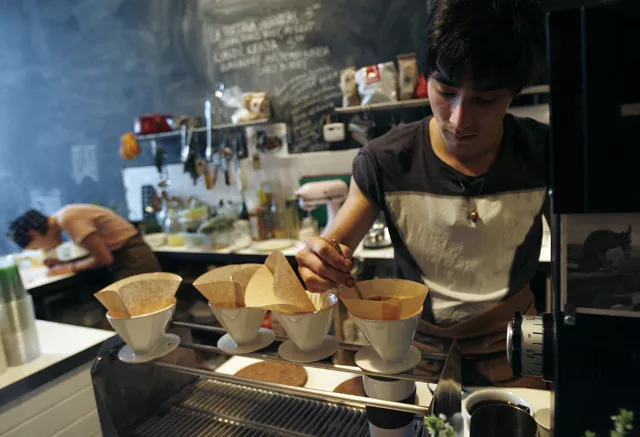 Astro Coffee
2124 Michigan Ave, Detroit
313-638-2989
astrocoffeedetroit.blogspot.com
Handicap accessible
Prices: $3-$6 per item
Despite its obvious specialty, categorizing Astro Coffee as a coffee shop would be a grave disservice. Coffee shops in southeast Michigan are generally caffeination stations. Places with stale pastries or dry muffins. Vulgar franchised institutions with ad-sponsored WiFi connections where the burnt "dark roast" is practically toxic.
While Astro has quickly and justifiably become known for its superb coffee, the food and the community spirit are every bit as important in making it what it is — an excellent, comfortable neighborhood café that does just about everything right.
Located on Michigan Avenue in Corktown, the shop presents an unassuming black-and-white facade with its playfully sketched logo painted above the door and a decorative plant or two adorning the entrance. Inside, proprietors Daisuke Hughes and Jessica Hicks chalk out the day's menu on the blackboard wall behind the main counter.
Exposed brick, high ceilings, and eclectic furniture create a fun, approachable space. And the room bursts with conviviality: locals, Team Detroit designers, Wayne State students, local entrepreneurs and suburbanites are all there, talking about their work, talking about the city, talking about Astro's newest coffee.
And most definitely talking about the food.
Before anyone arrives for a morning latte, Hicks and her colleagues are preparing the day's provisions. They make virtually everything by hand, baking cakes, cracking eggs, and roasting vegetables while most of the city is still asleep.
Since she has been finding the majority of her ingredients locally — Grown in Detroit, J&M Farms, Calder Dairy and Zingerman's are just several of their sources — the seasonally-driven menu changes constantly. Everything — yes, everything — is delicious.
Those arriving for breakfast should expect choices along the lines of homemade buttermilk scones, ham and white cheddar croissants, tomato and ricotta tarts, and eggs, perfectly cooked and prepared in any of a variety of ways. Particularly memorable on a recent Sunday was a sausage and ricotta frittata served with a hand-torn chunk of baguette, simply but flawlessly executed to delicate perfection, the eggs just set.
As lunch approaches, small baguette sandwiches are available for around $5, give or take, and every day offers delicious new possibilities: roasted beets with avocado, meatballs with cheddar, roasted carrots with mint, tomato with basil, thyme-roasted chicken. These consistently vary in their ingredients but never, it seems, in their quality.
Baking is one of Hicks' specialties, and it's not uncommon to see her working at the modest station behind the register, mixing together the batter for her latest creation. Between the open display of her abilities and the assorted goods stacked on pedestals, mounded in baskets, and piled under bulbous cloches, resisting the lure of Astro's confections may prove problematic.
Seasonal fruits have been prominently featured thus far: A crumbly semolina and polenta cake with a texture similar to cornbread was punctuated by the sweet-tart punch of cooked blood plums; several other baked goods employed fresh, tangy gooseberries.
Sweets lovers and chocophiles will find their palates pleased as well. A recurring item to date has been a dense, flavorful chocolate mousse cake baked with ground Honduran coffee and served with a hand-whipped cream. Lucky patrons may also find themselves inhaling a delicate meringue cookie slathered in tangy, rich lemon custard that practically demands you scrape every last drop from the plate.
Many will stop in, of course, just for a beverage, and Astro does a wonderful job. Those in search of a cup of coffee will find their pour-over drip well prepared, and they may choose from a rotating selection that Hughes purchases from notable roasters across the country — Intelligentsia, Counter Culture and Sight Glass among them. Expect to pay anywhere from around $2.50 to $3.75, a fair, competitive pricing structure in southeast Michigan for these types of products.
Their espresso ($2.25) is concentrated and rich in general, though the particular beans change frequently. In just a few weeks, they've pulled shots using three different types of beans, including a nicely balanced, moderately acidic cup from Ritual in San Francisco. And they'll make that espresso a macchiato for 25 cents more.
Hughes and his fellow baristas make damn fine lattes and cappuccinos, but if such drinks are your thing, consider instead trying the flat white, a less frothy, richly textured relative of Australian origin. And for what it's worth, the baristas' latte art — elaborate patterns that resemble leaves, flowers, hearts or other shapes — is attractive and nicely done.
Between the countertops, a few small café tables, and a large communal table, Astro features roughly two-dozen individual seats, and the walls are lined with benches for those on a shorter visit. The space is designed to foster conversation, and even those packing their laptops and iPads seem to engage with others around them — entirely unsurprising since Astro has already become such an active neighborhood spot.
For a time, it seemed as though the only people huddled on Michigan Avenue chatting with one another were first-time visitors to Slows Bar BQ desperately looking for the front door. Today, though, they just might be conferring with each other on the virtues of Astro's espresso and scones.
Open 7:30 a.m.-6 p.m. Tuesday-Friday, 8:30 a.m.- 6 p.m. Saturday, 9 a.m.-5 p.m. Sunday.