Como's Restaurant owner George Grego is considering multiple offers for his shuttered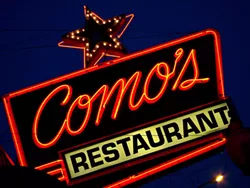 pizzeria as he determines what step to take next.
The Oakland County Department of Health shut down the Nine Mile and Woodward Avenue pizzeria twice in the last two years over health code violations, and there have been rumors of a possible sale since the second closure in September.
The Daily Tribune
reports that Dean Bach, owner of Dino's Lounge and chairman of the Downtown Development Authority's board of directors,"is friends with Grego and talks with him frequently."
Como's "has a bunch of offers on the table and the DDA has been working with them and the city," Bach tells the
Tribune
. "We all want the best possible outcome. I know the rumor mill is going crazy. Businesses have been sniffing around, but that property is going to be expensive."
In September 2016, the restaurant was ordered to shut down due to an inability to maintain a clean environment. This past September, the violations included serving expired food, soiled surfaces, equipment not working, and inaccessible hand-washing sinks.
Health commissioner Dave Woodward previously said the county rarely shuts down restaurants, but the board could not ignore the shocking continuation of violations. They voted unanimously to shut down the restaurant.
Grego's attorney, Gerald J. Gleeson, previously told the health department that Como's management fired their chef and the restaurant was operating on a reduced staff due to quality issues.