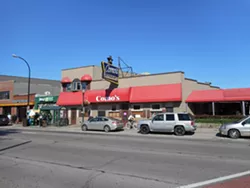 A Ferndale institution known for its pizza has also been known to Oakland County restaurant inspectors for years for issues as unappetizing as insects and sewage.
Como's Restaurant had a years-long pattern of health code violations leading up to the restaurant's Sept. 21 closure,
according to records obtained by Oakland County 115
using the Freedom of Information Act.
Protocols for handwashing, dishwashing, cleanliness, cleaning chemicals stored near food, food storage and temperature issues, expired food, and insects were among those cited in health inspections at the iconic Ferndale restaurant, which opened in 1961.
In September 2014, an inspector "observed sleeves of cups stored dirty under an unshielded sewer line. The plastic wrapping shows evidence of sewage leaking on them," according to the records obtained by
OC115
. The issue was finally corrected by the time county health inspectors visited a third time.
That same year, an inspection found "heavy cream at the patio bar with mold growing inside of it," and in 2016, an inspector found house-made ranch dressing being served that had expired six days prior.
After the Oakland County Food Service Appeal Board voted to pull the restaurant's license, the restaurant's Facebook page posted that it was closed for remodeling. The restaurant must resolve all outstanding issues before reopening, according to
OC115,
begin using cleaning logs, and provide ongoing training for employees.
Two calls made to Como's for comment by the online newspaper weren't returned, and two Facebook messages to the restaurant's page were read but not responded to.
This story is published in partnership with
Oakland County 115
. Read the full report here.