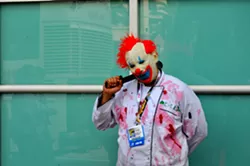 Last week we alerted our readers to
Insane Clown Posse's statement
about those incredibly creepy clown sightings happening around the country. In short, their PR guru Jason Webber said the reports of clowns trying to lure children into the woods are really nothing to worry about. These things happen, you know.
And while our fears were hardly quelled by this dismissive statement, we did find some truth in the idea that this is just "jackasses being jackasses."
Well, folks, on Sunday morning those sightings hit a little closer to home.
At 1:45 a.m. on Oct. 2, a local man posted a video on Twitter of a creepy clown sighting at a car wash located on Cass Avenue and Moravian in Clinton Township. The clown can be seen waving to the passengers in a car as it drives away. While it's not apparent from the video, the tweet says that the clown also attempted to follow the vehicle.
PLEASE SPREAD:we just saw this clown on cass and moravian. He tried to follow our car. This is getting insane.. pic.twitter.com/QvwWoJrSov

— Chris (@HenckeI) October 2, 2016
According to a
WDIV article
posted this morning, police are not investigating the clown sighting.