It's common knowledge: Ranch is the most popular dressing in the country and it's used for far more than disguising the flavor of salad. Last March, the company that originated the creamy sauce, Hidden Valley, launched an online store hawking ranch paraphernalia, including a $50 bedazzled ranch bottle and the now-famed ranch fountain.
The ranch fountain, which varies little from its chocolate-pouring counterpart, seemed to be the benchmark for the condiments never-ending popularity. Ranch lovers are so rabid for the dairy-based dressing, they find nothing more appealing than for it to flow continuously through a tabletop vat.
The fountain, a trivial appliance at best, inspired countless articles, all of which agreed on a simple truth: To live your best life, you must own this ranch fountain. Later, think pieces arose, delineating the reasons why ranch dressing is nothing more than a metaphor for everything that's wrong with America. (The company recently rolled out a Christmas-themed fountain and it can be yours for a mere $110.)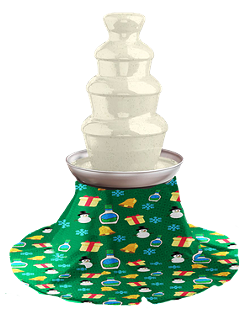 In the outside world, ranch might be a polarizing topic, but there is one thing Midwesterners seem to agree on: Ranch is king.
So, at the offices of
Metro Times
, we pondered: Access to ranch is an inalienable right for all Americans, but do Midwesterns really hold the condiment in higher esteem? We sought to find the truth.
In modern times, ranch is used on everything from carrot sticks to chicken strips to deep fried appetizers like jalapeno poppers. Even our dining editor, Tom Perkins, concedes he occasionally permits himself to dip a greasy piece of pizza into a plastic cup of ranch. But, in the early 1950s, when the dressing was conceived by plumbing contractor Steve Henson, it was for salad alone.
Henson and his wife Gayle later opened Hidden Valley Ranch (an actual ranch, like with cows) in California and began serving the recipe to their customers. People loved it so much, the couple started packaging the seasoning mix and later incorporated, opening a factory to keep up with demand.
Despite several trademark lawsuits, Hidden Valley is now only one of many condiment companies that make the popular dressing. Every supermarket has a house brand and every restaurant has a special ranch formula unique to their establishment. And every ranch lover has a favorite. Actually, they also have a ranch ranking system.
But, as the original purveyor of ranch, we asked Hidden Valley if they could shed some light on our hypothesis and while they were hesitant to hand over too much information about their sales, they did tell us this:
More ranch consumption takes place in the Great Lakes region than any other region Hidden Valley measures
.
Visit any metro Detroit restaurant that specializes in "American" food and you'll find it hard to deny our devotedness to the dressing. Ferndale eatery Christine's Cuisine serves a "Ranch Pita," which is kind of like a ham sandwich, if you replaced the ham with ranch.
In 2014,
Buzzfeed
published a listicle entitled "16 things Midwesterners are tired of hearing" and rounding out the bottom of the list was an entry that concedes most of us dip 99 percent of our food into a creamy white pool of ranch. At least we're self-aware.
But, why do we find such rapture in ranch? An educated guess could link that love with something less appetizing: infant circumcision. Did I lose you? Let me explain.
The Midwest has the highest rates of infant circumcision in the world and experts agree that this generally unnecessary procedure remains prominent here for a simple reason: We're behind the times.
"The Midwest isn't as culturally on top of things as the rest of the country," a source told me back in 2014, and while Detroit may be a gritty, urban metropolis, the majority of the region is known for dairy farms and cornfields. Meanwhile, trends in technology, fashion, and dining generally emerge from the coasts.
On top of that, Midwesterners are largely known for being obese. Recent studies show as many as three out of 10 Michiganians are obese and more are overweight. We're high on the scale of the fattest regions in an already fat country and on top of that, we live in darkness for half the year, which can lead to a hibernation type syndrome.
Speaking of hibernation, those of us who prefer to leave the house as little as possible during the colder months now have the chance to minimize those late night ranch runs.
Hidden Valley just rolled out a brand new item on their website — a refillable ranch keg that holds up to five liters of the creamy dressing. According to the website the keg has a special internal coating that keeps the ranch tasting fresh. The best part? The $50 keg comes with a year's supply Hidden Valley.
The item just launched, but the company apparently received so many orders that it can't keep up with demand. Place an order today and it won't get shipped until Dec. 20, according to the website.