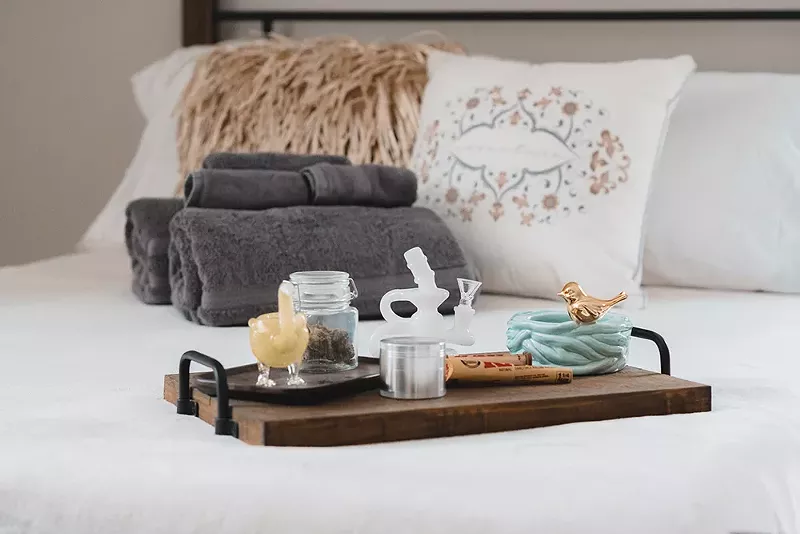 Connie Maxim-Sparrow is used to switching gears when she has to. She says she first became involved in Michigan's cannabis industry by accident. At the time, Maxim-Sparrow was using the skills she learned working in government to help businesses write grants, and soon after Michigan voters approved cannabis for medical purposes in 2008, she helped a client become a licensed cannabis grower. By 2017 she founded Sparrow Consulting to help companies obtain licenses and develop business plans. Soon, Michigan legalized cannabis for adult-use, and eventually Sparrow Consulting had helped businesses acquire several hundred licenses across 10 states, she says.
But now, as the price of cannabis has plummeted in Michigan, Maxim-Sparrow is pivoting again.
"This market kind of peaks and ebbs and flows, and the licensing aspect has really slowed down substantially," she says. "And then on top of that, the market is extremely unstable, and we're seeing a lot of cannabis operators struggle to pay their bills."
To adapt, Sparrow Consulting has launched Dérive Travel, a new cannabis hospitality and traveling service, joining similar Michigan-based endeavors like Michigo and Sparx and Recreation.
Maxim-Sparrow says the idea came amid the pandemic, as she found herself in an "empty nest" after her children moved out.
"My husband and I kind of looked at each other and said, 'The market is not going well. We have this lovely home. What should we do?'" she recalls.
They got the idea to transform their Muskegon home into "The Nest," a "bud-and-breakfast" rental modeled after a bed-and-breakfast, with plans to open a second one in Dowagiac.
Maxim-Sparrow says the rental units have private "bud bars" in each room, including items like bongs, rolling papers, and other paraphernalia. Dérive Travel will also partner with local cannabis dispensaries for discounts and online ordering and delivery. She also envisions hosting private dinners where chefs can come over and serve up cannabis-infused meals for guests, and partnering with other facilities like grow operations to offer tours of the cannabis industry.
She says the goal is to create a safe space for people to explore cannabis.
"We're really focused on everyone from the canna-curious to canna-consumer," she says. "There's still a substantial stigma related to cannabis use, and we're still seeing the war on drugs prevent, I think, some people from trying cannabis. There's not really ways for people that are curious about cannabis to come into a comfortable space to learn about it."
Not everyone knows about directory services like WeedMaps, she says, and cannabis businesses face hurdles when it comes to traditional advertising. Plus, dispensaries can be intimidating to newbies.
"It's still very underground for the average soccer mom who might be stressed out because she's raising her three kids, and would not contemplate using cannabis versus, say, anxiety medication" she says. "We're seeing cannabis starting to become very much readily available and affordable, plus we're also seeing people choosing cannabis over other substances."
She compares the idea to that of sex toy parties.
"Everybody started going to sex toy parties when they were being hosted in their friend's house and it wasn't so 'clutch your pearls,' right?" she says. "I think we're seeing some of that with consumers that are interested in cannabis, but they don't even know where to start. And frankly, maybe they don't want a co-worker to see them walk into a dispensary?"
Maxim-Sparrow says she thinks that the service could be appealing to people from states that have recently legalized adult-use cannabis like Missouri to come see what Michigan's market is like.
"There are lots of illegal states in the United States where people are very curious as to what life looks like a legal state and very much want to come and experience that," she says.
"I think that the cannabis producers and those of us in the industry are going to have to find ways to convert consumers into cannabis versus just kind of ignoring them," she adds. "And I think that there's a hungry group of people out there that are very curious."
After becoming involved with last year's inaugural Cannabash music festival in Muskegon, Sparrow Consulting has also launched a new company called Dedaco, a cannabis event and production company that will take over operations for Cannabash in 2023.
Maxim-Sparrow says last year's Cannabash drew about 7,000 attendees to see acts like Bone Thugs-N-Harmony, Trick Trick, and Willy J Peso.
"Cannabash was a huge hit last year, and that really taught us that consumers are hungry for a normal destigmatized situation," Maxim-Sparrow says. "They want to experience cannabis as if it is something normal, no different than alcohol at a music festival."
The lineup for the 2023 Cannabash is expected to be released on Friday, Maxim-Sparrow says.
Coming soon: Metro Times Daily newsletter. We'll send you a handful of interesting Detroit stories every morning. Subscribe now to not miss a thing.

Follow us: Google News | NewsBreak | Reddit | Instagram | Facebook | Twitter