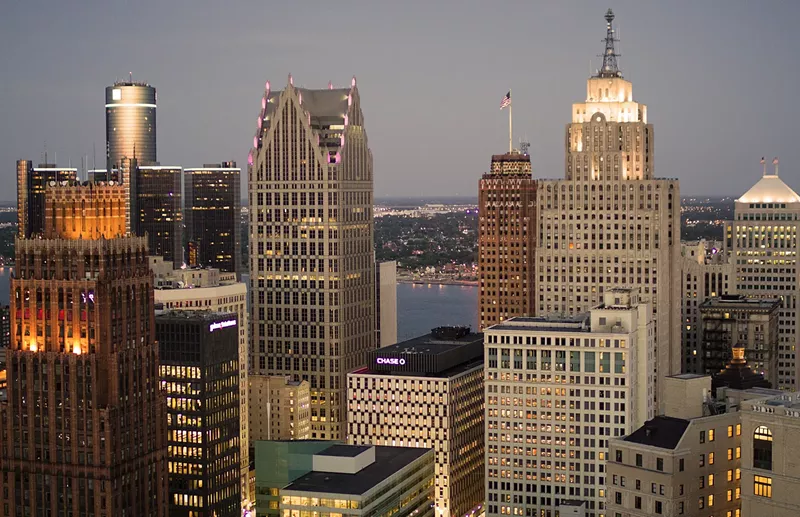 Detroit's unemployment rate dropped to 5.8% in March, the lowest rate in 23 years, as the city's long-struggling economy continues to show promise.
It's the first time the city's unemployment rate has dropped below 6% since 2000.
By comparison, the unemployment rate spiked at 39.3% during the COVID-19 pandemic in May 2020. The rate has steadily declined since then, falling to 14.2% in May 2021 and 7.6% in May 2022.
Mayor Mike Duggan said the numbers are encouraging, but the city still has a long way to go.
"The sustained drop in our unemployment rate reflects the rise in opportunities in Detroit and that Detroiters are taking advantage of them," Duggan said in a statement Wednesday. "A 5.8% unemployment rate is great progress, but our goal is to have Detroit's unemployment rate in line with the state and national averages."
The state's unemployment rate dropped by two-tenths of a percentage point to 4.1%, according to data released last week by the Michigan Department of Technology, Management & Budget.
In the Detroit metropolitan region, which includes Wayne, Oakland, Macomb, Lapeer, Livingston, and St. Clair counties, the unemployment rate fell to 2.8%.
Nationally, the unemployment rate fell to 3.5% in March, from 3.6% in February.
Duggan attributes the declining unemployment rate to the city's ongoing success at attracting good paying jobs. In July,
construction will begin on District Detroit
, a tax-subsidized project to construct or renovate 10 buildings in downtown and the Cass Corridor. That is expected to create 12,000 new construction jobs and 6,000 permanent jobs.
Amazon plans to employ 1,200 workers at its 4 million-square-foot distribution center at the old state fairgrounds. Hiring has already begun.
A new 400-job employment center at the site of the former AMC headquarters is scheduled to break ground this year. And Lear's new seating facility on the site of the former Cadillac Stamping Plant is expected to employ at least 400 people this year.
Duggan also says the unemployment rate is dropping because of the city's workforce development center,
Detroit at Work
, which holds job fairs and offers dozens of training programs to help residents land a job. The program currently has more than 7,750 jobs available.
Yet despite the job growth, the opportunities haven't been equal.
Detroit Future City, a think tank that develops strategies for a more equitable city,
found that metro Detroit's fastest-growing, well-paying jobs
are disproportionately going to white workers. About 16% of Black workers in the region are in so-called growth occupations, compared to 26% of white workers.
Jobs are considered growth occupations if they are growing at the same or higher rate than the region as a whole, pay at least a middle-class salary, have increased wages between 2014 and 2019, and employ at least 300 people. Most of the jobs pay more than $73,000 a year.
A lack of good jobs is a major reason Detroit
is losing its Black population
. Since 2000, Detroit has lost about 295,000 Black residents, or 37.4% of its African American population. No other American city has lost more Black residents.
While Detroit's white population declined by 44,300 between 2000 and 2010, it has since grown by more than 5,100. Its Hispanic and Asian populations have also grown.
Duggan said his administration is working to reduce the gap in job opportunities.
Over the next five years, Detroit's economy is expected to continue adding jobs, the unemployment rate will decline, and residents will earn more money, according to
a forecast by the University of Michigan
in February.
Researchers expect steady growth despite fears of a mild national recession at the end of this year or the beginning of 2024. Employment is projected to "climb every year from 2023 to 2027" and exceed pre-pandemic levels by adding 2,200 jobs this year and another 2,700 jobs every year through 2027.
Blue-collar jobs are expected to lead the way, followed by the leisure and hospitality sector.
Coming soon: Metro Times Daily newsletter. We'll send you a handful of interesting Detroit stories every morning. Subscribe now to not miss a thing.

Follow us: Google News | NewsBreak | Reddit | Instagram | Facebook | Twitter