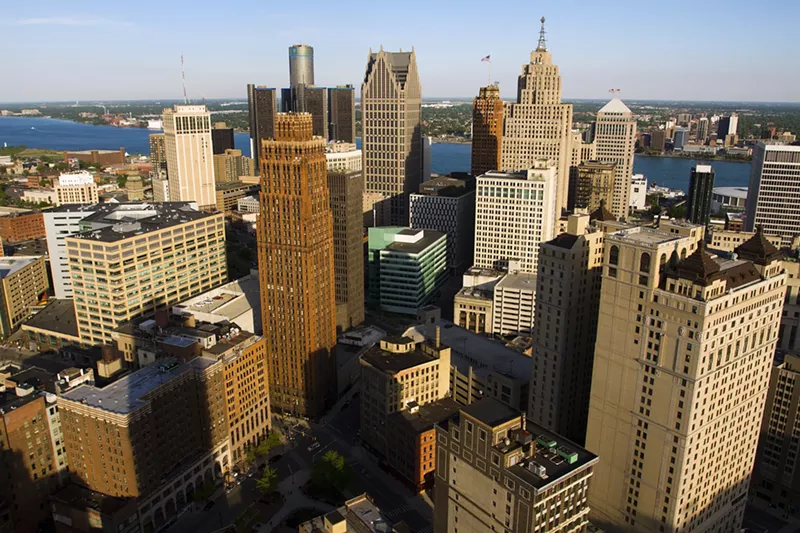 Over the next five years, Detroit's economy will continue to add jobs, the unemployment rate will decline, and residents will earn more money, according to
a new study released by the University of Michigan
.
Researchers expect steady growth despite fears of a mild national recession at the end of this year or the beginning of 2024.
"We expect Detroit's resilience in recovering from the pandemic to date to translate into continued growth – even amid a challenging national economy," Gabriel Ehrlich, director of U-M's Research Seminar in Quantitative Economics and lead author of the forecast, said in a statement Tuesday.
Employment is projected to "climb every year from 2023 to 2027" and exceed pre-pandemic levels by adding 2,200 jobs this year and another 2,700 jobs every year through 2027.
Blue-collar jobs are expected to lead the way, followed by the leisure and hospitality sector.
Detroit's unemployment rate stood at 7.9% in November, compared to 8.6%, the 2019 average. The rate is expected to fall to 7% in 2027, the lowest level since 2000.
Employment within the city increased by 8,000 jobs last year, keeping pace with 8,400 job gains in 2021.
In all, employment in the city is projected to stand at 243,600 jobs in 2027, 7,400 jobs higher than the average in 2019.
Employed Detroiters are also making more money. From 2014 to 2021, the average annual salary among Detroiters grew by 47%, from $26,500 to nearly $39,200. Average salaries are projected to rise to $47,500 by 2027.
Despite the growth, Detroiters are still making far less than other residents in Michigan, where the average annual wage is expected to rise to more than $75,000 in 2027.
Also, a bulk of the highest paying jobs in Detroit are filled by non-residents. Their average annual salary is expected to climb to over $90,000 in 2027, compared to $47,500 for Detroiters.
The city is trying to close the gap by attracting big employers. The Amazon distribution center at the former state fairgrounds, for example, is expected to bring 1,200 new jobs to the city. A new employment center at the site of the former AMC headquarters is projected to provide up to 400 new jobs. Lear's new seating facility on the site of the former Cadillac Stamping Plant is expected to be employ at least 400 people in 2023.
Using money from COVID relief funds,
Detroit is launching Jump Start
, an initiative aimed at helping long-term unemployed residents land a job. Through the Jump Start program, partner organizations will provide training, mentorship, and other supportive services to residents who have been without employment.
"Despite projections of a mild national recession, the Detroit economy has proven to be more resilient today supported by multiple years of balanced budgets for the City post-bankruptcy," Jay Rising, chief financial officer of the city of Detroit, said in a statement. "We will continue employing the administration's growth and opportunity strategies to further sustain and grow the City's economy and improve the quality of life for Detroiters."
Coming soon: Metro Times Daily newsletter. We'll send you a handful of interesting Detroit stories every morning. Subscribe now to not miss a thing.

Follow us: Google News | NewsBreak | Reddit | Instagram | Facebook | Twitter