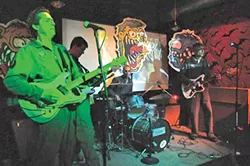 Think surf and, if you're anything like us, your mind turns to things like the movie Point Break: handsome, windswept dudes with toned torsos and very blond hair; flip-flops in winter; everything served with avocado; California; bands like Sublime and Smash Mouth; bikinis worn in coffee shops; Jeff Spicoli; sun and sand; lizard tattoos; the Beach Boys; the occasional shark; and people who refer to beer as "brewski." All of which are ideas that have little, or nothing at all, to do with Michigan.

That very free 'n' easy vibe seems so at odds with our everyday lives in metro Detroit that it's as alien as Hawaiian hula music in Hamtramck. It's a vacation, a nice idea, but it's not really "us."
Rick Mills has been challenging that mindset since the '80s with a number of different projects, determined to prove that just because there are no tasty waves on the Detroit River, it shouldn't stop us from soaking up the SoCal vibe of surf music.

After all, we have glorious summer days (even if they're behind us for another year), and the Great Lakes offer up some beautiful beaches. Not that Mills cares — the man can't surf anyway. "I've never even tried," he says. "I wrote a song called 'I've Never Been Surfing,' just to come clean about it."

In Detroit, surf music has become closely associated with hot-rods and custom cars, big engines and lowbrow art. We found a way to make it ours. But when the likes of Link Wray, Duane Eddy and, notably, Dick Dale, were pioneering the surf sound in the '60s, the wet reverb tones came straight from the waves (with a little Middle Eastern and Mexican influence thrown in).

Dale's Del-Tones came out of California's Orange County in the early '60s, and forged ahead with a pure, instrumental surf sound. The Beach Boys had more success when they added vocals, though the debate about whether Brian Wilson and his gang are actually a surf band rages on in some quarters. By the time the Surfaris had a hit with "Wipe Out," a new genre had been born.

"Online, there are pages and pages of debate about what surf music is," Mills says. "It's definitely guitar-heavy, using what was then the new technology with the instruments. Fender instruments, guitar-based instrumentals that draw from rock 'n' roll, and major and minor melodic progressions."

So that's the backstory. By the time the '80s rolled around, with those garish neon beach shorts and all that big hair, surf culture was again all the rage. Here in Detroit, Mills and bass player Chris Flanagan formed a group called the 3-D Invisibles; a surf rock band with horror themes. The "monster rock" vibe sat comfortably with the Cramps-esque surf punk. Songs like "Dig Up Bela Lugosi" very vividly and effectively combined wacky horror with sunshine fun.

"We came up with this idea of doing genre-specific spin-off projects," Mills says. "This was back in the early '80s. The Volcanos was just one in the line of that. In the '80s, we had a band called the Zombie Surfers. That started our whole interest in surf music. We had a spaghetti Western-themed band called the Hellbenders, where Chris was playing guitar. We had the idea of starting another surf band with two guitar players. We were both fans of surf music and wanted to keep it going — to create original tunes that reflected that '60s style."

Mills says that while the 3-D Invisibles played a lot of traditional surf covers and horror novelty songs, the Volcanos were a more serious proposition, playing original songs without the monster element. "That's what two guitars gave us," he says. "A wider range of compositions."

Over the years, Mills would play with several bands besides the 3-D Invisibles and the Volcanos. Most recently he's been performing and recording with the Seatbelts and the Meltdowns.

"The Meltdowns is currently out of production," the guitarist says. "About a year or so ago, the drummer that had been working with the 3-D Invisibles and the Meltdowns had to leave. We got a new guy in the Volcanos. We're looking for someone to fill in, in the Meltdowns. So the Volcanos and the Seatbelts are the two active ones. We did do a couple of 3-D Invisibles shows but a drummer just came in temporarily."
While Mills is the head honcho with the Volcanos, he says that he is just one of a number of contributing members with the Seatbelts. "The Seatbelts is more of a mixed bag," he says. "It has a lot of different influences. More rock 'n' roll, more Detroit. It becomes what it is without having a specific goal or target for what it's trying to be."

Perhaps unsurprisingly, Mills says he's unaware of any real "surf scene" here in Detroit, though he's happy to remain a talented oddity, the unusual insider. "It's definitely a niche market here," he says. "It's a niche market all over the world, but it's smaller here. We've just got to get by on the fact that there are enough people who like music that's close to it. It's not that far from rock 'n' roll. As long as it's well put together, I think people can appreciate [surf music] without being hardcore fans of it."

True enough. It's not as if we're talking about intellectually challenging music, an acquired taste. Surf music is instant by nature, compelling and very easy to enjoy. The whole vibe is one of fun. We can be cynical old farts here in Michigan, but if we let our guard down and the sunshine in, we can aurally surf through Corktown with big, shit-eating grins on our faces.

"It's something different," Mills says. "It's a different vibe and a different mood to what you'd traditionally find around here. A lot of people get the feel of it even if they're not fans; they've heard that sound in the past. It's an upbeat, happy kind of thing and they respond to that. People who aren't even into surf, when we're up there doing the swim or something like that, they basically get what it's doing."

Speaking of Corktown, the Volcanos will be at the Lager House this weekend. Mills is psyched. "We're ready to kick out what we do, the Volcanos material, and hope that people will enjoy it," he says.

"[Opening band] The Stomp Rockets I'm familiar with. I've seen them over the years. It's a pretty cool, garage-y R&B band."

It looks like a great bill. Surf music in the heart of Detroit's Corktown neighborhood on a chilly November evening could be weird, but Mills has seen to it that there's a little bit of wet 'n' wild in the Motor City music scene — weather be damned; and LA can keep its coastlines. The Volcanos are playing surf rock as well anyone, right here in Detroit. mt

The Volcanos play PJ's Lager House with the Stomp Rockets and the Bears Are Out on Saturday, Nov. 16; 1254 Michigan Ave., Detroit; 313-961-4668.