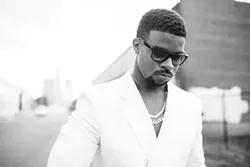 His surname may be Sheard, but his music is eons away from the gospel he grew up listening to. John Drew Sheard, a 24-year-old R&B singer, songwriter and producer, chose to leave his comfort zone and find his own identity.

Scion of a musical and religiously prominent family, Sheard, who goes by the name J.Drew, is the son of Karen Clark Sheard, a member of the Grammy award-winning gospel group the Clark Sisters, and Bishop J. Drew Sheard Sr., senior pastor of Greater Emmanuel Institutional Church of God in Christ.

The Clark Sisters are known for their pioneering use of secular styles in religious music, and their sound has influenced R&B artists from Beyoncé to Mariah Carey. Bishop Sheard enjoys a solid reputation within the Christian community. The couple's daughter, Kiki Sheard, is a gospel star with a number of successful albums on her résumé, and she was featured on Mary Mary's chart topping single "The God in Me." In the face of all this God-fearing talent, J.Drew is on a path of self-discovery, hoping to elevate his game and bring "real R&B" back to the Motor City.

"I just want the real music back where it used to be," he says, chilling on a couch at the famous local recording studio Mix Factory One. "We come from Motown, Stevie Wonder and the Supremes. It's going to be interesting to see Motown come back out of Motown."
Behind his smooth, light-brown complexion, baby-ish dimples and laid-back persona, J.Drew is a man on a mission. In addition to music, he's a full-time student at Marygrove College, majoring in mathematics. His family is big on education, so he knew he couldn't get away with forgoing college to pursue a music career. "My dad believes that you aren't grown until you get your degree, so basically I'm still a kid," he says.

J.Drew may be the baby in the family, but he's been reared in the music industry; he plays a number of instruments, including bass, drums, keyboard and guitar. His foray into producing began when he was only 8, when he says he made his own beats by connecting his Casio keyboard to a karaoke machine. His grandmother bought him his first drum machine and, at age 11, he was hired to play the drums with his mom on tour. When he was 12, his parents bought him his first MIDI drum machine, which he says he still travels with and uses.

J.Drew produced his first record, sister Kiki's debut album I Owe You, when he was 14, but says that despite producing gospel records for his sister, he says secular music has always been his passion: "I was never a gospel guy. I was always R&B-driven."

In 2009, famed producer and rapper Pharrell Williams caught wind of J.Drew's producing skills and signed him to a publishing deal with his label, Star Trak. J.Drew subsequently produced tunes for some of its artists, including Teyana Taylor, and was on the Fast and Furious 5 soundtrack.

J.Drew got bit by the singing bug later, singing background vocals on a few of his sister's albums. After graduating from Marvin L. Winans Academy of Performing Arts, he was signed to the Detroit label, Live the Music Group. When he told his parents about his decision to pursue a career in R&B, they were supportive.

"They were cool, but just said, 'Be careful,'" J.Drew says. "My dad has a heavy job to hold so he can be a little sensitive about how far I go, because he doesn't want that to jeopardize what he is doing. But my mom totally understands the music industry because she has been in the game for, like, 30 years."

J.Drew is blossoming into a respected artist and the difficulties he has encountered in his young life, including fathering a child at an early age, served as fuel for his intimate debut EP, Never Coming Back, which was released last May.

"Never Coming Back is referring to me not going back to the lifestyle that I was living that was holding me back from my goals," he says. He toured over the summer with Young Money artist PJ Morton and is currently working on another EP. Earlier this year, his family starred in the BET reality show, The Sheards, which documented their lives in front of the public's eyes. The show was a hit with audiences and starts shooting the second season this month.

In the new season, J.Drew says people are going to get to see the real him.
"I was born into it," he says of creating his own musical legacy. "There wasn't one set thing that inspired me to do it; I just didn't know anything else."

J.Drew opens for Big Sean at 7 p.m. on Nov. 20, at Eastern Michigan University Convocation Center; 722 N. Hewitt Rd., Ypsilanti; 734-487-5386; emutix.com.