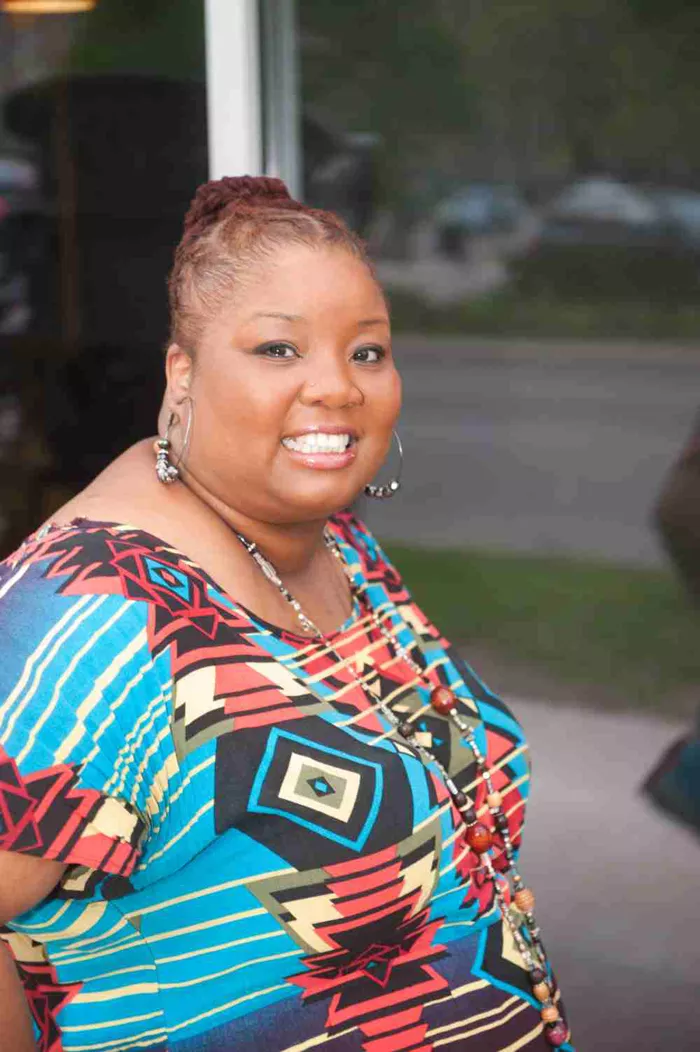 LaShaun Phoenix Kotaran has strutted into Starbucks bouncing to music no one else can hear. It's like she's found the hidden melody wedged between the smoothie machine, scooting chairs, and the cash register. She exchanges a smile and a five spot with the cashier for a Hibiscus tea that matches her dress. This is the space she's in right now: everything's matching perfectly. Her show dates and fans are on the rise, her album is halfway to fruition, and her spirit is glowing through her skin. She sits and talks marriage, poems, songs, and life as if she hasn't seen a bad day in years.
Kotaran (born LaShaun Moore) is candid about her past. "I've been singing since I was 5 or 6 years old," she says. "I've been in every church choir and sung in concert choir in high school and college," says the Detroit native. "My mom also listened to a lot of Earth, Wind & Fire, Stevie Wonder, and Stylistics. That's how I fell in love with soul music."
Kotaran's smile transforms into stuttered laughter as she talks further about the Saturday nights jamming to R&B records with her mother and how she was her first artistic stimulus. "I was first inspired when I read a piece [of poetry] of hers called 'Black Men Walking,'" Kotaran says in between slurps of tea. "She was definitely a great poet back in the day."
Though Kotaran's musical prowess is her calling card these days, that hasn't always been the case. "I had a friend that took me to Café Mahogany while I was home for the summer from Central Michigan, and my mind was blown."
Café Mahogany was an eclectic and artistic hub during the mid- to late 1990s that attracted everyone from poet phenom Jessica Care Moore to the renowned hip-hop act Slum Village. The legendary café (which closed in 1999) hosted house music, jazz, and hip-hop nights. But it was the Tuesday poetry night hosted by local emcee and poet Joel Fluent Greene that garnered the biggest crowds. "It was like our own personal black planet," Kotaran says, nodding her head.
From that point, Kotaran threw herself into poetry. She adopted the name Phoenix as her stage name, and wrote, performed, and studied regularly. "It was such a feeling of acceptance; the poetry and rolling with that crowd became more powerful than my love for music."
However, not all of her experiences were fulfilling. Kotaran also entered an abusive relationship with another patron she met at the café. She pauses to gather her thoughts. "If I was honest, I would say that the issues with the abusive relationship were twofold," she says. "1) I had daddy issues; he wasn't there. 2) Coming from a line of women that were physically abused, [I didn't really know] what love looked like."
Kotaran's words do not come from a teary-eyed face of shame. Her tone and demeanor is stout, but she's careful when choosing her words. She talks about how she used poetry to mentally sustain herself, about how her poems became a conduit of healing with several other women who were going through the same thing. She decided to leave the relationship in 1999. "I was living this hyper-sexualized kind of life, and that's exactly what I attracted," she says. "I had to take some ownership."
For the next eight years, Kotaran found her comfort zone and stayed there. She earned her master's degree in marketing, worked during the day, hosted poetry nights, and performed regularly. Singing was always used to accent the poetry, but not the other way around. In 2005, she met local singing mainstay Inohs Sivad, and a mentor-mentee relationship evolved.
"It took us five years of working though my emotional issues and fears," Kotaran says. "I had a lot of apprehension of moving out of that popular scene into something more diverse like music."
Fear is something Kotaran has constantly had to fight. She didn't get her first apartment until she was 26 or her driver's license until she was 30. "It's very easy to tell people the things you've experienced and the things you want to be while you go home to your own hidden fears and traumas," she says.
By 2011, all fears of love and song had been subdued. Her first CD, Space Between the Rain, was produced by Sivad and well-received. "We sold about 800 CDs," she says.
After two years of dating, she married boyfriend Robert Anthony Kotaran in 2011. "I think Tony's love has given me the courage to pursue my dreams full-throttle," she says. "Having him as a foundation and support has been the boost that my career needed."
She also acknowledges how her music was deeply affected by her personal life. "My first album was someone who was longing for love, and I was a balladeer," she says. "Now that love has come into my space, I'm looking for something that has more edge."
With the help of local production team InHear Productions, she's five tracks deep into an album that will feature 10 songs. She calls her style "soul alternative." She promises the album will be edgy, R&B mixed with a little rock and pop.
"InHear Productions aren't afraid of my artist temperament," she says. "They're candid about what works for my voice. Inohs was the foundation, and now InHere is propelling me into the artist that I want to be."
Kotaran ultimately sees herself following the soul music footsteps of recent local acts L'Renee and Dwele. Kotaran finishes her tea, exits just as jubilant as she entered, and walks toward her car. Before she gets there, there are two young men asking for signatures and money as part of a project to get them into college in the fall. Kotaran obliges with both. One of the young men asks her, "What do you do? I mean you look like you're popular or something." Kotaran looks at both of them and says, "I sing. That's all I do, sweetie, is sing."
LaShaun Phoenix Kotaran plays on Saturday, June 28 at the Elizabeth Theater (inside the Park Bar), 2040 Park Ave Detroit; 313-962-2933.