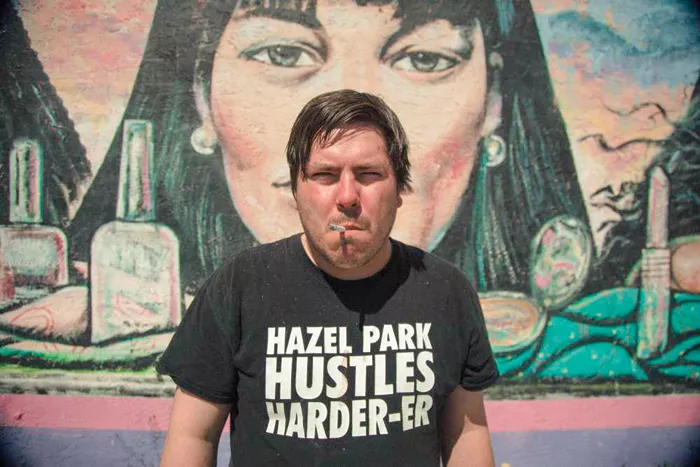 John Panich thought he was dead. The local rapper-producer suffered post-traumatic stress after a car accident a few years ago, and it sent him into a disquieting confusion, as though he were in a sort of purgatory. This period inspired the bluntly morbid song "John Panich Is Dead," which would eventually turn into an impressive short film by local filmmaker Colin Duerr. The Hazel Park-raised Panich, aka "JP from the HP," often produces his own songs, arranging his own beats and piano loops and penning devastating lyrics that can be morbid, but nevertheless sincere and relatable. His next EP is titled "John Panich Is Alive." He's also involved with a burgeoning rap scene from which he'd felt left in the cold.
Metro Times: That's both bold and a bit macabre to write about your death like that and how they'll probably bury you, "still breathing, still screaming, still rapping, still dreaming …"
John Panich: Yeah. The song "John" by Rick Ro$$ and Lil' Wayne was a number 1 hit when I was writing that, and I was just tired of all the popular rap songs at that time portraying images I didn't relate to, especially "John," because when they bury me it won't be in all brown linen. I was making beats then on a very small two-octave midi-controller on West George in Hazel Park, and I was playing piano to this drum loop. My roommate taunted me and said, 'Oh, I wanna hear you rap about being dead on this.'
MT: Did you ever have reservations over being too intense or self-deprecating with your lyrics?
Panich: That was from the beginning, yeah. But I listened to a lot of Tupac and Nas growing up. They'd be vulnerable on a song. Whereas [with] Lil' Wayne and Jay-Z, it was all ego. I'm ego-driven sometimes, sure, but I don't want to show it so much in my music. And that helps people connect to it, I think. It's like therapy for me, I think; that's why I write about myself so much.
MT: People talk about the Detroit scene and Ferndale's scene, but what was it like coming up as a rapper in Hazel Park?
Panich: There wasn't a lot happening in that city, but recently people are doing some things. When I go to bars, if I have something new out, everyone talks to me and introduces me around, like, "This is our guy, Hazel Park's own!" With only one high school, it's a small town and everyone knows someone from somewhere. The true-blue supporters, friends and fans, are still with me. But I've started to explore other parts of the city.
MT: You've got a track on Benjamin Miles' new album, which comes out this week, and you recently put out a video with Colin Duerr, so you've started collaborating more, branching out more.
Panich: Yeah, I've just recently been jumping onto other people's shows. I used to do it all, be the sound guy, book it, handle everything with the bar, pick the line-up. Colin and I did a video in 2010 when we were both starting out, back in the MySpace days. I helped him buy a camera in return for him doing some videos for me. Colin's a great friend of mine, and he has an amazing, twisted, creative mind. He knows me better than I know myself, and about 90 percent of all the ideas in the "John Panich Is Dead" video came from his brain interpreting my song.
MT: The show you're doing with Benjamin Miles has a lot of rappers who've become regulars on the scene, part of the same little hip-hop community that's been quietly building. Do you feel like you're no longer such an outsider?
Panich: I was turned off on scenes for the longest time because I just wanted to be my own thing, ya know? Then I just blanked, closed my eyes and opened them, and then I was just … part of it, somehow. It's cool. All the people involved are very supportive. I remember living with Ben three years ago. I was 26 and thinking, "Shit, this is all lame. My videos are good; there's no doubt my stuff's good enough to be out here. No one writes about me, no one cares, fuck everyone." Ya know? Ben brought up SelfSays (Charles Vann) as an example, to prove you gotta pay your dues and work with people to get you there.
MT: What was your most formative moment or key influence, to keep you pursuing rap music?
Panich: Dr. Dre. I found out, by studying what his actual role was, that he'd network and put the guy who plays the best bass lines or key parts into the studio, that whole process of production, what it means to be a producer. That's cool. I latched onto that. But I also had a rap duo when I was 19 with my friend Darren Teed [JP & Guaranteed]. We recorded and released our first album on burned CDs, and we sold them out at our show. I had the dream since I was a young kid, spitting back all the lyrics to Shaq's Diesel album, but not until we made that album. I knew I'd always be pursuing it in some form or another.
MT: Lyrics, recording, and producing aside, talk about performing.
Panich: Love it, love it, love it.
MT: What is it about that particular interaction, and were you ever nervous?
Panich: I like bringing people together. I was nervous, at first, but only on a stage. I used to rap in bathrooms at school. We'd plug keyboards into the outlets and beat-box in there, with girls coming in for concerts in the boys bathroom. Later, I watched a video of myself onstage and realized I didn't look so awkward, even if I felt awkward. Like, 'Oh, I'm good at this!' Now I'm super comfortable. I'll do anything. I'll perform naked, even. I don't care.
JP From the HP performs with Mister, Blaksmith, RedPill, MOLA1, Britney Stoney, Charlie Beans, and Tony Braggs as part of the release party for Benjamin Miles' new album, The Wishing Tree (presented by Five30 Music), at 9 p.m. on Friday, May 30, at the Loving Touch, 22634 Woodward Ave., Ferndale, 248-546-3644; no cover.