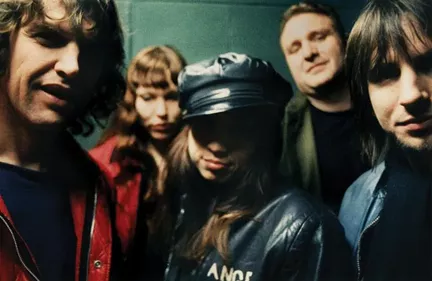 The Detroit Cobras' first two LPs were lovingly reissued by Third Man last month. And we just learned that
[UPDATED: the group will NOT perform at Third Man Cass Corridor but it will be awesome, read on]
on Wednesday, Oct. 12 to celebrate.
Third Man's Cass store has "packed the night with all things punk for the celebration right here in Detroit. Never before seen photo and video footage edited by Steve Shaw of the Cobras' performance at the Fourth Street Fair in 1998 will be premiered for your viewing pleasure. Founding members of the band will be in attendance for a post-film discussion, and Detroit's very own Timmy Vulgar (Timmy's Organism, Human Eye) will be serving up his famous Timmy's Tacos. Bring your dancing shoes, wax will be hand selected all night by DJ Brad Hales for maximum soul-stomping enjoyment. To top the night off, exclusive colored pressings of The Detroit Cobras' 'Life, Love, and Leaving' & 'Mink, Rat, or Rabbit' will be available for purchase!"
Sorry again we were wrong about the live performance!
This whole thing is superb news for fans of Detroit music. We all know that the Cobras are one of the best bands to ever emerge from this region, and we all know that's saying a lot. Their inventive, intense, and absolutely thrilling approach to material which (decades after its initial release) fell into the hands of schlockmeisters, hacks, super old people, and overly reverential young acts, remains revolutionary.
Who in their fucking right mind would ever consider covering a jumped-up track that once was sung by Otis Redding?! Nobody, that's who — because thankfully, the Cobras have never been in their right mind. They have been in the mindset of lust, despair, longing, and whatever you call it when you are absolutely abandoned to romantic love — the same territory of the original songs they cover.
The group's core/founding members, vocalist Rachel Nagy and guitarist Mary Ramirez, are both genius arrangers. And they always have had super solid backing from a revolving cast.
These songs are all covers, but the Cobras are not a cover band.
To do this kind of thing, and do it this well, is nearly impossible. The first two Detroit Cobras records — 1998's
Mink, Rat or Rabbit
and 2001's
Life, Love and Leaving —
were re-released on August 26. Many thanks to Third Man Records for putting these essential records back out into the public sphere. You will find these records at a friendly neighborhood record store near you, as well as available at
thirdmanstore.com
for direct ordering now.
And lo and behold, here is a previously unreleased song, which was pressed as a bonus track on
Life, Love and Leaving,
"This Old Heart."