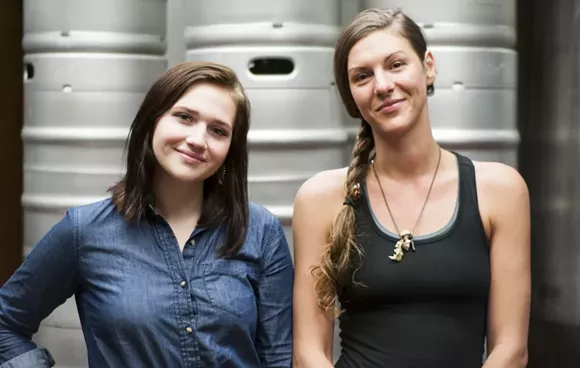 On a recent evening, a group of men dining at Midtown's Traffic Jam & Snug restaurant and brewpub found the beer so good that they requested to speak with the brewer to express their appreciation and admiration of his work.
When their server retrieved Chelsea Piner from the brewery, the men — who she characterized as "old school dudes" — chuckled.
"Oh no, sweetheart," one said patiently. "We want to talk to the brewer."
Before turning heel, Piner quickly shot back: "I'm the head brewer, but I can get my assistant if you want to talk to him."
The men — realizing their embarrassing mistake — quickly apologized.
Oof.
Piner says they all had a laugh, but the anecdote is a small sample of the challenges women sometimes face as more get involved in Michigan's rapidly expanding craft beer industry.
In short, women don't always get the deserved respect from the outset. Piner says she had to ask one brewer to "talk to her and not at her." She and other women are sometimes forced to clarify that they didn't get into brewing to find dates.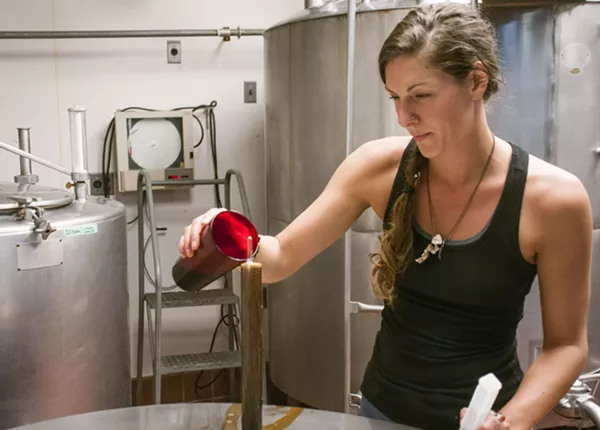 The good news is that those sort of perceptions, attitudes, behaviors, and assumptions — which fall somewhere on the spectrum between outdated and moronic — are changing as women like Piner start brewing more of Michigan's beer and working in the industry.
"I think in general the brewery scene is a pretty progressive group of people," she says. "For every less-than-accepting person there are countless more who are open to anyone who is passionate about their craft."
Liz Crowe, Unity Vibration Kombucha's national sales and marketing director, is also the communications director for Fermenta, a craft beer collective for women that offers opportunities to network, gain experience, and learn the trade through a variety of useful programs.
It still can be a challenge for women, Crowe says — even though women literally invented brewing.
Since ancient times, brewing was primarily a woman's work. "Once it was a commercial enterprise, it was taken over by guys in business, because that's how society works," she says. "Now craft beer has opened the door and helped more and more women get into the business."
Michigan's craft brewing industry is among the nation's largest: currently a $10.5 billion business, which is up from $6.64 billion in 2014. Around 225 breweries operate statewide, and the industry directly employs around 34,000 people.
The number of women represented in that figure isn't tracked, but their ranks are growing, Crowe says. Since launching in early 2014, Fermenta's membership has increased rapidly, and she says there are visibly more women in all parts of the industry: brewing, marketing, sales, home brewers, and so on.
"Making beer is creative," she says. "It's cooking, and it's being creative in a way that women always have been, but the craft beer renaissance, or boom, has really made it more possible to get into the industry."
Perhaps the biggest challenge outside of male domination of the field are the physical demands, Crowe says, but that isn't a prohibiting issue.
"There's usually more than one brewer, so if she feels like she's not capable, then she can get help," Crowe says. "Also, modern breweries usually have an automated system in place, so that really precludes that issue. It's a non-issue at this point."
Piner is proof of that. She tended beer at the Detroit Beer Co. before graduating from college and moving to California to start a film career in 2012. While there she started working at Stone Brewing, quickly made her way up in the company, and began turning what she considered a part-time job into a career.
In 2015, she moved to Germany and landed a position as an assistant brewer. With that experience, she moved back to Detroit where the Traffic Jam brought her on as an assistant brewer, but the head brewer position soon opened up. Though she was short on experience, she describes herself as willing to do the hard work in an industry in which strong work ethic is valued.
"It was basically always showing up, having enthusiasm, and doing any job with a smile on my face," she says. "I've also been able to taste beer and articulate ... and identify ingredients really well. That was a huge part of it, and working my ass off.
"There were definitely people who had more experience, but I always showed up and showed people what I have to offer."
Traffic Jam owners Scott and Carolyn Lowell give Piner total creative freedom on its seven-barrel system, which is unique in that it's composed of old dairy equipment and open air fermenters. That's helping her quickly grow, and she says she's particularly proud to show off her Natural Selection peanut butter porter and Wit Dreams Are Made Of tart cherry wit at this weekend's Michigan Brewer's Guild 20th Annual Summer Beer Festival in Ypsilanti.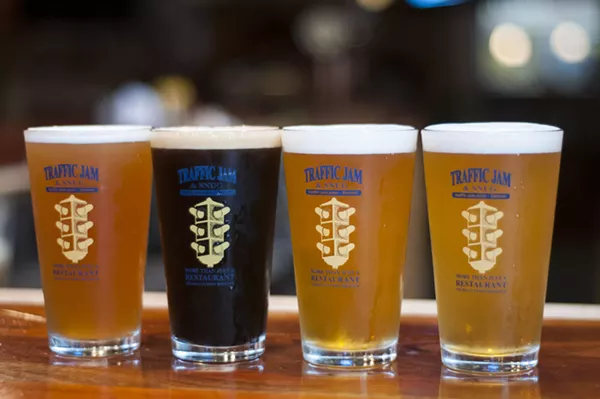 Beyond Traffic Jam, there are plenty more beers made by women that'll be available at the Summer Beer Fest. Fermenta partners with Michigan breweries to offer "open brew days" in which women (and men) can participate in brewing a limited run beer that'll debut at the festival.
We compiled a list of the breweries that worked with Fermenta or are run by women, and the beer that they produced. Among them are:
Traffic Jam & Snug: Menage A Trois Belgian tripel; Natural Selection peanut butter porter; Stratus Beery New England IPA; Pineapple-Pocalypse Hoppy Pineapple Blonde; Wit Dreams Are Made Of tart cherry wit.
Unity Vibration Kombucha: All kombuchas are made by head brewer and co-owner Rachel Kanaan.

Short's Brewing Co.: Super Sounds of the '70s dry hopped Farmhouse Ale has 61 percent ABV, and is described as "a hazy with a deep gold color and a frothy, off-white head. An enticing aroma begins with notes of slightly dank citrus, attributed to the use of Wakatu hops, and lime gives way to scents of tropical coconut as the beer warms. Light in body, this Farmhouse Ale is filled with flavors of lime and citrus. Notes of coconut contribute to a juicy mouth-feel. The finish is dry and slightly tart."
Kickstand Brewing Co.: Jane Beere Imperial Golden Lager
Tecumseh Brewing Co.: Circumspice Saison made with all Michigan ingredients, including Pilot Malt House grains, hops from ChurchKey Hops, and yeast from Craft Cultures Yeast Labs. It also includes sweet briar rose, grapefruit mint, and chamomile from DRM Farms.
Dearborn Brewing: 2 Pretentious to Mango American wheat ale with mango. 5.8 percent ABV, and described as bready, slightly malty wheat ale with mango added for flavor. Women at the brewery also made the Ladies Nut Cruncher imperial mild, which is 7.6 percent ABV and made with peanuts, as well as the Lady Marmalade double wit which is six percent ABV.

North Center Brewing Co.: Fermenta Berliner weisse. Described as a light sour style with some slight citrus notes to accompany the tartness. It's served on its own or — as is done in Germany — with a flavored syrup like blackberry or strawberry coriander. All beers are made by Dakota Amrit-Wall, who appears to be the state's first transgender brewer.

Jolly Pumpkin: Jolly Pumpkin Passion Fruit-Infused La Roja Flanders Ale.
River's Edge Brewing Co.: Moon Over Moore Lake wheat beer. Has 5.5 percent ABV, and is described as a deliciously refreshing and crisp wheat beer brewed with American Saaz hops.
Canton Brew Works: Sour Juicy sour IPA. Has 4.7 percent ABV and is described as a northeastern IPA that's made with lactobacillus bacteria.
Fenton Winery & Brewery: Fenton Honey Amber.
Rochester Mills Beer Co.: Rochester Mills Mango Cream Ale.
Batch Brewing Co.: Batch Brewing Silent Lucidity Hazy Pale Ale.
Tapistry Brewing Co.: Juice in the Wheel double rice India Pale Ale featuring El Dorado Hops. Nine percent ABV, and described as holding juicy papaya hop flavors that are set against the cereal taste of flaked rice.
New Holland Brewing: A Passion fruit and raspberry wit.
Cotton Brewing Co.: Pinky Out Belgian blonde hibiscus. Has 7 percent ABV and is described as a Belgian-style blond ale brewed with dried hibiscus flowers and aged in a chili pepper barrel. Golden in color, slightly sweet, and tart with a mild pepper aroma and flavor. Distinct fruity ester and spicy phenol character from Belgian yeast and a mildly dry.

Eternity Brewing: All beers are made by owner/brewer Dayna Tran.
Brewery Ferment: Nobody Does It Bretta pale ale.
The 20th Annual Summer Beer Festival is held from 5 p.m.-9 p.m. on Friday, July 21, and from 1 p.m.-6 p.m. on Saturday, July 22 at Riverside Park in Depot Town, Ypsilanti; mibeer.com/summer-festival; tickets are $40 in advance or $45 at the gate on Friday and $45 in advance or $50 at the gate on Saturday.