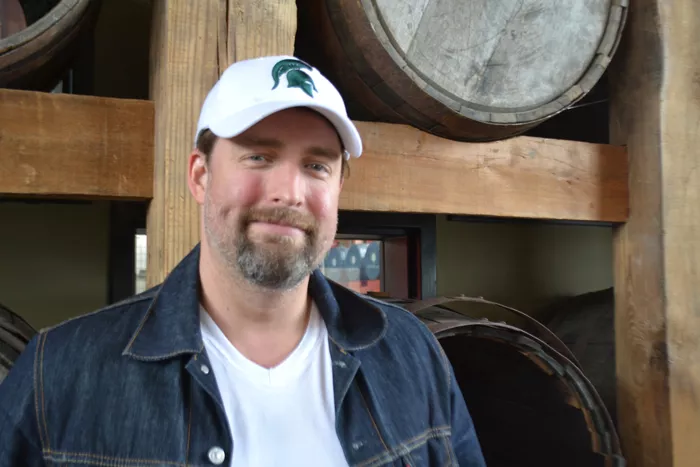 Food culture in Detroit is exploding. Things are happening so quickly these days that it's hard to keep up with all of it. With restaurants, bars, urban gardens, and whole entertainment districts practically springing up overnight, we thought we'd introduce you to the people behind the enterprises. We aim to find them and quiz them because Detroit's new generation of brewers, chefs, gardeners, farmers, sommeliers, and distillers have heart, tenacity, and great stories to tell. These are your food folks.
First up is David Landrum of Corktown's Two James Distillery — maker and drinker of good booze, and all-around friendly dude.
Metro Times: Tell us about the genesis of Two James.
David Landrum: Conceptually, I started this about three-and-a-half years ago. It was always something in the back of my mind. I was working on another restaurant at the time. Once my restaurant fell through, I knew I had to do something. I called up my business partner, Peter, who was in Chattanooga. I said, 'Hey, man, what do you think about doing this project?' He was into the idea. From a funding standpoint, it was partly self-funded; I had some money saved up. We used a loan from Comerica Bank and we got a little bit of outside help from one investor. We did get a grant from the Old Tiger Stadium Conservancy, and then besides that, [we bootstrapped it] ourselves.
MT: How long did it take you to "perfect" the spirits? When did you know that you had something marketable?
Landrum: Back in 2000, when pretty much no one in Michigan was doing it, I visited Milk & Honey, owned by Sasha Petraske, in New York and it totally changed my perspective of things. They were doing things I had never seen before. You know, before, I was slinging the most cloying sweet and disgusting products available, like appletinis and chocolate martinis, just like everyone else. I came back to Michigan and threw my entire bar out and started doing things the right way.
We just did run after run after run. We kept trying different methods at different temperatures at different runtimes until we had a recipe we thought was a winner. Then we sampled the public, because we wanted to make sure we weren't crazy; we wanted to make sure everyone else liked it too. We did two 20-person completely blind taste tests with five other vodkas — with highly regarded vodkas, Grey Goose, Ketel One, and some other local stuff, and ours came in first or second with all 40 people out of the two separate taste tests.
MT: What do you think about the whole cocktail revolution in Detroit? Are you excited about the trendiness of it, or do you think it will become a caricature of itself?
Landrum: I think it already has. I love the fact that people are making great cocktails. But I feel like you shouldn't celebrate doing something right. You know what I mean? I feel like that's just how you should do it. Sugar House puts their own spin on it and they're very creative; same with The Oakland — they're making new things. As far as the classics go, I mean, that's how you should make a Manhattan, that's how you should make an Old Fashioned. Those things are supposed to be done the right way, so I don't feel like there's a need to celebrate it.
MT: When you go out, what do you drink? We find that people who enjoy classic drinks are often shot-and-beer people.
Landrum: I can definitely be a shot-and-a-beer guy. Honestly, my favorite drink of all time is just a gin and tonic. I think when you're using two ingredients to make something, it's scary, because they have to be really good ingredients, since there's only two.
MT: Any "cocktail declarations" you'd like to make to the world?
Landrum: Anything made with orange juice is gross.