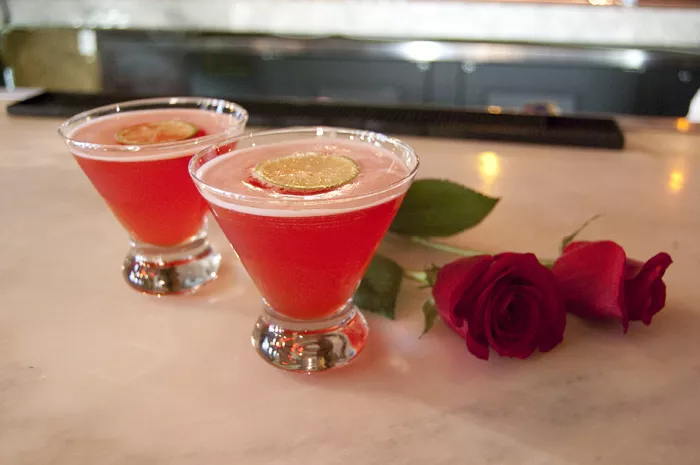 Skybar
1150 Griswold St., Detroit
313-965-3054
skybardetroit.com
Open 2-11 p.m. Monday-Wednesday, 2 p.m.-2 a.m. Thursday-Saturday.
Invited by General Manager Zois Bricolas, we stopped in to Skybar last Thursday night and saddled up to the bar. The white marble was backlit with red, which offered up a warm, decadent feeling. Though it was only around 6 p.m., people were crowded around the bar, sipping on bottled beer and chatting loudly. Quickly greeted by a smiling bartender, we perused the leather-bound menu, which offers up happy hour specials from 2 to 7 p.m. Monday through Saturday.
Outfitted with Moroccan-style lanterns that hang from the cathedral ceilings and similar sconces carefully placed on pillars throughout the space, Skybar is lush and plush. High-backed booths are upholstered with brocade woven with orange, brown, and metallic threads, while others are white leather and complemented by low, black, cloth-covered tables. Black-and-mahogany-colored curtains are elegantly draped from floor to ceiling, leaving only a floor filled with human-sized throw pillows to be desired.
Though often interrupted by business calls, Bricolas sat with us to discuss the menu, which he said changes regularly. He spoke in oddly soft tones about curating the cocktail menu himself, using locally sourced ingredients purchased from Eastern Market when seasonally available. The food menu, comprised mostly of appetizers and sandwiches, is created in a similar way, and Bricolas requested a "shout out" to Chef Matt, who helps design and create the edible offerings.
While Skybar occupies the ground level of 1150 Griswold, the bar offers up another space in the lower level of the building called Cellar. Also known for their 33rd-floor ultra lounge, Skybar is currently in the midst of revamping that space. While the lounge remains closed during renovation, Skybar is still open.
He says the bar's most popular drinks, available daily on the happy hour menu, are Sex in the Motor City and Pink Panties. The former is bright pink, accented with a slice of lime and served in a cosmopolitan glass. It includes vodka, peach schnapps, cranberry and pineapple juices, and we're not quite sure what it has to do with the Motor City. Fruity and feminine, Sex in the Motor City tastes like the same flavor we'd expect from the color pink. Pink Panties (does that name make you feel creepy too?) features Sparkle Donkey Tequila, St-Germain, grapefruit juice, and champagne.
With a range of Michigan brews, Skybar also offers $3 Michigan beers all day long. The beverage program also includes red and white wines, along with a selection of champagnes.
A gorgeous space that you might not expect from its exterior, Skybar offers a respite for those looking to unwind in an urban environment.