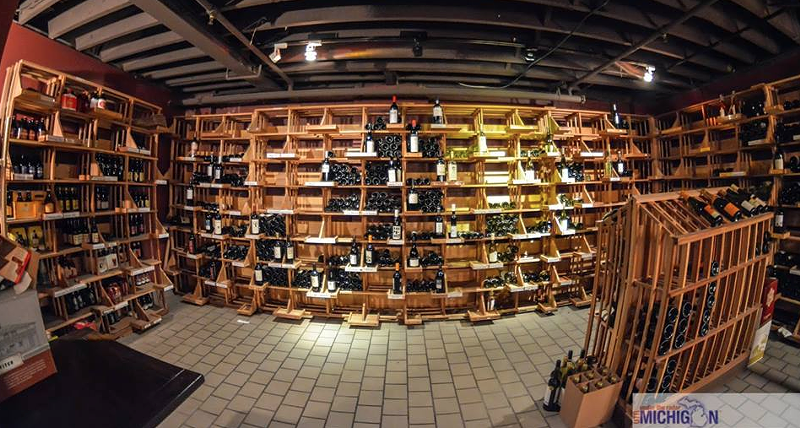 Vinotecca will open its new digs in Birmingham's former The Bird and the Bread space next week. That includes a soft opening on Tuesday, and a full public opening on Friday, Jan. 26.
Diners and wine connoisseurs familiar with Vinotecca's former downtown Royal Oak location will notice two big differences — the new restaurant is much bigger, and it's a more food-driven concept than in its former life.
Co-owner Kristin Jonna — whose family owns Vinotecca, Ann Arbor's Vinology, The Bird and the Bread, and the Elm Room — says to expect "wine-friendly world cuisine" focused on each of the wine making regions that Vinotecca highlights.
"We'll have, for example, an India-inspired dish that has significant roots in the region. We'll have a French dish, Spanish dish, Mediterranean, Thai, Greek, so that people are feeling the world emphasis in food like they feel the world emphasis in wine," she tells us.
That means dishes like curried scallops and pork belly with pureed and curried cauliflower, braised pork belly, beluga lentils, green garbanzo beans, carrot-sultana relish, and garam masala, red sorrel leaves.
In the Dirty Pleasure — an ode to umami — a combination of American wagyu and prime beef will be set up with red onion jam, aioli, and truffle cheese to develop three layers of umami. Vinotecca's take on the classic French dish
coq au vin
will utilize Cornish game hen braised in wine instead of the usual chicken. The menu will also hold items as diverse as vegan tamales and caviar.
Appetizers will include steak bits with a zinfandel zip sauce, fire-roasted artichokes like one might find in California's wine country, and the
Tres Frites
with
bravas
sauce — a complex potato-based dish with three types of potato cooked separately to achieve the correct consistency and texture for each.
"Even a simple thing like fries is getting a significant, modern uptwist," Jonna tells
Metro Times.
She notes that executive chef Adam Galloway is a chemist and biologist turned chef, so he's skilled in molecular gastronomy and understands complex cooking methods.
All of Vinotecca's dinners can be ordered in a half size, and Jonna says the small plates, shareables, salads, and dinners are meant to be passed around the table.
"Our entire menu is really meant to honor the theory of sharing food and wine. No one wants to open a bottle of wine by themselves," she says.
Though there's more of a food focus, the wine isn't de-emphasized. A 30-person bar is the center of dining room and people are encouraged to utilize the private dining and banquet rooms. (Jonna stresses that none of the events booked at the Elm Room are impacted by the changes.)
The wine list will include 25 wines by the glass and 75 to 100 by the bottle that represent each of the world's great wine making regions. Jonna says that she offers a manageable list "so my staff is comfortable with each of these ... and they become ambassadors for the wine, and are comfortable matchmaking all the wines to our guests."
The new Vinotecca will also host live music. Jonna says the restaurant won't charge a cover, but contributions to the live acts are appreciated so that the restaurant can continue booking them.
As for the vibe, it's a new space but some of the art pieces from the Royal Oak location will be familiar to longtime customers.
"People who love the Royal Oak space will see those items repurposed here. We're about reclaiming, reusing, and focusing on things that are part of the wine-making process," Jonna says.
Vinotecca will be located at 210 S. Old Woodward Ave., Birmingham.