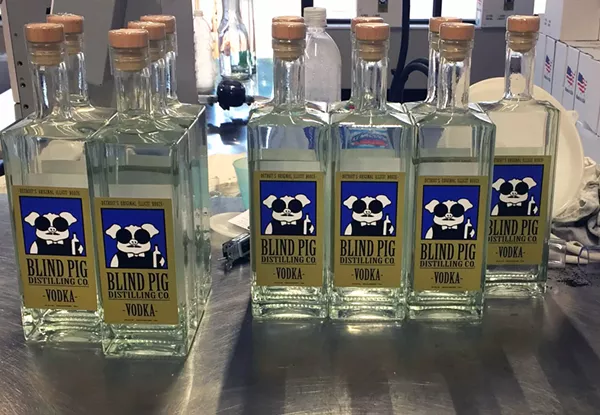 Joe Lupo's family legacy includes FBI wiretapping, cash squirreled away in attic walls, and a city-wide hooch distribution empire.
His only choice, as he sees it, is to carry on that legacy — albeit entirely legally these days. Lupo's Blind Pig Distilling Co. in Clinton Township started operations last October. The history behind Lupo's vodka goes a lot further back.
Lupo's great-grandfather emigrated to Detroit in 1910 from Sicily and settled on the east side. The eldest Lupo's exact occupation is somewhat obscure during the heydey of Prohibition in Detroit. His great-grandson does know, however, that by the 1940s his grandfather, Joseph Lupo, was cooking up and bottling up to 200 gallons of vodka every week from his home on Balfour.
"Pops," as the youngest Lupo calls him, employed at least three other men to distribute the moonshine to blind pigs throughout the city of Detroit in the '40s, '50s, and '60s.
Pops was pretty tight-lipped about exactly where he sent the booze he cooked up in the two stills he kept in his basement on the east side, Lupo says, but by the 1950s it became an open secret that the Lupo brothers were the go-to suppliers of cheap and palatable vodka for the hundreds of illegal and after-hours bars in the city. The operation ran smoothly enough for years, until a Detroit police officer — frustrated at his inability to get charges to stick to the Lupo boys — brought in the FBI.
Finally, the law caught up with "Pops" Lupo. After his phone was allegedly tapped, a dozen police cars and federal enforcement officers showed up at the house.
"My grandfather never let my grandmother live it down that she let the police in," Lupo tells us. They found a 35-gallon still, full of vodka, and an empty 25-gallon still. Officers seized just about every liquid asset Lupo had, both alcoholic and financial varieties — including a brand new Buick — but couldn't find any cash.
"They asked him, 'Where's all the money?' but he said, 'What money? I got five kids!'" Lupo says.
The cash, it turned out, was stashed in an asbestos blanket in the attic's insulated walls. Pops had been tipped off that the feds were coming and made some last-minute plans. That money saw his family through the eight or nine months that Lupo served in prison on an initial three-year sentence.
But Pops wasn't the only Lupo serving time. "They made a joke that they'd have to install a revolving door in the jail for the Lupo boys," Lupo says. "As soon as one got out, another one came in."
Pops continued bottling and distributing even after he was released, but by the late 1960s, pressure from law enforcement and the increasingly dangerous nature of the business caught up with him. He hung up his distilling apron and bought a restaurant.
Years later, his grandson, also Joe, was stuck in an unsatisfying corporate job in Orange County, California. One afternoon, daydreaming at his desk, he ended up checking out a Craigslist post about a handmade still available about an hour away. The next thing he knew, Lupo was the proud owner of a cobbled-together monstrosity from Home Depot. It worked, though, and that was all it took for Lupo to get the family feeling back.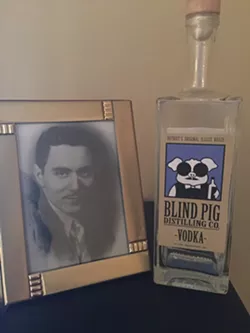 "I called my dad and said, 'You still have Pops's recipe, right?" Lupo says. He did. For a couple of years Lupo distilled from the old family recipe for friends and relatives, and had a tough time keeping up with demand. When he found himself laid off, he took a big gamble. He cashed out his retirement fund and moved his wife and kids back to where it all began — Michigan.
Lupo's Blind Pig Distilling Co. currently produces small batches of vodka to meet pre-ordered demand as he works on plans for a tasting room. Using winter wheat rather than the more popularly touted potato to craft the spirits, Blind Pig's vodka has a strong bite and a distinctive early punch that levels out after a bit, especially when mixed.
"It's definitely unique. It's got a lot of character," Lupo says.
His current still is equally unusual. The base is custom-built stainless steel from a Knoxville company. The top column is also custom made of copper, but by a Kentucky manufacturer that specializes in making bourbon stills.
"I wanted to get as close as I could to my grandfather's archaic equipment," he laughs. However odd it looks, the Frankenstein of a machine still does its job. Lupo mashes, ferments, distills, proofs, and bottles the vodka in the same building. A single production run takes a couple of weeks and produces fewer than a hundred bottles.
Lupo sees plenty of opportunity in the thriving distilling scene in Detroit.
"There's an incredible history in the city of Detroit and a great craft scene now," he says. "But there's definitely room for more. All of the distillers in the area are doing great things." For now, Lupo has decided to leave the whiskey production to others and focus on more products that reflect his Sicilian heritage. Next up, he's working on a line of Amaretto and Limoncello, a gap he sees in the market right now.
What matters to him most, he says, is staying true to family tradition and honoring his grandfather's complex history.
"It became a personal mission," Lupo says. "This was something my grandfather was doing illegally, and I decided to take the Lupo family legitimate again."
(
Blind Pig will be a part of
Metro Times
' Vodka Vodka event at The Fillmore on Friday evening. Find Blind Pig's Facebook page here.
)