In discussing Detroit's food culture, we often love to talk about the lore of the coney dog or square pizza. We're also inclined to give mention to the many ethnic cuisines that have helped elevate us from our reputation for being pedestrian in our tastes. And of course, we've been flirting with the idea that we just might be a restaurant destination, with many new eateries popping off in the city, but let's not kid ourselves.
Our roots in eating are deeply ingrained in the working man's lunch counter, the place where blue-collar folk can grab a sandwich to take back to the factory or have a seat on a stool and shoot the shit with the short order cook before clocking back in.
That brings us to an unsung hero in Detroit food history: the ham sandwich place. While the Detroit coney dog can be traced back to the early 20th century, when Greek immigrants began opening restaurants, and the square pizza dates back to the post-World War II '40s, the ham place can be traced to the mid-1960s as small lunch counter-style diners opened not far from the Dearborn Sausage Co.
The oldest and most recognizable of the ham places out of Detroit is the HoneyBaked Ham Store, opened by Harry J. Hoenselaar in 1957. Variations of his method, in which he smoked bone-in hams for hours over a blend of hardwood chips and sliced in a now-patented spiral, caught on and helped to spawn a ham shop craze during much of the mid-to-late 20th century.
What differentiates Hoenselaar's concept from the sandwich shops we know today is his was that of a store where one went to purchase a holiday ham to take home to the family. Longtime ham place owners would agree that credit for the diner concept goes to Lile's Sandwich Shop. Now run by Harry Lile, the tiny box of a place was opened at Michigan and Roosevelt in 1965 by his Albanian immigrant father. The star of the menu was ham — thick slabs of it, often cut straight from the bone. While ham shops are also popular for cheap breakfasts and bean or split pea soups, it's the ham sandwich that reigns king.
What sets the Detroit ham shop sandwich apart is the way it's prepared. The ham is house-baked and there are no processed ham rolls involved. Each sandwich is piled high with the glazed swine that's served grilled or cold, topped with Swiss (melted or unmelted), usually a smidge of yellow mustard, and maybe lettuce and tomato — all loaded into an onion roll. Most places get their ham from Dearborn Co. And for the most part, they're only open for breakfast and lunch.
After Lile's launched, the city exploded with ham shops, with places like Ham Palace and Johnny's Ham King that were often run by other Albanians. In 1974, Lile's left its Southwest Detroit post for Dearborn and sold to Mike's Famous Ham Place.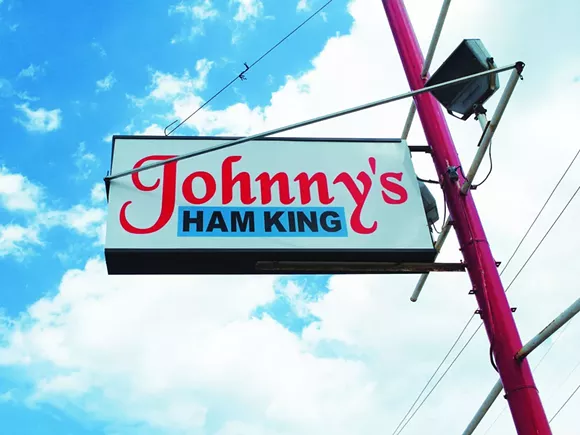 Slowly, as people's eating habits changed, and as more people left the city for the 'burbs, many of the spots faded away or also moved elsewhere. Among the suburban transplants is Johnny Dufhaj, 59, owner of Johnny Ham King. He got started in the ham business at 16, working at a Ham Palace location in Cadillac Square.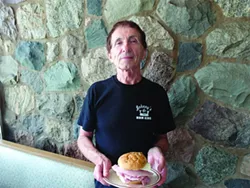 In 1983, he set up his own shop on Fort Street, where he held on to the property until 2014, when he sold to restaurateur Jacques Driscoll, who went on to open Johnny Noodle King. He's now relocated to Warren on Eight Mile Road.
Unlike the Coney and square pizza, which have branched outside of southeast Michigan and enjoy a following elsewhere, the only ham place to make it on a national scale is the HoneyBaked Ham Store, which now offers sit-down service and boasts nearly 400 corporately owned and franchisee-owned locations throughout the United States.
So who has the best ham place around? The owners at these spots will tell you they're the best and point to praise from local papers and TV. And just like your coney dog and square pizza enthusiasts, fans all have their loyalties. Some judge a spot on the strength of the breakfast menu. Others are more concerned with price or about sticking with the original.
Here are some of our picks:
Lile's Sandwich
, 13800 Michigan Ave., Dearborn; 313-581-2821; 9:30 a.m.-4:30 p.m. Monday-Friday, 10 a.m.-3 p.m. Saturday

Louie's Ham and Corned Beef
, 3570 Riopelle St.; 313-831-1800; 6 a.m.-7 p.m.
Johnny's Ham King
, 8209 E. Eight Mile Rd., Warren; 586-920-2571; call for hours

Mike's Famous Ham Place
, 3700 Michigan Ave.; 313-894-6922; 7 a.m.-3 p.m. Monday-Saturday
A&L Ham Palace
, 9405 W. Fort St.; 313-841-1309; 6 a.m.-3 p.m. daily
Bill's Ham Place
, 1420 Southfield Rd., Lincoln Park; 313-386-8966; 6 a.m.-4 p.m. daily