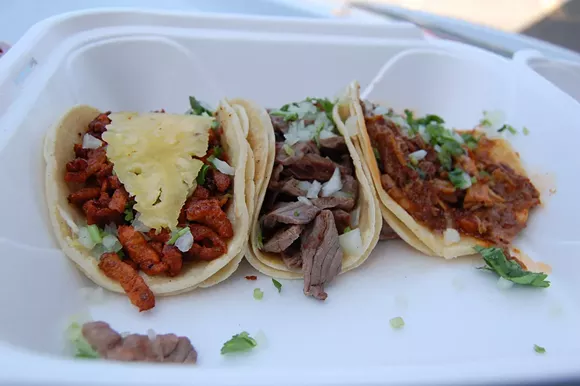 The folks who brought you Ottava Via are working on giving Detroiters a new place to enjoy tacos, but with a bit of a twist.
Chef Ariel Millan, who runs the kitchens at both the Italian eatery and Mercury Burger Bar, tells us he and Ottava Via owner Dave Stienke are prepping to open a new spot, to be called El Cuadro. The idea is for Millan to draw from his Puerto Rican roots and introduce diners to cuisine typical of the Caribbean — all within the vessel of a taco shell.
Millan tells us El Cuadro a permanent location has also been secured in Corktown, though he did not disclose where. He's expecting an open date in nine months to a year.
As for what to expect, the menu will be limited, but always changing. A few tacos filled with ingredients traditional to Mexican regions will be on rotation, but so too will be meats inspired by other Latin American countries and elsewhere. Millan is also hoping to have a spit for roasting a variety of beasts. As for the tortillas, Millan says hand-pressed house corn tortillas will be a staple, but more unusual shells made with beets, mole sauce, and other spins will be incorporated.
Taco purists may scoff at this concept, what with the backlash over fusion food. We say, bring it on, give it a chance. Sure, we've seen some fusion fails, as well as outright appropriation of other cultures' cuisines. But if done right and with respect to culinary traditions, we can't argue with having more taco choices in town. After all, if there's one thing that unites us all, it's a damn good taco.