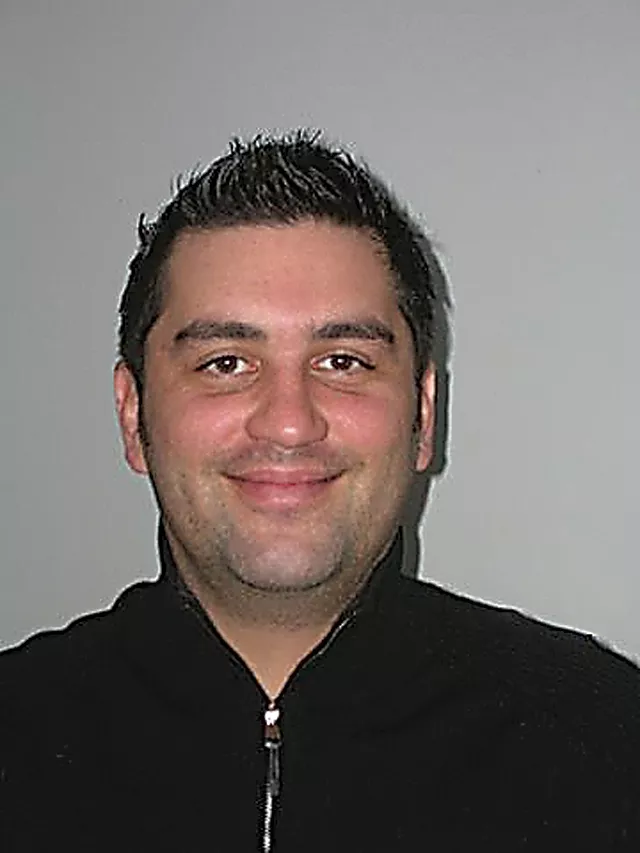 Jacques' Tacos is the brainchild of Wes Holton, a skilled chef whose focus is now on selling tacos from his catering truck. The selection is limited to tacos filled with braised short ribs, grilled chicken, slow-roasted pork or marinated avocado, all a bargain at $2.50 each. There are also a few sides. The flavors are decidedly Mexican, but a bit different from standard taqueria fare. The truck can be found at various locations that are designated at jacquestacos.com.
MT: Where did you learn to cook?
Wes Holton: I started at Schoolcraft, graduated in '99, and I worked at the Golden Mushroom and Oakland Hills. Then I wanted to do something a little different, so I took a trip to New York City and met up with Daniel Boulud who offered me a job. I quit Oakland Hills and packed up all my stuff and worked in New York for five years with him. And then I worked at his restaurant in Palm Beach for a season and a half, and then Las Vegas opened up and I worked there for three years. Then my wife was pregnant with our first boy. We were looking to come home. She's from Ann Arbor. I'm from Plymouth. I was trying to figure out what to do. When I started looking at the jobs, there weren't a whole lot out there. I was thinking of opening something casual like a sandwich shop or something like that. We took a couple weekend trips out to L.A. and noticed the food trucks out there, and then they started to pop up in Las Vegas. We decided to bring that back here.
MT: You've got some impressive credentials. Why a taco truck?
Holton: You put in all these hours for so many years, always for someone else. I never felt like I was home. I always felt like I was always at the restaurant. Especially if you're putting in that many hours, you want to do that for yourself. Basically, the way I cook, all the meat is French technique. I thought tacos would be a good vehicle. You could do whatever you wanted. It's kinda like a sandwich. You can put in anything if it's a good combination. In the restaurant, we always worked with a bunch of Mexican guys and we had taco day once or twice a week. It kinda started like that. A truck is the least expensive way to get going.
MT: How hard was it to get started?
Holton: It's a lot more challenging than you think. You think everything's going to fall in place, and it's always another week. Whatever money you think you'll put into it, you can always double your money and your time to get everything up and started.
MT: Is it more difficult than opening a regular restaurant?
Holton: It's tricky because you have to do everything yourself — because all you have is the truck and all you have is you. Usually, with a restaurant, you have partners or investors or a general manager that you can delegate some of that stuff to. But pretty much everything falls upon my shoulders. It took a little bit to get it started. That's for sure.
MT: What were some of the biggest challenges?
Holton: Just trying to figure out where to go; trying to find a route; trying to get people to call you back. You visit some big industrial parks where they don't have any food for their staff, and they only get a half-hour lunch break. You try to go there and bring them something. You call them a handful of times, and you won't even get one phone call back. You get a slow start. Sylvia Rector from the Free Press helped me out a lot when she wrote that article [about me]. It kinda took off from there. You get people coming up to the truck saying, "Come over here." That's where the route took off from.
MT: How many stops on your route?
Holton: It fluctuates. Usually I'm out there five days a week, and then I'll do some private parties at night. It slows down in the winter. People don't want to stand out in the cold. The window is from about 11:30 a.m. to 1 p.m., so I can only do one a day.
MT: Do you aspire to owning a real restaurant?
Holton: Absolutely. I'd like to combine the two. This is a good way to get a foot in the door and get my name out there. I've had a couple people that wanted to get in the restaurant business, but nothing fit with what I want. The right person will come by.
MT: Would you do Mexican food?
Holton: I'd probably do something more French.
MT: Any plans for an expanded menu on the truck?
Holton: Over the summer, I'm going to do a couple different things, maybe some French things, maybe a little charcuterie and a little paté.