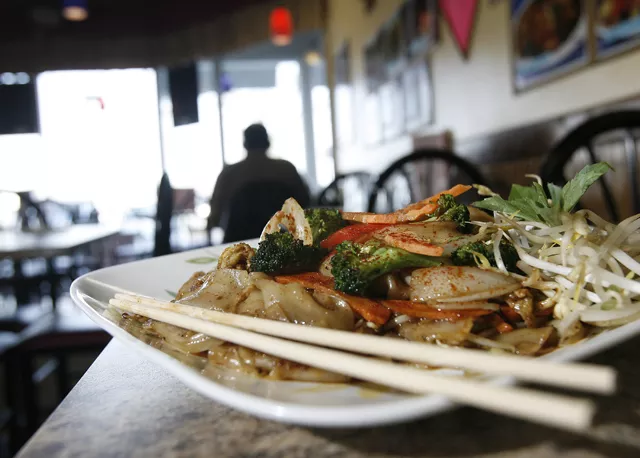 Thai Taste
5063 Livernois Rd., Troy
248-813-0900
Sniffing out a quality and authentic ethnic restaurant isn't too difficult in the age of instant communication. Aside from traditional media that broadcast food-related reviews and stories into cyberspace, there are numerous online forums, aggregators and consumer review sites where one can spend hours sifting through the chaff for kernels of wheat. But, reader beware, sites like Yelp can only be useful if you have the patience to ignore the more absurd and rambling reviews while understanding that prudence should be used for the remainder.
Through this democratic alternative to restaurant appraisal we were led to the center of Troy and Thai Taste, purportedly one of the best Thai restaurants in southeast Michigan, if the majority of their more vocal customers are to be believed.
They do prepare some dishes quite well. A salad of shredded Granny Smith apple (presumably substituting for the more traditional green papaya), red and green onion, lettuce and roasted coconut is enjoyably sweet and tart, finishing with the long, nutty flavor of coconut. It's sweet enough that you could practically eat it as a dessert. In any case, we suggest sharing it with one or two others.
The appetizer portion of the menu is standard for Thai restaurants with the exception of the stuffed wings. The bones are removed from the major meaty portions of whole, intact chicken wings and then stuffed with a mixture of ground chicken, carrot, onion and glass noodles. They are then deep-fried and served coated in a sweet sauce. It's akin to having your chicken wing and spring roll in the same bite. We suspect they'd be a hit at Super Bowl parties and the like.
We failed to sample any of the traditional soups, such as tom yum and tom kha gai, but even the less adventurous in our group were unimpressed with the wonton soup. Though filled with fresh carrots and snow peas, the broth was shallow and tedious.
Drunken noodle was the other side of the spectrum from the soup. Egg, broccoli, bamboo, white and green onion, green pepper, carrot, bean sprout and basil are all sautéed with wide, tender rice noodles and our choice of beef, also tender. The sauce is wine-based and unexpectedly bright for being so dark in color. The pad ped (red curry in coconut milk) was right on, with balanced flavors and big chunks of eggplant as soft as pillows, and slices of earthy fresh mushroom. It comes accompanied with your choice of white or brown rice.
The flame-roasted duck stir-fried with vegetables in brown sauce was a disappointment, primarily because the flavor was all there. More like a stew than a stir-fry, it would have been a nice dish to warm the bones on a chill winter evening had the major portion of duck been less tough. Furthermore, the staple dish of most Thai restaurants, pad Thai did not rouse us from merely consuming for nourishment.
Every Thai restaurant has its own interpretation of medium spice. Through the years we've had medium spice so hot to be verging on inedible to almost no heat whatsoever. At Thai Taste, medium is decidedly on the low end of the heat scale. Traditional Thai coffee and tea are on the drinks menu, along with regular iced tea, soda and coffee. Order the regular hot tea and you'll get a gloomy bag of green tea languishing in a cup of hot water. But we would be remiss not to mention the house-made Thai beef jerky for sale at checkout. Less than $5 will get you a respectable-sized bag of thin, tender and sweet jerky that puts the mass-produced gas station jerky to shame. We ate an entire package directly after dinner.
The interior is clean and comfortable. Unlike most Asian restaurants, the food photos hanging on the wall are colorful and pleasing to the eye and not the washed-out grays and greens caused by years of backlighting. The wall colors are primary and surround a dozen tables or so. A couple strings of waxed fruit hang over the cash register and our culture's ever-present flat screen television prattles on a far wall.
Though Thai Taste does a number of dishes well, it's a slightly above-average local strip mall dine-in and carry-out Asian joint — not truly worth a trip from Downriver, for instance, to eat there. But if you live in the area, it could be a regular option for a quick and tasty meal. Troy residents may soon be without a public library but at least they don't have to travel far for decent Thai. It's a modern world.
Thai Taste is open 11 a.m. to 9 p.m. Monday through Friday, noon to 9 p.m. Saturday and Sunday. Happy hour is 3 p.m. to 6 p.m. Monday through Friday, when your second entrée is half price.