Where does a Japanese engineer, temporarily on assignment in greater Detroit, go to unwind after a hard day at the office? Instead of the many more upscale restaurants that serve the Japanese community here, he'll likely pick this izakaya — a pub, more or less.
Kitchen Hanzo is modeled after establishments at home that keep the salarymen happy with draft Sapporo, sake, and shochu, liquor made from potatoes, barley, or rice. The small plates served alongside the drinks are shareable or not; you can make a meal and an evening of them, or stop at one or two.
The place is small, with booths and a row of 12 stools fronting directly on the kitchen (and therefore pretty hot this summer). You're immediately brought a refreshing, thick, damp napkin to clean the sweat of the day from your hands — but don't get the idea that this is a genteel, tea-ceremony type of place. I visited twice on weekday evenings and found the target clientele decorously but thoroughly enjoying themselves.
That can include hot sake, served in a generous white vase; you transfer small portions to your tiny handleless cup. One evening I ordered kurokame, a potato shochu. It's more like tequila than anything else I know, but much milder; I didn't even achieve a buzz. Plum wine was more fun: Served on the rocks like a pale gold whiskey, it's plummy without being sweet.
I hate it when food writers call a food "addictive," but that's accurate when it comes to edamame. How does anyone stop squeezing and popping the warm pods? It's like Bubblewrap. I found Hanzo's, which are numerous, particularly appealing.
The 50-item menu includes salads, fish, shellfish, meat, poultry, seaweed, tofu, kimchi, rice, noodles — in combinations you've likely not thought of — but no sushi, just sashimi. The regular list is supplemented by half as many daily specials, ranging from fried chicken gizzards to pork and bitter melon — or wing dings. The timid who don't want to venture deep into Japanese cuisine will find something to please, and so will those who choose to go native.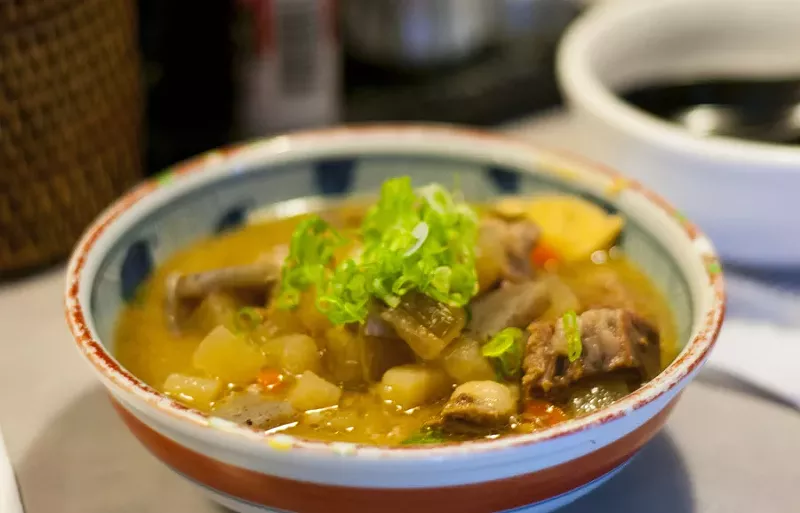 One evening the chef gifted our party of four with a Japanese-style beef stew. It smelled like my mom's chicken and dumplings on first whiff, though it contained beef, potatoes, and carrots, but served in a light broth. Very tasty, and not your idea of beef stew at all. On a different night we ordered "beef stew — chunks of ribeye slow simmered in chef's special sauce," and found it as American as apple pie, with a rich, silky gravy. Delicious, if out of place.
Perhaps my favorite dish was tonpeiyaki, a thin omelet filled with sliced pork and scallions, topped with mayo and a soyish sauce that brings everything together. The flavors are more intense than this description.
The waitress discouraged us from ordering Stamina Tofu, which includes tuna, fermented soybeans, and grated yams on a bed of tofu. "Sticky and smelly," she warned, and offered glistening ruby cubes of tuna sashimi instead.
I was also happy with gyukimuchinikomi, beef and kimchi in a spicy red broth topped with egg. Even if you don't like the sour pungency of kimchi, you're likely to enjoy this.
Another beef dish, barely cooked, is yakitake gyutataki. The wafer-thin slices are served cold with a delightfully complex ponzu sauce.
Americans love tempura, because Americans love deep-fried, and we went there several times. Smelt (shishamo) was appropriately light on the batter, with a fairly strong-tasting fish. Tempura soba was a big soup bowl of skinny noodles and shrimp tempura; if not quite ethereal, it was close enough.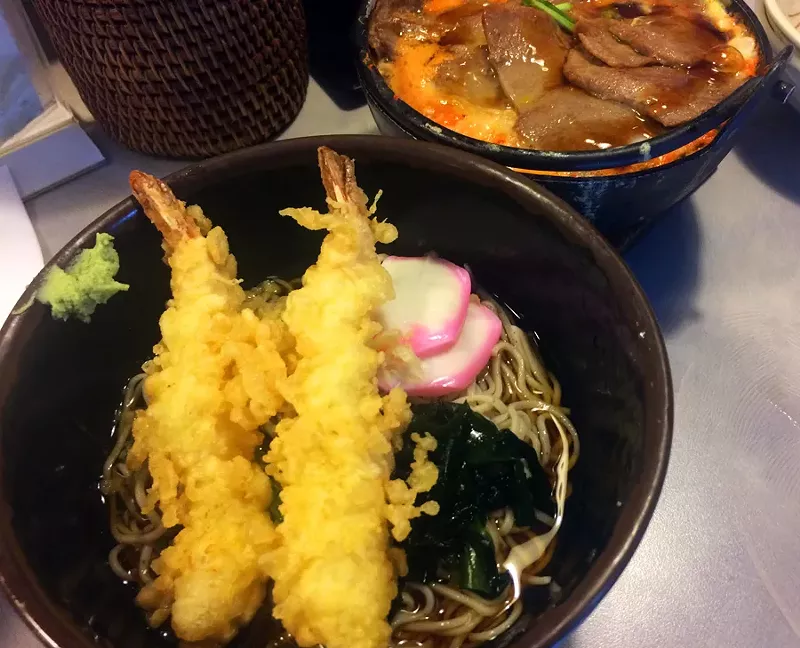 Likewise regarding Americans and teriyaki: We like that sweet glaze of sugar and soy sauce. A standard chicken teriyaki is served with a macaroni-mayo salad. I was less thrilled with a whole grilled Atka mackerel, served on a wooden platter with a heap of shredded daikon; it was a bit dry.
I was also disappointed in sake chazuke, which is rice topped with salmon and served in... not sake, but tea. The tea was pretty weak and the salmon was chopped up in eraser-sized bits so that you couldn't really savor it. This was also the dish in which I took too much wasabi in one bite and wondered briefly if the top of my head would come off.
I loved a hourensou spinach salad with barely sautéed enoki mushrooms, more mushrooms than greens, and even some bits of bacon. It was warm and made you understand how the Japanese discovered the concept of umami.
Although Kitchen Hanzo was created for, and faithfully serves, a pretty narrow demographic, it's welcoming to all. There's no dessert, but if you want to travel to the other side of the world, conceptually and gastronomically, walk across Haggerty to Coldstone Creamery, where the word "restraint" has never been heard.