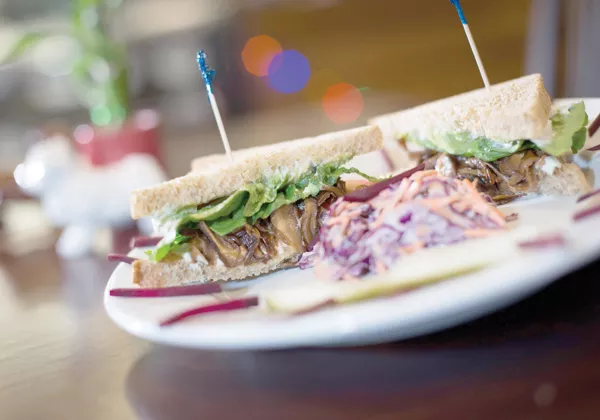 The Clean Plate
45629 Hayes Rd., Shelby Twp.|
586-580-3293
cleanplate4u.com
Handicap accessible
Open 11 a.m.-9 p.m. Monday-Saturday, closed Sundays.
Salads: $7-$12.50
Wraps: $9-$12
It's a new year, with new frontiers in several ways: an all-vegetarian restaurant in meat-and-potatoes Macomb County, and, for the vegan chef of Cacao Tree, the experience of cooking with cheese and eggs. Though veggie-friendly eateries flourish in Oakland County, Macomb's restaurants seem to cater mostly to meat-eaters. Clean Plate is the first restaurant in recent memory to serve vegetarian food past M-59.
While the menu is very accommodating to those demanding dietary needs — vegan and gluten-free — the food is tasty in its own right, appealing to folks just starting to consider vegetarian food. Opened by the same owners of Royal Oak's popular Cacao Tree, the chef is aiming for a more inclusive menu, hence the choice of Zingerman's cheese as well as vegan cheese.
The eatery's salads really shine: They're serious, tossed by people who know what they're doing. And they're very filling, heaped with fresh vegetables and lettuce, and balanced with beans and nuts to make them heartier than you might expect. If you're not vegan, get both the cheese and nut choices. Most salads come with an option for creamy chevre cheese, again, courtesy of Zingerman's.
The "Farm Hand Salad" ($8.50, regular) is piled with chickpeas, flavorful garlic walnuts and crisp lettuce, balanced with cucumbers and red peppers, and is great with the ranch dressing. The shiitake mushroom "bacon" (not really bacon, of course) is a good touch, chewy with a rich, smoky flavor. The spinach salad ($8.50) comes with a generous serving of baby spinach leaves and white beans; some avocado balances the sweetness of the raisins and maple walnuts. We recommend it with the maple balsamic for best effect.
All salad dressing is made in-house, the Greek dressing perfectly tangy, the ranch so creamy you won't realize it's both vegan and gluten-free. If you order a large salad, you might want to get two forks, so you can share with a friend.
Wraps and sandwiches are as tasty as the salads, packed with fresh ingredients. The Thai peanut wrap ($9) has a good touch of spice, and is loaded with shredded spinach and cabbage, with avocado, mushrooms and red pepper to balance the flavors out. There is also a rotating selection of hot sandwiches, like BBQ seitan and sloppy joes. Ask the server for a fork before digging into the sloppy joe ($12), though: it's as messy and delicious as you remember from childhood. Made with lentils, tomatoes and cheese (vegan or dairy), it has a rich, simple flavor. Very filling, it's served on Avalon multigrain bread (with gluten-free bread also available.)
While the menu has some standard salads and sandwiches, there's also a rotating selection of dinner specials. Among them is the South African stew ($11), made with quinoa, perfectly steamed kale, and enriched with cauliflower, chickpeas and a good amount of spice. Ordering a cup of soup is a great way to start a meal, particularly their creamy soups, made with a sunflower seed base. The cream of kale and the cream of broccoli are wonderful — soups rich with vegetables cooked al dente. There are always two or three soup choices, and they change daily. It's also refreshing to see no processed, faux meats like veggie burgers on the menu — just beans, tempeh and seitan.
The dessert case is well-stocked and tempting, full of raw and gluten-free treats. The same dessert chef as the Cacao Tree creates the tempting mango cheesecake, nutty, delectable cookies and sweet, chocolaty caramel magic bars for this restaurant.
The space, nearly twice the size of Cacao Tree, is light and airy, simply decorated with ceramic salt and pepper shakers and black-and-white photos of downtown Detroit, with Motown on the sound system. The strip mall location does give it a more energetic, bustling feel than Cacao. The staff is very friendly and happy to answer questions about the food, particularly if you're dining with food restrictions — whether you're vegan, or sensitive to gluten or nuts. Like many newer restaurants, orders are placed at the counter, and food is brought out to the table.
They're still finding their footing — trying out different kinds of gluten-free wraps, for example, some crumblier than others. In the next few weeks, the owners plan on introducing a line of smoothies, and macaroni and cheese (with both vegan, vegetarian and gluten-free versions.) Also, more entrées, including the African stew, will be added to the menu.
Here's hoping they do more with dairy and egg ingredients. A sprinkle of rich Zingerman's cheese or a farmer's egg can give a dish new dimensions. So far, they're doing a good job balancing vegan and vegetarian palates.
With the new location, it puts the restaurant closer to many of the local farmers the owner buys produce from. Also, it brings vegan food out to Hall Road — and it's a welcome change to see vegan food explore new territory, both geographically and culinary.