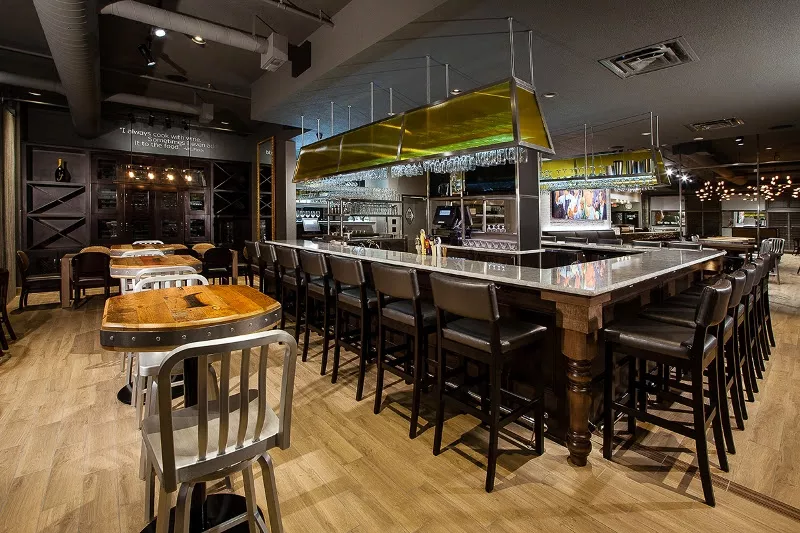 Wraparound Turnaround — They had some bad luck last year at J. Baldwin's in Clinton Township. An electrical fire left the crew cleaning out smoke fire damage that had destroyed most of the place. They then spent months rebuilding the ruined dining room, ordering new chairs, tables, dishes, glasses, silverware — almost new everything. The good news: After eight months of work, J. Baldwin's is again ready for business, and with more booths, sound-dampening acoustics, and a clever new wraparound bar. Under the guidance of chef Jeff Baldwin, the restaurant, opened in 2004, attracted loyal a following of devotees, winning our Best Romantic Restaurant and Best Restaurant to Spend Less than $50 for Macomb County in 2012. See what's new at J. Baldwin's Restaurant, 16981 18 Mile Rd., Clinton Twp.; 586-416-3500; jbaldwins.com.
Remodeling the new — It seems like just yesterday, Royal Oak's BlackFinn Pub was brand-new. Self-described as an American-style pub, the joint grew locally famous for the singles crowd it drew. Well, nothing's going to change but the trappings, as the pub has temporarily closed for "complete interior and exterior updates." The owners say the makeover will turn the existing restaurant and saloon into BlackFinn Ameripub, "a whole new generation of the classic American pub." So, same old American pub, but … version 2.0? The updates should be completed by Thursday, Feb. 27, followed up with a weekend-long grand reopening showcasing updated drink and food menus, an upgraded 50-tap beer system, and even gluten-free options. Single? Mark it on your calendar: BlackFinn is at 530 S. Main St., Royal Oak; 248-582-9460.
Still Learning — It's mentioned in our sprawling cover story about what's new on Michigan Avenue in Corktown, but we hear master distiller Dave Pickerell, formerly of Maker's Mark, will be conducting a three-day workshop at Two James Distillery in Corktown. It's the kind of event that shows why the craft beverage scene is so darn interesting in Michigan. Instead of a cutthroat competitive spirit between the state's producers, there's a genuine spirit of cooperation and knowledge-sharing among our brewers and distillers, and an understanding that the more Michiganders are doing it, the higher the state's craft beverage profile is raised. That said, the workshop is pricey; it comes with membership in a group called the Corktown 500, and that membership costs $2,000, but it offers attendees the chance to be mentored by an international expert, without the airfare and lodging you'd usually have to pay. Plus, those interested in this course are likely interested in, say, opening distilleries of their very own? One can hope. Get in touch with the workshop organizers at twojames.com or call Courtney at 313-600-9567.
Soup's On! — Our listing last week of Berkley restaurants wasn't intended to be exhaustive, but we do regret one oversight: Lunch Cafe. Owner Cindy Coon was on the horn with us right away. The lunch spot has been in Berkley for seven years, and it's fresh off winning a chili-and-soup cook-off at Berkley's Winterfest, squaring off against such newcomers as Republica, Coco Fairfield's and O'Mara's and walking away with the laurels. The joint's hand-made, from-scratch soups include a chicken tortilla soup and a baked-mac-and-cheese soup, and they also serve sandwiches, salads, panini and more. They mark their anniversary on March 1. They're at 3116 W. 12 Mile Rd., Berkley; 248-544-2233.
Art and Commerce — There's a new café at the Museum of Contemporary Art Detroit. It's called Topsoil Café, serving noodle bowls, soups, salads, curries and even a vegan coney dog. Will wonders never cease? Drop in at 4454 Woodward Ave., Detroit; 313-832-6622.
Know of any upcoming food or drink events? Let us know! Call 313-202-8043 or email.