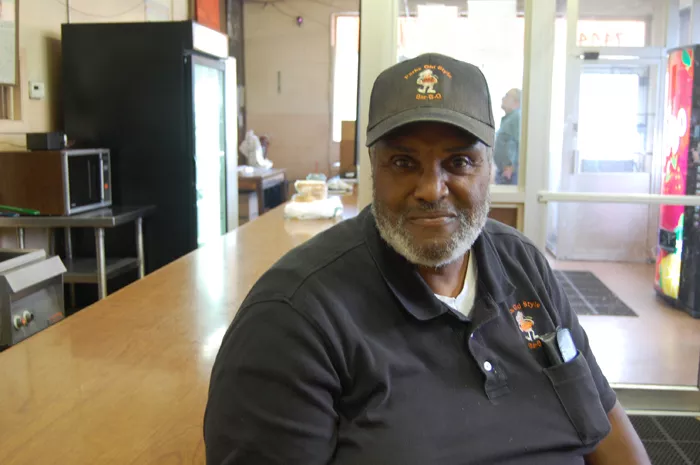 A second-generation Detroit business owner, Roderick Parks Sr. owns Parks Old Style Bar-B-Q, which marked 50 years on the block last month. His dad, Edward Parks, was associated with Detroit's storied Young's Barbecue, working his way up from employee to manager and then co-owner. Edward struck out on his own in 1963, and built his new joint, Parks, from the ground up, opening in May 1964.
Among the many vacant storefronts of the North End, Parks is an exception, a robust family business with real staying power. That's because Parks is one of those businesses that attracts people a half-hour's drive away. Longtime customers are drawn to Parks' particular variety of vinegar-based barbecue, and the joint goes through 2,500 to 3,000 pounds of ribs a week. What's more, it's all in the family: Roderick, 70, says Roderick Jr., 47, is his heir apparent, and grandson Roderick III is "warming up in the bullpen."
We dropped in on him in the joint's small, Plexiglas-clad dining area. Roderick chooses his words carefully, speaking in a slow, gentle cadence that accentuates his dry wit, which kept us laughing.
MT: So the business turned 50 last month?
Parks: Yes, but we're celebrating the whole year. We're looking to do something in August, a customer-appreciation kind of affair.
MT: How much of the business, would you say, comes from the North End neighborhood?
Parks: Five or 10 percent maybe.
MT: Only 5 or 10 percent? So I imagine you must have people coming from all over to pick up.
Parks: We have people coming from Ann Arbor. People coming from the northwestern suburbs — Southfield, Oak Park, Livonia — is not unusual. We're always questioned: "When are you going to open a location on the west side?"
MT: Why do it when they drive here?
Parks: Yeah. Actually, I'd like a second or perhaps a third location, but it's just kinda me now. I'm 70 years old, and I'm not really interested in taking it up. My wife and I are a tad old for opening new locations — although I am working on a food truck, which would do barbecue. We'd have it on the street probably six days a week.
MT: That's one way to get the barbecue out where people don't have to drive so far to it.
Parks: If I could hire drivers, we would deliver. If you noticed our A-frame out there, there's a sign on it: We are looking for drivers. I get a lot of candidates. Nobody's got a car. I imagine it would be kinda difficult to deliver barbecue off the Woodward bus.
MT: You say you would stack your sauce up against anyone else's — although for the uninitiated, they might come in expecting that sweet barbecue sauce, and your specialty is something quite different.
Parks: We have a vinegar-based Southern sauce that we use, that we've used for years. We have a hot sauce, we have a medium hot sauce, we have a sweet sauce, and we occasionally do one of those gooey, sticky sauces that has molasses and brown sugar in it, but the cost of doing that in bulk is prohibitive. Because we build all our sauce. None of it comes out of a bottle.
MT: We once got the facts wrong about your dining area. You buzz some people in and let them use it before dark, right?
Parks: Obviously, there are old customers we recognize, and we make the space available. But 95 to 97 percent of our business is carryout. Obviously, that's for staff security, because there's only three people up on a shift. But sometimes we get customers that rub you the wrong way, so I jokingly tell people that the glass is not there to protect us from the people, but to protect the people from us!
MT: I imagine the neighborhood has changed quite a bit in 50 years.
Parks: Oh, the neighborhood has changed tremendously. When we came here, you didn't have all those vacant lots or dilapidated housing. The area is in transition. They're building a lot of townhouses down south of us, there's some north of us. Eventually there will be some housing improvement in Highland Park, Hamtramck. So I'm confident that the North End will survive and will prosper.
MT: One of my friends said it's going to be the new Woodbridge.
Parks: Yes, I think so. It can and will be a vibrant, viable neighborhood. You know, it's coming back. I expect when they run that rail up Woodward that you'll see a lot of activity in this area. The city is working on developing downtown, but it will spread north. It can only benefit us. My only kick is that the municipal city of Detroit really isn't small-business-friendly. The Karmanoses and the Ilitches and all them do well by the city, but the little guys are kinda tossed to the wolves. We have high taxes, we have no services to speak of, and it makes it difficult. I've often said that if I could pick this building up and move it north of Eight Mile Road, there'd be a big hole in the ground. [laughter] But I love Detroit! I mean, I'm a native Detroiter!
MT: And it seems like neighborhood barbecue places are part of the identity of that neighborhood. When I think of Uptown, Aunt Bessie's, even Nunn's …
Parks: Nunn's is on its second generation. Interestingly, about Uptown … his mother comes in here occasionally. [laughs]
MT: Oh, is that so? [laughs] Is that treason?
Parks: Well, maybe she's just sampling what the other operators are doing. [laughs] I'm guilty of that. I'll go and buy a small carryout and pick it apart. That's only fair.
MT: I gotta ask, how do you feel about all those new barbecue places that have opened in the last five or 10 years?
Parks: Well, most of them are not barbecue places. Most of them are restaurants that sell barbecue, or bars that sell barbecue, like Slows, which is a bar that sells barbecue. It's not a barbecue joint. This is a barbecue joint. They open and they close. That's what happens. I don't even worry about what other people are doing. I'll put my product against anybody.
MT: What makes this place so durable?
Parks: We sell a good product reasonably, and we bend over backwards to make the client or customer satisfied with our product. Now, I don't subscribe to the old axiom "The customer is always right." That's not true. You're going to get jerks in here, and you're going to get people you can't satisfy. I have, on one or two occasions, thrown people out of here. Because with some people, I just don't want your money. You come in here, you're perhaps intoxicated and you're disruptive, getting loud, customers will walk out, they don't need that. So I have put people out. I do not allow loitering or hanging around in front of my building or on the door, you know, panhandlers, we move them along. It's bad for business. Years ago, I used to have a problem: Across the street there were row houses, since knocked down, and it was a hooker hangout. And I'd have to go chase the girls back across the street. 'Cause they would come up to the door and solicit the customers before they could get through my door. And I'd go, "Hey, ladies! I don't work your side of the street, don't work mine."
MT: [laughs] I think a lot of those practices go back to being an old-fashioned neighborhood business operator. In a way, you're sort of a pillar of the community, aren't you?
Parks: We try to be, and we try to give back to the community. We have a staff of nine, and seven of them walk to work here.
MT: That's sought-after these days, to be able to walk to work.
Parks: Well, there are only two people have cars! [laughs] So they use alternative means of transportation. But most of them walk. We're in walking distance of the residences.
MT: And I imagine you don't get any trouble here.
Parks: We've had problems. I've lost two rooftop units to scrappers. We've never been robbed, we've never had anybody hurt in the parking lot, and interestingly, probably 65 percent of our people coming in are women, picking something up on the way home from work. In the evening, in the summertime, we'll have one of the guys walk the women to the door. The alternative is, we could hire a security guard, but that gives the wrong connotation. You know, after I had two attempted break-ins — they came through the roof — they suggested that we put barbed wire up on the roof. Well, I'm not doing that. I don't want to look like these liquor stores around here, with razor-wire fences, everything. That, too, gives the wrong connotation. People already have a misconception that Detroit is dangerous. Why add to it?
Parks Old Style Bar-B-Q is at 7444 Beaubien St, Detroit; 313-873-7444.