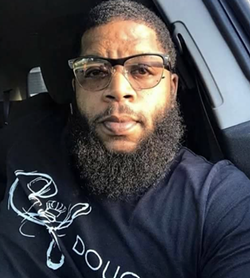 The search
for a missing Detroit chef
is over now that the body of Douglas "Chef Doug" Calhoun has been identified by family members and the Wayne County Medical Examiner's Office, according to a source familiar with the case.
However, a Medical Examiner's office spokesperson says that it has not officially identified Calhoun.
Calhoun's body was found on July 8 badly decomposed inside a barrel on Detroit's west side. The killer hasn't been caught.
Family members previously told
Fox 2
that they became worried when Clahoun, a former marine, missed an important catering event in late May and didn't board a flight to St. Louis the following day.
Police found his car on June 1 outside an abandoned home on Trinity Street in Detroit's Brightmoor neighborhood, and say that someone had been using his credit card fraudulently on June 2.
Friends previously said they believe Calhoun could handle himself in a tough situation. Calhoun's sister, Danya Phillips, told
WDIV
that a late night phone call to a friend was the last time anyone heard from him.
"He was just letting his friend know that he had gotten home," Phillips said. "They had been out partying, celebrating with some other friends, and just letting his good friend know that, 'I'm home. I'm going in the house, and I'll talk to you later on.'"
Anyone with information should contact Crime Stoppers at 1-800-SPEAK-UP or Detroit police at 313-596-1240.
(
The story was updated with a comment from the Wayne County Medical Examiner's Office.
)