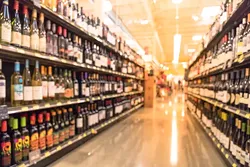 Soon, Meijer will offer home delivery of beer, wine, and liquor.
Starting Tuesday, July 11, the grocery store chain is making the items available on its online ordering app Shipt,
according to a press release
.
To use it, you'll need to subscribe to the service, which costs $99 per year or $14 per month. And of course, you need to be 21 or older.
According to the release, so far alcohol delivery is only available in Michigan — due to popular demand.
"We've received an incredible amount of feedback from customers wanting to take advantage of our large selection of craft beers and wine," Art Sebastian, Vice President of Digital Shopping for Meijer, says. "We think this enhances the level of convenience our home delivery customers in Michigan can enjoy and allows them to take more advantage of what our stores have to offer."
Meijer
joined the Shipt program last year
.