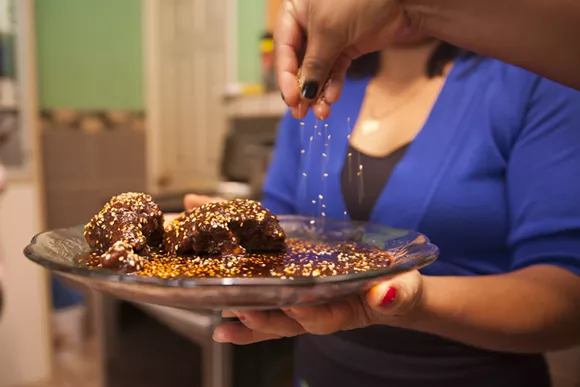 This family recipe comes courtesy of Mariana Valdez, winner of the second annual Holy Mole contest in Southwest Detroit. Read more about the contest in this week's feature story.

You will need:
1 pound chili pasilla
1 pound chili ancho
1 pound chili guajillo
6 discs of Mexican chocolate,
preferably from Oaxaca
Medium box of raisins
3-4 heads of garlic
6 whole black pepper seeds
1 package of Maria's cookies
1 pound of sesame seeds

Directions:
1. Dry chili peppers in the sun until dry. De-seed chilies.
2. Boil desired amount of chicken and save 2 cups of the chicken stock. Toast dry ingredients separately (except for sesame seeds) on a skillet.
3. Let cool, then blend dry ingredients in a coffee or spice grinder.
4. In a pan with lard or oil, separately fry raisins until plump, and cookies until crisp. Drain excess fat into a bowl.
5. Combine all ingredients (except for about two tablespoons of sesame seeds) in a bowl and crush roughly. Place ingredients and one cup of cool chicken stock in the blender and blend until smooth. Repeat this process 2-3 times as there will be too much of the mixture to puree all at once.
6. Reheat the sauce over a skillet on medium heat about 8 minutes, stirring often to avoid sticking. Season with salt. Add broken pieces of the chocolate and another cup of broth and stir about every 5 minutes for 25 minutes (be careful not to let it stick to the sides).
7. Add chicken pieces to the hot mole and simmer about 10 minutes. Spoon on desired amount of mole sauce and garnish with excess sesame seeds.