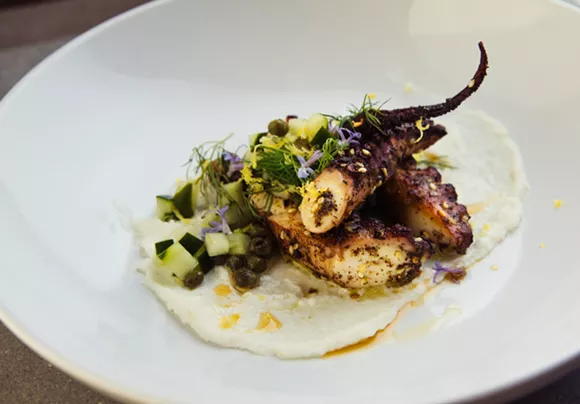 That tiny space in Ferndale that once housed the acclaimed Torino restaurant is about to realize new life when The Conserva opens its doors Saturday.
The resurrection of the space as a creative, European-inspired eatery under chef Matthew Baldridge is a long time coming. He and then-girlfriend (now wife) Janna Coumoundouros previously hosted a series of pop-ups called Dinner Club before announcing plans for the brick and mortar last year.
The couple first had eyes on a former bank on West Nine Mile, which would have required significant renovations and funding to transform. Over the summer, the duo shifted gears and relocated their vision to the essentially turn key-ready former Torino (the award-winning restaurant, headed by James Beard nominated Garrett Lipar, shuttered suddenly in 2015 when it was found to be too large an operation for the space).
In the meantime, Baldridge had also partnered with chef Greg Reyner (Café Muse) and Scott Moloney (Treat Dreams, Woodpile BBQ) to open Atomic Chicken in Clawson and Detroit's New Center. The Freep
reported
last month that he's since sold his shares in the venture to focus on The Conserva.
The founders say The Conserva derives its name from a new-to-the-area European food preservation technique that features a variety of meats, seafood, pickled veggies, and mustards. The menu will rotate regularly and the spot features a full bar featuring craft cocktails by bartender Jarrod Kassis, as well as wine and beer list.
"Our goal is to source the best ingredients, handle them with care, and present them in a manner that's delicious, fresh and exciting, all in an environment that's engaging and fun," says Baldridge in a statement.
Coumoundouros, an artist by trade, is behind the design of the interior, wherein she highlights the concrete, white washed brick walls, with fine art, decorative oddities, and metallic gold accents to, as she describes, create a "relaxing yet energetic place to hang out; one that feels a bit like an art gallery, but minus the stuffy atmosphere, combining great food and drinks, music, art and a bit of quirkiness."
Art includes Coumoundouros' city photography on canvas, along with drawings by the chef's brother, Steve Baldridge, Chef Matt's brother who is also overseeing day to day operations at the restaurant.
Hours for opening day are 5 p.m.-1 a.m. Regular business hours will be 5 p.m.-midnight, Wednesday-Saturday. The Conserva is at 201 East Nine Mile, on the ground floor of the Lofts on 9 Mile.
See also:
Upcoming Conserva finds home in former Torino in Ferndale