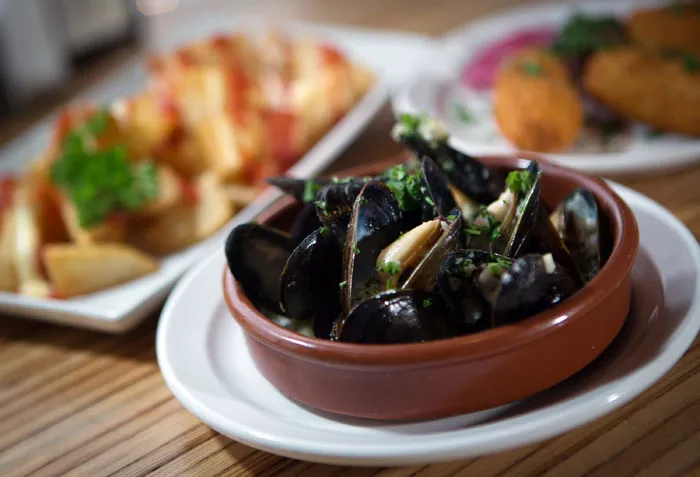 La Feria Spanish Tapas
4130 Cass Ave., Detroit
313-444-5144
www.laferiadetroit.com
Handicap accessible
Tapas: $4-$7
Hours: 11 a.m.-3 p.m. and 5-11 p.m. Monday-Thursday; 11 a.m.-3 p.m. and 5-midnight Friday-Saturday (kitchen closes at 10 p.m. nightly)
A foodie friend says thesmall-plates concept is no fun. She says if there's one dish you really like, you don't get enough of it. True enough, but you could also view it from the other direction: With items galore, your chances to find something terrific are multiplied — and you can always order another helping.
La Feria Spanish Tapas, a tiny tapas place that opened in Midtown on Halloween, is clearly attracting folks of the latter persuasion (though I did witness a party where all four diners were resolutely not sharing their orders — it looked odd). At 1,000 square feet, the restaurant is always full, with a line patiently waiting outside before the doors open at 5 p.m. Co-owner Elias Khalil says a Canary Islands family from Windsor, jonesing for a taste of home, has already been in three times.
To create La Feria, the three owners rehabbed a cinderblock former warehouse and attached a modern facade for a stylish look. The building is owned by painter and sculptor Adnan Charara, who plans to open a gallery in the space behind the restaurant, thus giving diners one more reason to make the place a destination. Khalil calls it "the Guggenheim of Detroit." The place seats only 34, including at the bar. The walls hold posters and prints of Spanish dancers, but not corny ones. Notice the mosaic of small tiles on the wall by the kitchen.
The place is phenomenally popular because chef, co-owner and Seville native Pilar Baron-Hidalgo is making real Spanish tapas. There's not a misstep on the menu. One evening, we were told the cocido was not available because it "wasn't up to the chef's standards tonight." True or not, what a clever way to signal to the diner that the bar is set high.
The menu is not short, with 20 choices, including some vegetarian and vegan ones. On each of two visits, my party of two ordered five dishes. It surprises me that it was plenty, because if the server had laid the food out all at once, it might not have looked that way. The slightly episodic pacing (and idiosyncratic serving — our soup came last) may contribute to diners' feeling of fullness.
I usually write about my favorites, but everything at La Feria is equally fine. Many dishes are garlicky. Their hallmark is their simplicity: excellent ingredients that have not been fussed with or over.
Morcilla, the Spanish blood sausage with rice, is mild (don't balk at the blood, carnivores). Giant sardines are nicely charred and served with lemon and greens. Calamares are offered with a plain but good aioli. Grilled shrimp is another simple one, but including dried peppers takes it up a notch.
Salmorejo is a garlicky cold soup, similar to gazpacho but with more bread as a thickener. Baron-Hidalgo uses a grape garnish.
Spinach with garbanzos — the legumes firm, the slivers of garlic visible — is not much larger than an amuse-bouche but exquisite. Sliced portobellos are grilled with an exquisitely uncomplicated lemon sauce. Cocido — we did get some on second ask — is a very thick, hot soup with shredded pork, chicken and pork belly in a rich stock. It's comfort food, but a little more kick would have been welcome.
Different pâtés are offered depending on the chef's whim. I enthusiastically recommend a firm one of smoked pork and bourbon, with sweet roasted peppers on the side.
Other wonderful-sounding dishes are fried potatoes, mussels, kebabs of grilled pork or chicken, tuna empanada, charcuterie, Spanish omelet (not like our omelets — this one is made with potatoes), bread with Serrano, goat cheese and tomatoes and house-cured anchovies. The house salad comes with hard-boiled egg and Spanish olives.
You'll notice that many of the dishes are bathed in excellent sauces. Ask for bread to mop them up.
The affordable wine list — how often do you see a $5 glass any more? — is mostly Spanish: red, white, rosé and a house-made sangria. The whole menu is affordable, for that matter, with nothing priced higher than $7. There's no dessert per se, but I suggest the bacon-wrapped dates to fill that gap. The date's pit has been replaced by an almond, the bacon is thick and the effect is decadent to the max.
A late-night menu is available after 10 p.m., mostly cold tapas.