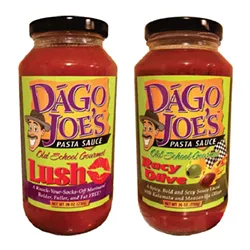 Back to Pie — As the holiday season approaches, pie begins to feature prominently in our meals. The festive dish insinuates itself into our meals as a dessert — or as a 3 a.m. snack eaten while standing in front of the refrigerator. But the same thing happens with local bakeries, who shift gears to produce more and greater varieties of pie than during the rest of the year. One of those hardworking establishments is Bake Station Bakery, with locations in Southfield and Farmington Hills. Around this time of year, they'll crank up their ovens to produce caramel-apple, apple-pumpkin, pumpkin-cream, chocolate-cream, lemon meringue and blueberry pies. What's more, since they're kosher and pareve, it's all nut- and dairy-free for those with dietary concerns. Taste for yourself, at 30760 Southfield Rd., Southfield; 248-723-9000; bakestation.com.
Casual Barbecue — C.A.Y.A Smokehouse Grill (C.A.Y.A. stands for "come as you are") is only three months old and they're introducing a new brunch menu for Saturdays and Sundays. Featuring three different French toast selections, eight omelets, specialty egg and Benedict dishes, waffles, pancakes and more, the restaurant is spreading its influence from strictly dinner to all-day good eating. Brunch is sometimes the only reason to get out of bed on a Sunday, especially when there's house-smoked salmon on the table. New brunch hours are 10 a.m. to 3 p.m. at 1403 S. Commerce Rd., Wolverine Lake; 248-438-6741.
How's These Apples? — Apparently, old Johnny Appleseed was a big fan of hard cider. Following in his footsteps, Blake's Cider Mill and Orchard is opening Blak'es Hard Cider Co., offering hard ciders and fruit wines this holiday season. Yes, Blake's is well-known for its family-friendly orchards and petting zoo, but the with craft beverages becoming such hot local items, this year they're offering wine flavors such as autumn cranberry, Armada sweet cherry, and blueberry fields. If you're craving something fruity or looking for a rustic ambience with natural wood and refurbished barn metal, drop in at 17985 Armada Center Rd., Armada; 586-784-5343; blakefarms.com.
Holiday airs — Coinciding with the downtown Rochester's Big Bright Light Show, the Kris Kringle Market returns to that locale this year. In addition to gift shopping and live music, visitors can purchase a commemorative glass mug of hot spiced wine from Fieldstone Winery or handcrafted beer from the Rochester Hills Beer Co. Inspired by the 700-year-old tradition of European open-air Christmas markets, vendors will sell fresh holiday greens, baked goods, specialty foods and more. For more information see downtownrochestermi.com.
Market outlook — It's hard to believe that there are still folks who haven't experienced a shopper-packed Saturday in Detroit's Eastern Market, but any holdouts reading this should know there's never been a better time. Heck, there so much new stuff and refurbished stuff there, even those who haven't been there in a decade should take a fresh look. To make it a little easier, consider taking a look-see with Feet on the Street Tours, which promises an interesting morning of "cultural tourism," in which guests will be treated to a festive atmosphere, comforting food, warming beverages, and even a few glimpses behind the scenes of a market Saturday. The walking tour meets for payment and registration at 9:15 a.m. Saturday, Dec. 14, at Mootown Ice Cream & Gift Shop, 2461 Russell St., Detroit; $29; tour runs 9:30 a.m.-noon; for more information, call 248-353-8687 or see enjoythed.com.

Middle Kingdom — Corktown dining is taking off, with several brand-new restaurants having opened in 2012 and a few more scheduled to hang their shingles in the new year. But Corktown isn't alone, the mid-city area is also cooking, with the opening of La Feria and Melt, and a few more in the Spring, including Selden Standard. But the latest entry is part of the Garden Theatre development project. The Woodward Gardens Block Project houses the Grille Midtown, described as "casual elegant," and main dishes include lamb chop, fillet of beef, rib-eye, fillet of salmon, pork loin, roasted half-chicken and panko chicken. The Grill Midtown be at 3919 Woodward Ave., Detroit; 313-832-0892; opens at 5 p.m. Monday-Saturday; thegrillemidtown.com.
Cheesy Fun — We weren't even aware that there was such a thing, but apparently the Royal Oak Music Theatre is hosting the Motown Macdown, Detroit's third annual Mac & Cheese Throwdown. It's an unusual fundraiser for which some of metro Detroit's best chefs will get together to compete in two mac 'n' cheese categories: Traditional with a Twist and Specialty. It all starts at 6 p.m., Nov. 15, at the Royal Oak Music Theatre, 318 W. Fourth St., Royal Oak; 248-399-2980; admission $37 in advance, $42 day of show, VIP $75).
Get Sauced — No sooner had we put last week's Gift Guide to bed than we got a late-breaking message from the folks at Dago Joe's Pasta Sauce. It seems they just got a distribution deal that will make their products available in many more local stores. Well, we didn't have time to get it in our Gift Guide, nor did we have enough time to sample it, but the producers of the Michigan-made sauce certainly deserve a shout-out. To learn more, see the Dago Joe's website at dagojoes.com.
Expanded Palette — MGM Grand Detroit's Palette Dining Studio is now offering even more new menu items to entice guests? The themes rotate nightly, with pasta and wine night on Monday, noodle bar night on Tuesday, seafood night featuring all you can eat crab legs and oysters ($38 per person) on Wednesday, and a prime-rib and shrimp night on Thursday. Palette will also be operating under new hours: 11 a.m.-midnight Monday-Thursday and dinner from 3 p.m. until 10 p.m. Accept the challenge, at 1777 Third St., Detroit; 877-888-2121; mgmgranddetroit.com.