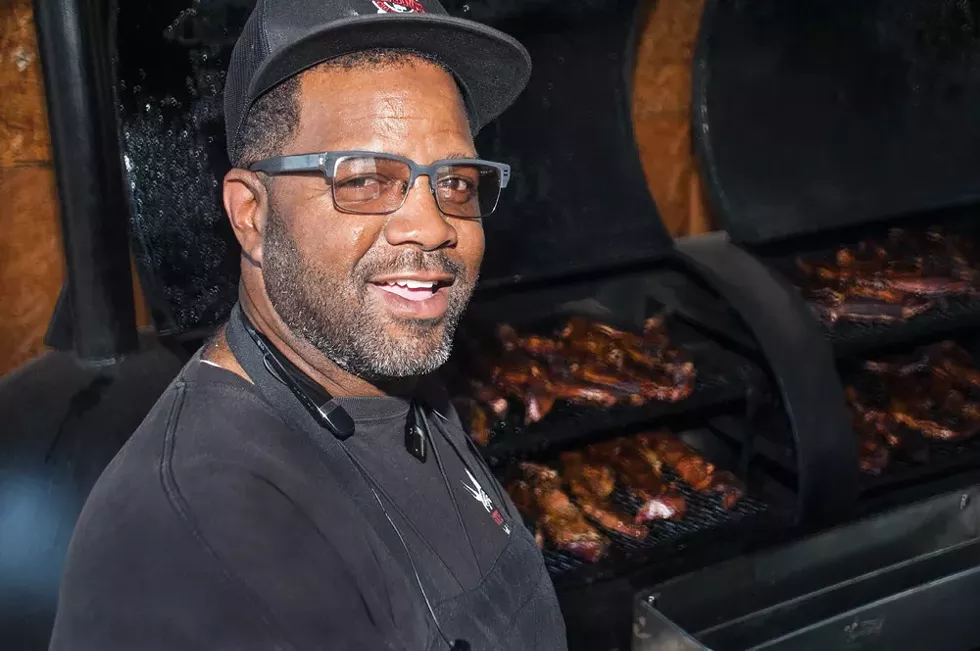 The glorious pig fat nearly melts in your mouth as the layers of rib tip meat — moist, tender, and pink from the smoke, or charred to a bark — fall apart.
The tips spend six hours above the wood coals in the smokers puffing behind Sterling's Old Style BBQ in northwest Detroit, and are — in a word — decadent. They're Detroit-style rib tips par excellence, and they cap off a two-hour conversation on a recent hot Saturday afternoon in July with Sterling's co-owner Quentin Pearson.
And though our talk takes place in the hazy smokehouse among pallets of charcoal and stacks of chopped wood, Pearson mostly isn't talking technique. And though his ribs and rubs are in demand — either in the former Wendy's he converted to Sterling's, or at the big, summer family reunions in nearby Hines Park — Pearson mostly isn't talking recipes.
On this Saturday afternoon, he's philosophical. Any questions regarding pig and bird quickly go somewhere deeper.
As Pearson explains, his decadent rib tips, smoked chicken wings, piquant sauce made from scratch, formidable ribs, the rare-in-the-inner-city brisket — it's all part of the equation, but not the end game. The latter is larger and of higher stakes than grilling, says Pearson, who's big-framed and animated while explaining his motivation. "All this," he says, gesturing to hundred pounds of rib tip meat on the smoker. "This is just a small part of it."
Many of the young men working in his kitchen are ex-inmates who left the streets. And so is Pearson, so he knows their struggle. Now 46 years old, the former drug dealer spent 10 years in prison after getting rich off his old trade. As a younger man, he never got to know some of his kids, ignored the duties of fatherhood, and stayed wrapped up in dealing, even if he always loved cooking.
It took Sterling's — which started in some form in 2014 — for Pearson to break from that life, make wholesale change, begin to make amends with his family, and repair his past life's damage.
And part of making peace with his past includes using his kitchen skills for the forces of good. Sterling's may trade in high-level barbecue, but beyond that, it's a way for Pearson to try to save a few lives after so many dark years.
"I'm really just trying to help individuals get off the street and show them something different. That's my whole thing — how else can I make a difference? Look, I destroyed so many lives while in the street, so if I can save a few now, that's all I want to do. It's worth it," Pearson says. "God gave me a gift to use and for so long all I did was wrong. I want to do something right, and cooking is my outlet."
Though he got wrapped up in drugs and the street early, Pearson also loved being in the kitchen. He grew up on Detroit's east side and entered high school just as the city's crack epidemic peaked in the mid-1980s. But despite the world around him in 1989, he won a Detroit News-sponsored cooking contest as a senior at Golightly Career and Technical Center.
That earned him a full scholarship to Schoolcraft College's locally-renowned culinary program in Livonia, but metro Detroit's western suburbs seemed a galaxy away from Detroit's east side. Pearson struggled to adjust to a structured life in which he regularly interacted with white people for the first time, and following a disagreement with a professor, he didn't return.
"Cooking was all I wanted to do, but I didn't want it for real, so I had to go through some things," Pearson says.
The next several years saw him in and out of kitchens and trouble before he opened his own place, Q's Soul Food, in 1995. But Pearson still "didn't know how to walk away from the street," he says, and a month into the endeavor he caught a drug charge that put him in federal prison for 10 years.
On the inside, he worked hard in the kitchens until his 2005 release, at which point he determined to play it straight. But the transition from prison to society is a minefield — Pearson contended with strict supervision, child support, a felony record, a reputation, old grudges, the old life's pull, and other pressures — that proved too overwhelming and stressful, and it didn't take long for him to slip back to the street.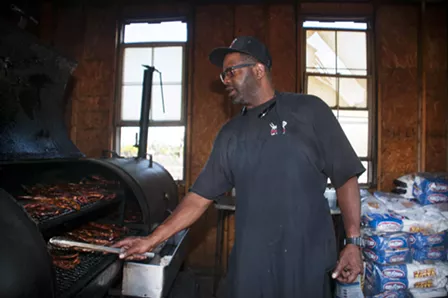 It wasn't until 2013 that an unlikely series of events touched off by a chance meeting would change his life.
That year, Pearson opened a new restaurant, Q's Soulful Soul Food, on the east side near Gratiot and East Grand Boulevard. It failed just as his new daughter was born prematurely, and he lost the business, his house, and most everything. Then, one afternoon, a friend who runs the Vestry suit shop on Jefferson Avenue rang up Pearson when a boy that the friend initially thought was Pearson walked into the store. The friend told Pearson, "He walks like you, talks like you — can't be nobody but your son."
As the three quickly figured out, it was indeed Pearson's long lost son, Sterling. And Sterling appeared to be cut from the same cloth as his old man. When he and Pearson met in March 2013, Pearson asked about his son's plans, to which Sterling replied, "I want to be like you."
That left Pearson stunned. And worried.
"I met myself at 18. It was like looking at myself, like déjà vu. And at 18 years old, I needed a man in my life to teach me to be a man," he says. "My son looked at me and said he wanted to be just like me. When I met him, I was just a wild, ambitious, foolish individual. I was a fool."
As he got to know Sterling, Pearson came to realize that his son "didn't come from where I came from" and "he needed to see something different."
Something different presented itself a year later. Sterling's grandfather is Pastor Everett Jennings Sr. of the New Providence Baptist Church at Plymouth Road and the Southfield Freeway, and in 2014 he invited Pearson to cater his church's picnic. Jennings liked the food so much that he made Pearson an offer to open a restaurant in a vacant Wendy's that he owned next to the church's property.
It's hard to overstate the generosity in Jennings offering Pearson a place to open a business. After all, Pearson is a guy who got Jennings' daughter pregnant and didn't help raise his grandson before suddenly reappearing in the boy's life almost by accident 18 years later. And it's also hard to overstate the impact on Pearson.
"That's what changed my whole life," he says. "Him accepting me and believing in me changed my whole life. Everything I thought about the streets went out the window."
Pearson named the restaurant Sterling's to honor his son, and brought him aboard. He also brought on Will Worthy, an old friend who he describes as an uncle, to help run the business. By early 2015 Sterling's officially smoked its first ribs, but Pearson took the opportunity to do something more than run a barbecue joint: He made it a good option for ex-inmates who otherwise have few.
"I'm trying to teach these guys to cook something besides drugs," he says. "I know what it feels like not to have [an option], and I know what it feels like to have one. I want to teach them what it means to stand behind what they say."
By working with Pearson, they not only learn how to cook and run a business, but they see someone like themselves being successful.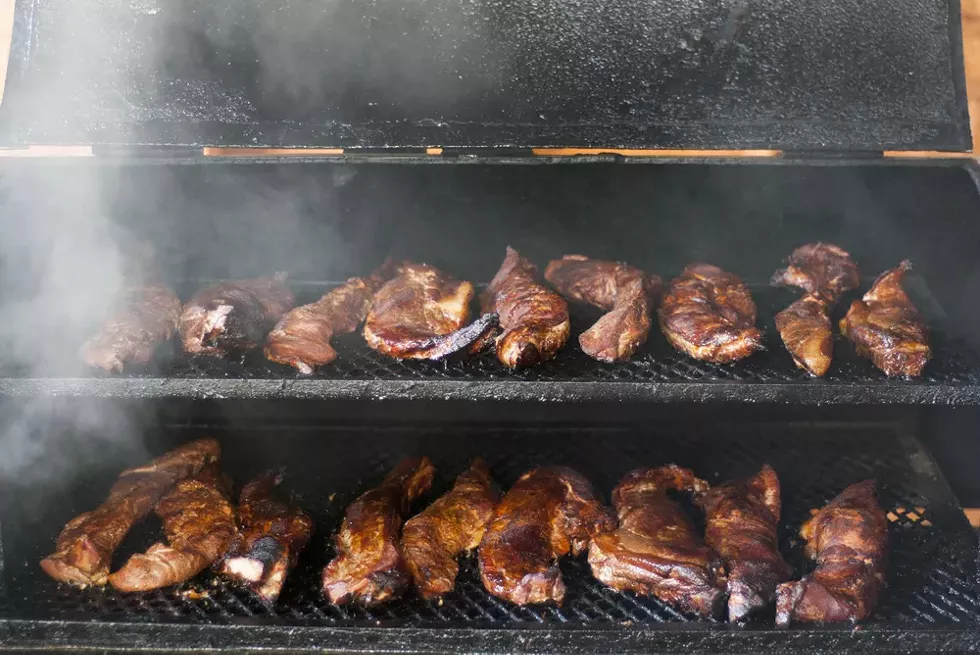 Jonathan Taylor, 37, started working at Sterling's several years ago after he met a friend of Pearson's in jail. Taylor seemed like he wanted to make a change, so the mutual acquaintance introduced Taylor to Pearson. Taylor started at Sterling's by passing out flyers, worked his way up to washing dishes, and – once he earned Pearson's trust – made it to the line.
Taylor credits Pearson with "saving my life."
"Before, I was misdirected. I didn't have any plans, no goals," Taylor says. "I got here and he showed me the business side of things, showed me how to cook, and how to slow down and be patient in life. He's now a good friend — not only just my boss, but more like a father figure."
Still, the streets are tempting on a sunny day when old friends are out partying and hanging out, Taylor says. But that doesn't beat being able to pay the bills and support his kids, and he eventually wants to open a restaurant.
"Being in the street, I can't support them like that," he says. "That's a major part of it right there. I don't want to be in and out of jail. I'd rather cook."
Of course, none of this works if what Taylor and Pearson roll out of the kitchen is no good. But the ribs, which are some of the biggest in town, are stained red from hours of treatment on the smokers, and the meat is tender and slips from the bone. The barbecue sauce is deeply flavorful and garlicky, while the big smoked chicken wings are a nice change in a town that tends to bread and deep fry its birds.
Still, though Sterling's is a positive story, it doesn't always have a totally neat, clean ending.
While many of the guys stay and grow with Pearson, some slip back to the street and just aren't ready yet, he says. And Sterling since left the restaurant to work elsewhere, though he sometimes stops in. But the relationship between the reunited father and son can be difficult to navigate.
"I was out of his life for 18 years, so it's a process. We're not on the best terms, we're not on the worst terms. That's my son, and I'm his father, so we're working to bridge that gap," Pearson says. "I'm trying my best to show him something different. The sacrifice is for me to walk away from the street life and try something totally different. So far so good."
Sterling's Old Style BBQ is located at 18241 Plymouth Rd., Detroit; 313-493-9495; sosbbqdetroit.com.