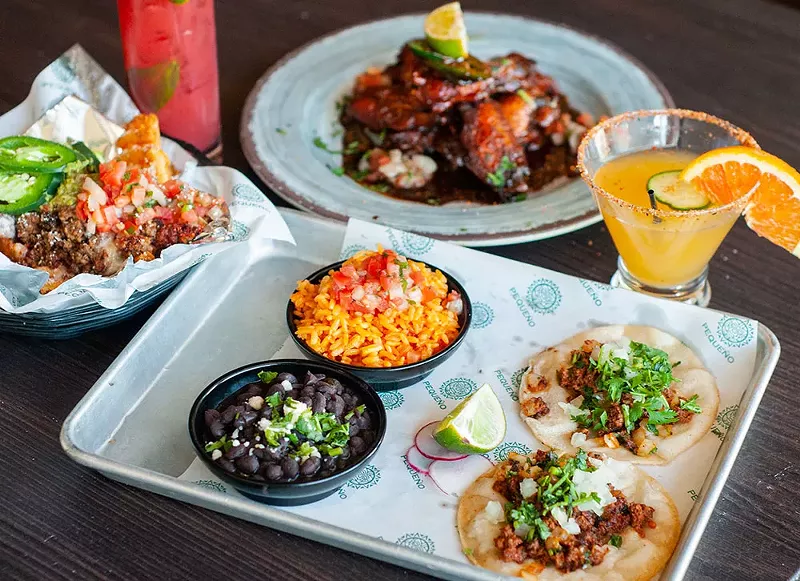 The place to start at Pequeño Cantina is the maple-lime wings, which deliver aromatic and acidic punches that are balanced out with just a touch of mellow sweetness. The exteriors are slightly crisp and the meat inside falls off the bone. Pequeño chef Frank Blackman achieves this near perfection by marinating the big wings in cilantro, garlic, and lime before they're rubbed with a house blend of spices, then baked, then flash fried, and finished with a molasses-agave-lime-cilantro sauce. There's not many flavor profiles like this in town, and Blackman is giving even the beloved wings at Detroit's mighty Sweetwater Tavern a run for their money.
Though that was the highlight of the meal, everything reached a certain level at Pequeño, which has been folding tacos on Livernois since late 2021, making it the only Mexican restaurant on Detroit's Avenue of Fashion. Blackman, a restaurant industry veteran who was once the executive chef at London Chop House, and who has had ownership stakes in Sweet Georgia Brown and 24Grille, says he has intentionally kept Pequeño's profile a bit on the low side so he could get a feel for the new concept.
It's his first restaurant in a neighborhood instead of downtown, but it's got a downtown vibe, and it's a welcome addition to an area that calls for more spots like this. You will pay downtown prices for the margaritas and some plates, but that's fine because it is worth paying more for menu items that are fresh and largely made from scratch. The menu was developed under consultation from several chefs from Mexico who spent a month with Blackman.
It shows in dishes like the birria, with its tender shreds of short rib cooked for eight hours, slow and low in its own juices, to build a rich base. Though Blackman kept his secret ingredients close, my guess is there's some kind of brightening chile like guajillo in the mix, and birria usually stews with garlic, onion, cumin, oregano, and a range of other spices and aromatics that add to the depth. Blackman wraps the beef in a corn tortilla shell with a generous portion of mozzarella, then hits it with the consomme to give it even more depth and cooks the package on the flattop to render the exterior slightly.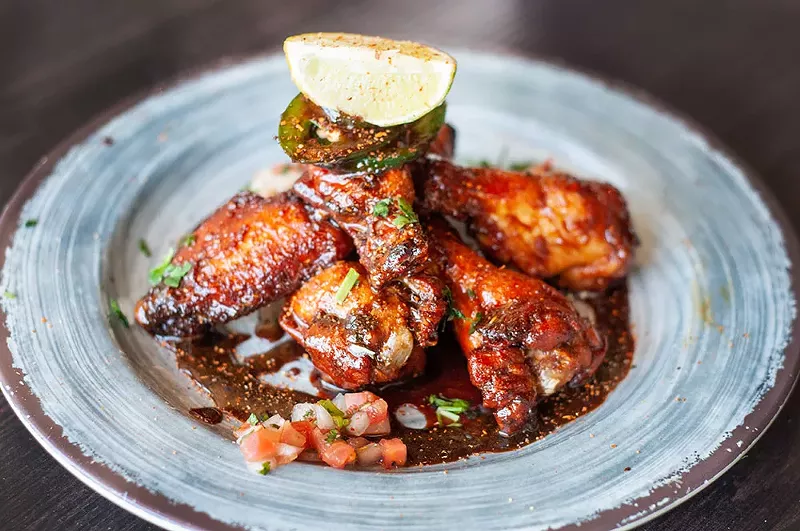 Pequeños' chicken fajitas offer herb-laced strips of bird, that, in a rare blemish, were a bit on the dry side, though the flavor made up for it and we enjoyed the dish nonetheless. It arrives with the requisite bell peppers, onions, pico, guacamole, sour cream, and rice and beans on the side.
The Pequeño fries are not pequeño at all and have a real "Flavortown" kind of vibe — loaded up heavy with queso, spicy ground beef, jalapeño, pico de gallo, sour cream, and guacamole on top of waffle fries. The fries were the pre-seasoned kind and that distracted from the superior mess of flavors, but it's a minor distraction and the plate is well worth it.
For whatever reasons, the chorizo in Blackman's tacos is among the best in town. He wouldn't reveal his secrets beyond saying that he picks it up from Honey Bee Market in Southwest Detroit and treats it with his house blend. The meat is salty, moist, and pops from what I'm guessing is a healthy dose of chile powder. The steak taco came with a flavorful New York strip, and Pequeño grills the corn tortilla shells on the flattop so they arrive warm with a slight crunch.
The bar menu is solid with a spicy margarita composed of Julio Blanco, Cointreau, fresh lime juice, jalapeño, and Tajín. When we visited, the server had to double as a bartender and she said ours were the first margaritas she had ever made. She's a natural, folks.
The salsa is made in house, as are the chips, which are excellent and come dusted with Tajín. It's this attention to detail and execution that puts Pequeño over the top, and has us waiting in anticipation for a cigar bar and pair of restaurants Blackman and business partners have in the works just down the street.
Coming soon: Metro Times Daily newsletter. We'll send you a handful of interesting Detroit stories every morning. Subscribe now to not miss a thing.

Follow us: Google News | NewsBreak | Reddit | Instagram | Facebook | Twitter