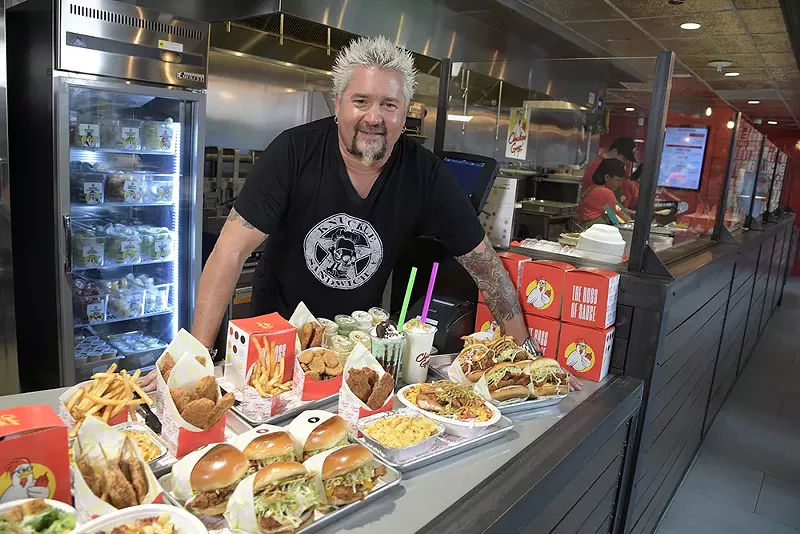 Guy Fieri, the spikey-haired "Mayor of Flavortown" known for eating his way across the country on his Food Network reality TV show Diners, Drive-Ins and Dives, will soon have a more permanent presence in Michigan.
On Tuesday, Fieri announced that he's bringing his Chicken Guy! chain of fast-casual restaurants to metro Detroit. The first is slated to open on April 1 at 30130 Plymouth Rd., Livonia, with a total of 20 restaurants planned for the Detroit area in the coming years.
"The people of The Motor City have spoken… I'm bringin' my real deal chicken tenders, sandwiches, and shakes to Livonia," Fieri said in a statement. "From shooting DDD to taking part in the Woodward Dream Cruise, the Detroit area has always been a go-to for me, so I'm stoked for everyone to give us a try. See ya there!"
The restaurants come from a partnership with The Tomey Group, a Farmington Hills-based restaurant group that opened its first Jimmy John's location in 2003 and now owns and operates more than 50 Jimmy John's locations throughout Southeast Michigan, making them the brand's third-largest franchise owner.
"We are excited to announce the opening of the first Chicken Guy! in Michigan and partner with one of our favorite chefs and TV personalities, Guy Fieri," said The Tomey Group CEO Anthony Tomey. "The food and variety of sauces is made with the expertise from Guy, that you can only imagine how delicious the food is. This is just the first location of many, as we have plans to expand to all over Southeast Michigan."
The new deal makes The Tomey Group Chicken Guy!'s largest franchise partner.
The Tomey Group partners are also co-owners for brands like 8 Mile Vodka and the Born in Detroit apparel brand.
The Chicken Guy! menu includes chicken sandwiches, tenders, and salads, with 22 signature sauces. Desserts include DDD-worthy fare like Triple Double Ice Cream Treat (triple chocolate and double-mint), or the Cinnamon Apple (described as "a heaping cup of vanilla soft serve ice cream smothered in Cinnamon Toast Crunch and Apple Jacks cereal").
More information is available at chickenguy.com.
Coming soon: Metro Times Daily newsletter. We'll send you a handful of interesting Detroit stories every morning. Subscribe now to not miss a thing.

Follow us: Google News | NewsBreak | Reddit | Instagram | Facebook | Twitter