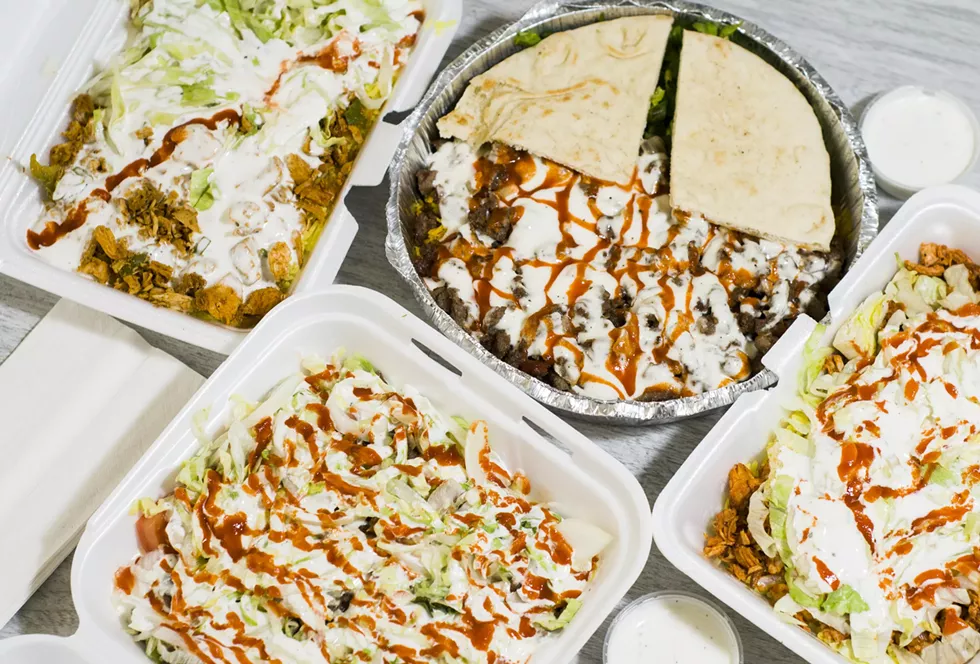 The gyro isn't a sandwich that seems to call out for deconstruction, but someone decided to take one apart, placing its parts over a mound of turmeric-yellow rice, modifying tzatziki into "white sauce," and in the process inventing the NY-style gyro. These days the dish is commonly known in NYC as "chicken over rice with white sauce," or a "gyro platter," and a plate of it is never more than a few blocks away on Manhattan. Businessmen on Wall Street line up for it at lunch, while the tantalizing smell of deconstructed gyro hangs over parts of the upper east side. There seems to be a consensus that it originated in the 1990s with The Halal Guys, a New York food cart-turned-restaurant-chain that grew as it met Muslim cab drivers' lunch and dinner needs, though there are some who dispute that. Regardless, chicken over rice with white sauce is now a Manhattan street food staple.
And now it's becoming a Hamtramck staple. Since a few Yemeni and Desi immigrants made it to Hamtramck by way of NYC, the city is now blessed with an abundance of NY-style gyros. It's found in the Yemeni and Desi-owned sandwich shops and pizzerias, and is perhaps the city's most underrated dish.
Each restaurant or food cart's version is slightly different, but, in general, it includes small bits of ground up chicken or lamb that's been marinated in a spicy sauce. A coating of that is laid over turmeric or white long-grain rice, and is mixed with some combination of crunchy shredded iceberg lettuce, diced white onion, and diced tomato. The "white sauce" in Hamtramck is ranch, though in New York the food carts sometimes use a combination of Greek yogurt, mayo, and spices. The whole bed is then covered in squirts of hot sauce. We visited Hamtramck's sandwich shops and pizzerias to try all the city's NY-style gyros. Here's what we found.
Fantastic Subs
9335 Conant St., Hamtramck; 313-974-6073
Fantastic Subs, a small sandwich shop on Conant, serves deep-red, spicy chicken that's a bit livelier than most, and is sautéed with red onion. That goes over a bed of yellow rice and is covered in a layer of crunchy shreds of iceberg lettuce. No diced tomato and white onion at Fantastic, but it's deluged in hot sauce and ranch, with is, in my opinion, a good thing for a condiment-driven dish.
Hello Shawarma
12197 Conant St., Hamtramck; 313-771-5405
Hello is a small shawarma parlor that opened on Carpenter around a year ago and makes its NY-style gyro with hunks of lamb gyro meat instead of ground chicken. That rests on a bed of yellow or white rice, depending on who makes it, and thick layers of lettuce, tomato, onions, sriracha sauce, and house made ranch.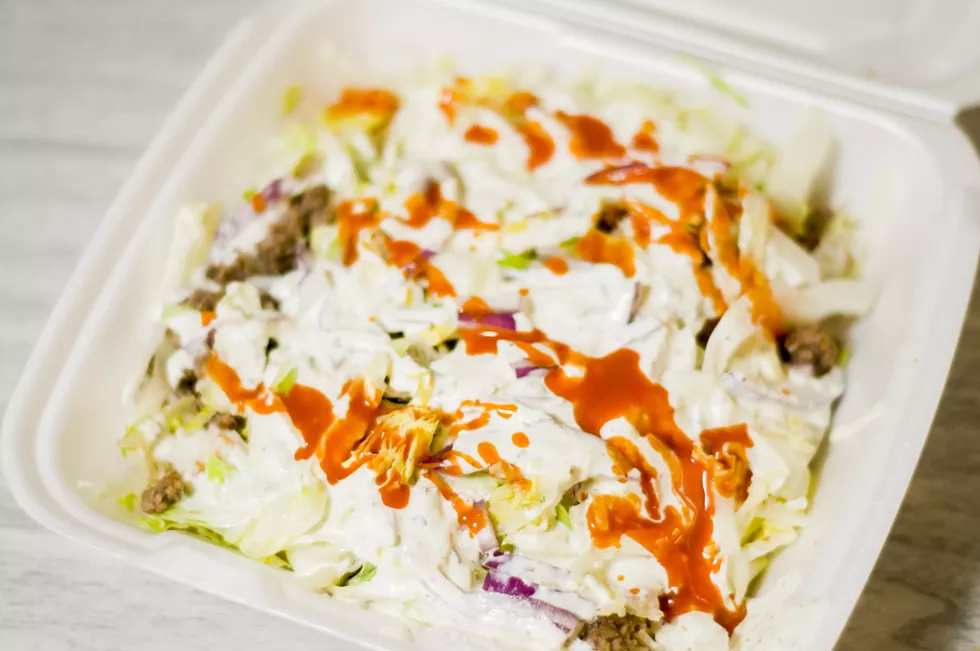 Halal Desi Pizza
2200 Caniff St., Hamtramck; 313-365-0111
Desi is a small pizzeria on Caniff that also makes Chinese dishes and the Indian dish Chicken 65. Its NY-style gyro is assembled with spicy chicken, little hunks of sauteed green pepper, onion, and shredded iceberg lettuce. The package is coated with ranch and gets only a little hot sauce across the top. No diced tomato and white onion.
NY Pizza Baby
11401 Joseph Campau Ave., Hamtramck; 313-332-0362
With arguably has the best restaurant name in town, this spot makes a solid NY-style gyro, too. It comes with crumbles of flavorful lamb and bits of sauteed onion that's all served under shreds of slightly crunchy, deep green romaine lettuce instead of iceberg. The lettuce comes in its own little compartment in the carryout container so it doesn't wilt before you eat it, which is a nice touch, and this is the version that perhaps most closely resembles that of the Halal Guys. NY Pizza Baby serves it over the requisite bed of yellow rice and is the only shop in town that also slips in a couple pita triangles.
Al-Qamar
10240 Conant St, Hamtramck; 313-875-5592
Al-Qamar, a tiny pizzeria and sandwich shop on Conant, is generous with its portion of salty, slightly greasy lamb meat that's on a big base of white rice. It also arrives with hunks of crunchy white onion and diced tomato to go with the shred of iceberg lettuce, hot sauce, and ranch.
So many restaurants, so little time. Sign up for our weekly food newsletter delivered every Friday morning for the latest Detroit dining news.