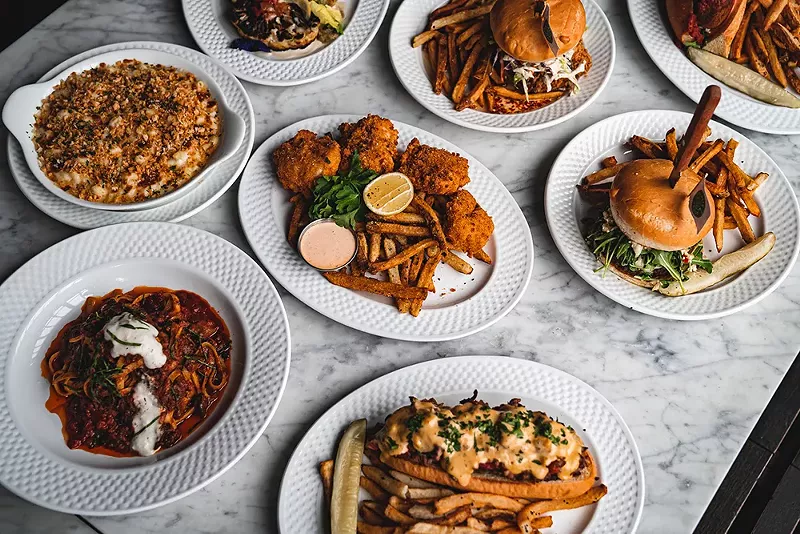 Public House has once again tweaked its menu, now bringing in chef Darius Hamilton to take over the Ferndale restaurant's two kitchens.
According to a press release, Hamilton is bringing an elevated comfort food approach to its vegan and carnivore menus, which includes Southern soul food and Italian-inspired dishes.
"I was taught to create flavor profiles," Hamilton said in a statement. "That means picking ingredients for their natural flavors and highlighting what is important to the dish to complement the palate."
The "Meat Side" menu includes items like carne asada fries, sandwiches, fish and chips, and mac and cheese. The "Vegan Side" menu includes items like a veggie burger, Brussels sprouts, cauliflower steak, mushroom bolognese, and a "vegan" carrot cake.
"We really went off of customer reviews to see what people were asking for," Hamilton added. "We aren't using any soy-based, pre-made items. Everything is from scratch, with the vegan side more vegetable forward."
Hamilton comes to Public House following a stint as executive sous chef for Birmingham's Townhouse, with additional experience at Detroit's Prime + Proper, Grosse Pointe Farms' Dirty Dog Jazz Cafe, and the Osteria Francescana in Modena, Italy.
A spokesman for Public House parent organization Hometown Restaurant Group confirmed to Metro Times that Megan Shaw, previously of the former pop-up-turned-brick-and-mortar vegan spot Street Beet, is no longer with the company. Shaw joined Public House in 2022, first as a consultant and later as a full-time head of its vegan kitchen.
"Megan's an incredibly talented and creative chef, and we wish her the best in her future endeavors," Hometown Restaurant Group communications director Kevin Elliott tells Metro Times.
Originally opened in 2013 under the same ownership as Ferndale's Imperial taco spot, Public House was acquired by Hometown Restaurant Group in 2021, which added a second all-vegan kitchen and menu.
Hometown Restaurant Group also operates other Ferndale restaurants including One-Eyed Betty's, Pop's for Italian, and Tigerlily. The group is also currently renovating the former Rosie O'Grady's, which will reportedly become a mixed-use space with a Tex-Mex barbecue restaurant and apartments.
Coming soon: Metro Times Daily newsletter. We'll send you a handful of interesting Detroit stories every morning. Subscribe now to not miss a thing.

Follow us: Google News | NewsBreak | Reddit | Instagram | Facebook | Twitter