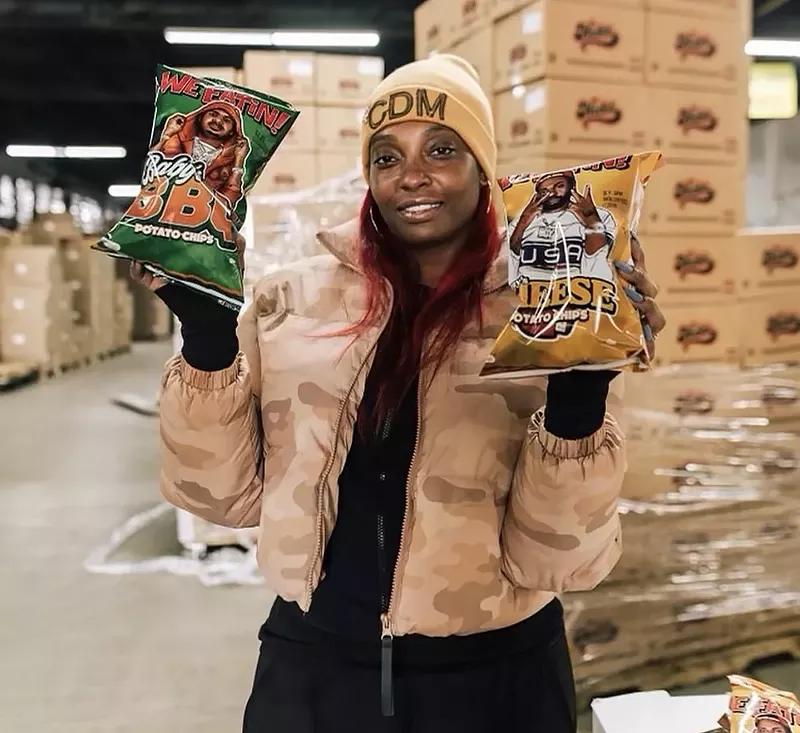 Detroit's snack food industry is stitched into the culture here as much as the Big Three, Coney Islands, potholes, and Carhartt. Every Detroiter has grown up having a favorite potato chip and Faygo combo, and munches on Kar's Nuts on the Tigers' opening day. But if you've been paying attention to the gas station and convenience store snack aisles lately, you might have noticed bags of "Vezzo Hotz" potato chips sporting an illustration of rapper Icewear Vezzo showing his iced-out grill and gold chains.
The chips made their debut last May, the first offering from the newly formed Detroit-based snack food company We Eatin' and distributed by fellow Detroit snack food company Nicks Chips. At the end of 2022, two more Detroit hip-hop-inspired flavors had been released: Peezy's Cheese potato chips based on Peezy and Baby's BBQ potato chips based on Baby Money.
"I have been trying to get these to market since 2020," says Chanel Domonique, founder and CEO of We Eatin'. "I literally had to go through the whole COVID scenario of [the price of] corn syrup going up, supply chain issues, and not having enough employees at certain manufactures."
The chips are now available in more than 250 stores, Domonique says, and more than 200,000 bags have been sold so far, with popularity steadily growing. Domonique has her hands in every aspect of the production process, testing seasonings, quantity, and quality, and every bag has a QR code on the back that links to the latest music, merch drops, or performance dates from the featured artist.
She's managed the career of Icewear Vezzo for years, and felt it was only right that his offering was the first flavor launched.
"I was thinking about so many names and people, but Vezzo's had to be the first ones," she says. "We've grown together. I've literally been there since the beginning."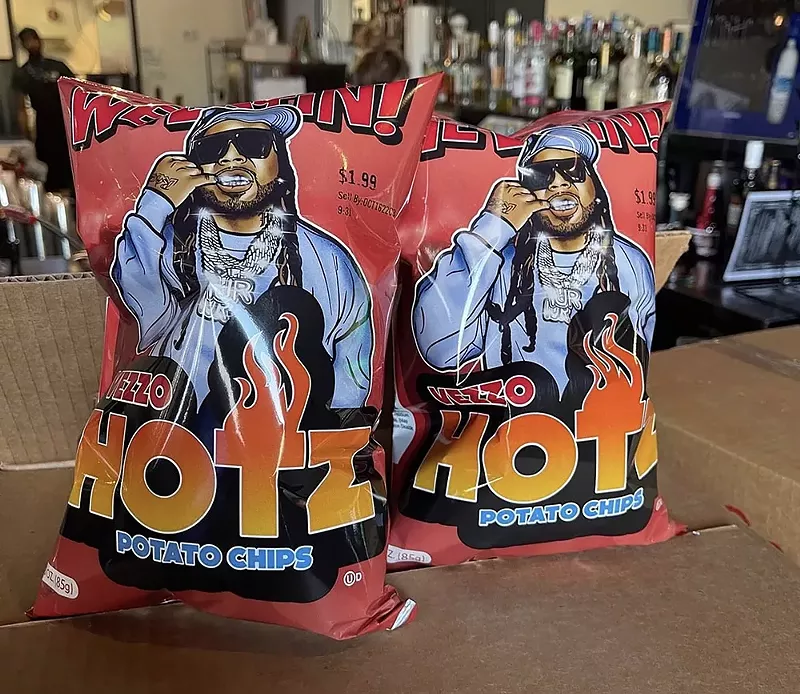 On one hand, the chips are an example of the notoriety and celebrity of today's current wave of Detroit hip-hop all-stars. All three emcees had banner years last year. Icewear and Baby Money both inked record deals with industry giant Quality Control Music, while Peezy has Kim Kardashian making a TikTok video to his mega hit, "2 Million Up." But more importantly, the chips represent another way hip-hop has always been able to take mainstay shards of American culture and remake it into something that reflects its fanbase.
Domonique is not the first visionary to marry hip-hop and snack foods. In 1994, a Philadelphia brand called Rap Snacks was born and has put some of the biggest names in hip-hop on bags of chips. But We Eatin' is intimate and unapologetically Detroit. These aren't rappers thrown on bags of chips for the sake of selling bags of chips. These are home-grown artists, and every flavor is meant to capture their essence, energy, and presence in Detroit.
"I had them send me what their favorite flavors are, and then we create some type of dynamic," Domonique says. "I allow for each influencer to be involved with everything, even how their bag will look. … It also goes with who they are as influencers. Vezzo is hot as fuck. Peezy's Cheese, well, he's got a record going crazy called '2 Million Up.' Baby Money BBQ, it's a money-green bag and he's Baby Money."
Domonique also plans to tap into Detroit's film and entrepreneurial culture for future flavors.
"Every influencer I'm putting on these flavors and allowing to have their own line launched have built it out of the mud, whether they're an artist, an influencer, or a small business owner," she says. "Because I am coming for entrepreneurs as well — even in our movie market where we have a lot of actors that, even though they are local, they are in so many films that they have an audience."
We Eatin' isn't stopping at just snack foods. Domonique envisions a McDonald's-like extended universe where characters, personalities, YouTube shows, tutorials, and content will all be available. For teens, topics like, "How to make a beat" or "How to start a clothing brand" will be featured while animated characters similar to Cocomelon or Grace's World will be geared toward children.
"The influencers will be a special guest in each episode," Domonique says. "For toddlers, it might be a jingle with Vezzo rapping about ABCs for the kids, teaching life skills. We have characters that will be introduced to the market next year, and I'll be launching TV commercials. There will be a lot of community engagement to pour back into the city of Detroit. We'll be doing a few different lifestyle events for the flavor launches, and there will also be a more nationwide reach."
More information is available at weeatinsnacks.com.
Coming soon: Metro Times Daily newsletter. We'll send you a handful of interesting Detroit stories every morning. Subscribe now to not miss a thing.

Follow us: Google News | NewsBreak | Reddit | Instagram | Facebook | Twitter