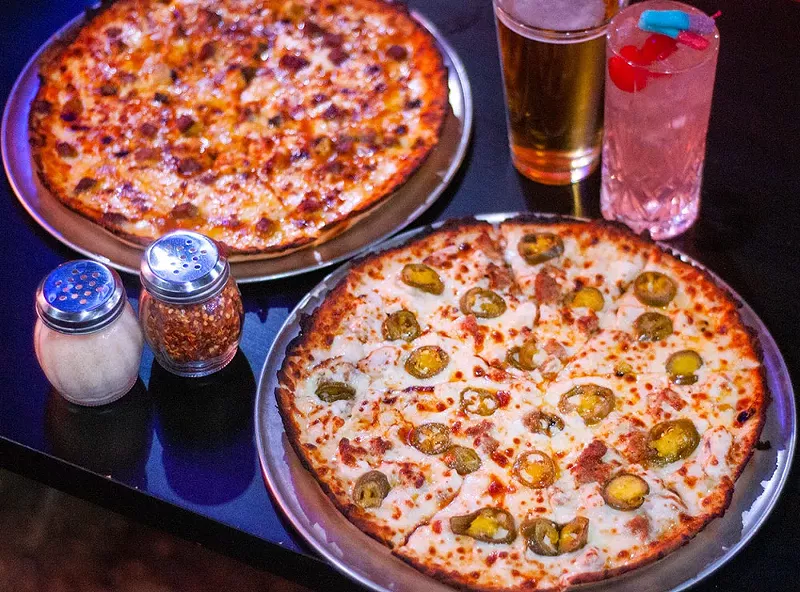 Whenever the discussion turns to what to order, I always vote against pizza, just because I've had it one hundred million times. But every time I'm outvoted and faced with a big, droopy slice, I scarf it happily. There's a reason we have 75,000 pizza restaurants in the U.S.: we love our gooey, carb-y, tomato-y slices. (But note there are 91,000 burger places, which does not include all the relatively high-end places that find — to their chagrin? — that their burger is their best-seller.)
Actually, Pizza Cat is less carb-y than most. Co-owner Andre Robinson refers to crust as "waste," and the Cat chefs don't build one up around the edges of their pies. Rather, it's a soft, flat, extremely thin piece of dough with the toppings spread right to the edge. You can still eat the slice with your hands, but it's more challenging with no crust edge to hold onto.
I believe it's considered cooler, among some pizza aficionados, to value the crust most, more in line with a true Italian pizzaiolo; the toppings are seen by those in this school as mere add-ons, and you're lucky to get one leaf of fresh basil per slice. I've never been in that camp, but Robinson and co-owner Matt Wojtowicz take the anti-crust philosophy to the nth. They advertise more than a million topping combinations, offer 36 defined pies, and add to that some pies for dietary specialties, all under the slogan "Keep Pizza Weird."
Personally, I found it weird to have my ID scanned and my male companion thoroughly patted down on entering Pizza Cat. The explanation? "It's downtown." Maybe some will find this level of vigilance reassuring. If you weird out, they have your ID on file.
Pizza Cat, in the former space of the Ready Player One arcade in the Globe Building, has a basement-hang-out feel, with speckled concrete floors, a high decibel level, and five TVs. We had an exceptionally sweet server and our pies arrived quite quickly. Happy hour, when cocktails are $2 cheaper, runs from 3 to 9 p.m. Monday through Friday.
Though you can, of course, build your own, a scan of the suggested combos shows a higher proportion of pineapple and salami than you might find elsewhere. (This changes; the paper menu is different from online, and there's a seasonal "Motown Shakedown" menu with pies named after Berry Gordy's greats.) Two of the pies sport five kinds of meat, but there are eight vegetarian options, a vegan pie with a gluten-free hemp crust, and keto pies where the crusts are made of chicken. All told, there are five crusts, 23 sauces, and 32 toppings. (But no fresh basil leaves.)
Are the ingredients weird? Is anything on a pizza weird anymore? There's not a single unusual topping ingredient on the build-your-own list, if you don't count dairy-free cheese, and for sauces, it's at least debatable whether ranch or Thousand Island is good on a pizza. However, the suggested combos offer Flamin' Hot Cheetos, Grippo's potato chips (Official Chip of the Cincinnati Reds), and kraut, and see below for some unusual crusts, so I won't argue with the owners' brags about their weirdness.
I liked just about all the pies I tried. All were well laden, though the slices seem smaller without a crusty edge. The Little Caligula was generous with both cheese and jalapeños, in addition to spicy garlic butter, chicken, and sausage. The barbecue sauce on the Carolina Brisket was very sweet, on top of pineapple, so — yes, sweet. The Smelly Cat lived up to its billing with garlic butter sauce, red onion, roasted garlic, salami, and sausage, with the salami dominating. The Fetaterranean was generous with Kalamata and green olives, as well as chicken and feta, but I didn't think the feta worked that well; call me weird.
The keto crust, which is just as thin as the others, is made with shredded chicken breasts mixed with herbs and binders, then pressed into the pie pan to create the shape, and pre-baked. I honestly didn't find it different from the normal crusts — remember, they're all very thin — but it was good with roasted garlic and artichokes, slightly spicy.
The hemp crust involves hemp seed and is dubbed "NOT HC," both vegan and GF. I thought it tasted a bit like weed, but general manager Tay Henderson assured me this could not be, and really, how could that flavor out-muscle Carolina boom sauce, bacon, and sausages? There's a cauliflower GF crust too.
Desserts such as brownies and cupcakes are from JessiBelles in Toledo, home of the first Pizza Cat.
Pizza Cat has a full bar, with the emphasis on cocktails and shots. I liked my Meow Mule — tangy and not too sweet — and my Paw Print, with strawberries, lemon juice, and Triple Sec — yes, pink in both color and conception. I will point out an option made with RumChata and Fireball with a Cinnamon Toast Crunch rim, and say no more.
You don't go to a pizza restaurant for wings, which Pizza Cat has, nor especially for bagels. The "Monroe and Central steamed bagel sandwich" was stuffed tall with brisket and a six-cheese blend, but the bagel seemed a lot like a bun. It was slightly larger than a cannonball, but the same weight.
A credit card service fee of 3.25% was added to our bill, and a gratuity of 16%.
Coming soon: Metro Times Daily newsletter. We'll send you a handful of interesting Detroit stories every morning. Subscribe now to not miss a thing.

Follow us: Google News | NewsBreak | Reddit | Instagram | Facebook | Twitter