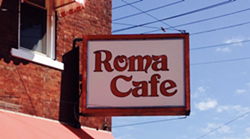 The Roma Cafe has abruptly closed down, but its head chef will reopen a new restaurant in the space in September.
Crain's
reports that a sign left on the door by owner Janet Sossi Belcoure reads "after 127 years of continuous service at this location, Roma Cafe is out-of-business and permanently CLOSED.
Grazie molto
to all of the incredible people over the years who helped create so many wonderful memories at Roma."
It's signed "Love & Pasta."
Guy Pelino, who has been head chef at Roma for three years and worked at Mario's in Midtown for 14 years, tells
Crain's
that he will reopen after Labor Day under the name of Roma's Cucina.
"We'll keep the same traditional dishes, keep the charm of the place," he said. "We don't want to lose any of the customers that have been coming here for years. We want to keep the legacy going."
What happened? It's not immediately clear, but could have something to do with
pressure
that the new crop of restaurants is putting on the older establishments to evolve, keep up, or go out of business.