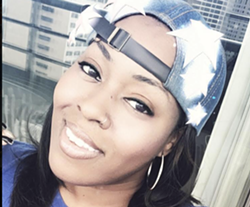 Bayview Yacht Club pastry chef Crystal Smith is a champion on the Food Network show "Chopped".
The
Detroit News
reports
that the 34-year-old chef and single mom of three is now $10,000 richer, and will use the money to help her new company, You Had Me At Cake 313.
In "Chopped", chefs must prepare a dish from a box off assorted, odd ingredients that they are given along with some regular kitchen items. Four chefs compete over three rounds, and the show's three judges decide who's chopped at the end of each round. The last chef standing wins a $10,000 prize.
Among the dishes that Smith prepared was a mixed berry shortcake after she was given pastry flour, oven-roasted grapes, marshmallow fluff, and lemon balm. She also made a pan-toasted chicken with a mushroom cream sauce and sautéd kale entree out of a basket filled with kale, roasted mushrooms, chicken breast and crème puff dough.