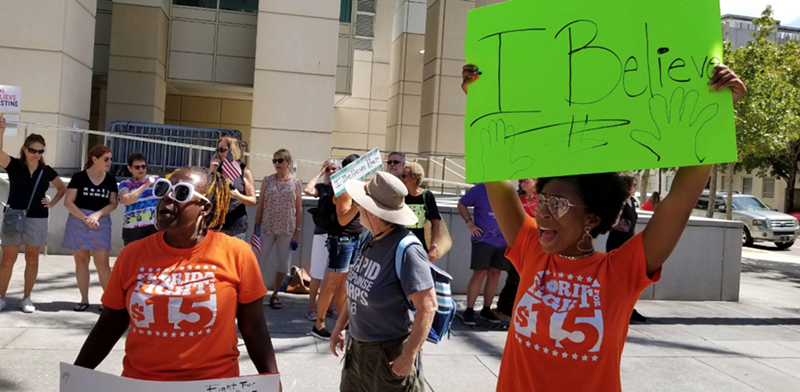 Around 1,000 fast food workers in Detroit and Flint will strike on Oct. 2 to demand union rights.
The workers will walk off the job on Tuesday, and return at their next scheduled shift. The Flint and Detroit strikes kick off a nationwide walkout by fast-food workers demanding union rights from their employers in battleground states on Oct. 3 and Oct. 4.
Beyond the fast food industry, those involved are calling for union rights for employees with major local employers like Metro Airport, the downtown Ilitch parking lot district, local hospitals, the home care industry and the child care industry, among others. The goal is to improve workplace conditions and safety.
Democratic gubernatorial candidate Gretchen Whitmer, Flint Mayor Karen Weaver, congressional candidate Rashida Tlaib and members of the Detroit City Council will join workers in Detroit and Flint. The event is organized by Fight For $15.
In a release, Fight For $15 says the fast food and other local union and nonunion workers plan to launch a 2018 election canvass in which they will knock on hundreds of thousands of doors to help elect candidates at the local, state and federal level "who will use their power to make it easier for workers to win a union."
The Detroit rally is planned for 1 p.m. at Warren Park on Wayne State University's campus, also known as
Gullen Mall
. It's part of the national movement pushing for a $15-per-hour minimum wage. For more info, check the
Fight For $15 page
.
So many restaurants, so little time. Find out the latest Detroit dining news with our weekly food newsletter delivered every Friday morning.