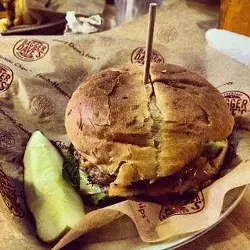 Bagger Dave's Burger Tavern abruptly shuttered three of its metro Detroit burger shops in the last two weeks,
MLive
reports.
That puts the company down seven stores statewide since 2015 when it closed its underperforming downtown Detroit location and three shops on the state's west side.
What could be behind the closures? Lowgrade product? Saturation in the marketplace? No —
the casual dining recession
is to blame, Michelle Fiebing, director of marketing at Bagger Dave's, tells
MLive
.
"It has been well-documented that the casual dining category is experiencing a recession, [so] we are focusing on strengthening our brand further with optimizing existing locations and operational efficiency," Fiebing says.
We suspect that it might also have to do with the product and marketplace saturation. Over the last decade, a lot of regional and national burger chains like Bagger Dave's, Wahlburgers, Shake Shack, or even Basement Burger Bar cut into the fast food/casual market in metro Detroit. Some even argue that there's
a restaurant bubble in downtown Detroit
, and the weakest of the herd — or those with inferior product — may go down.
One also shouldn't underestimate the effect of the local food movement. As restaurant industry analyst TD2nk
reports
, chain sales are down nationally.
And that's encouraging news if one is a local restaurateur who's
considering opening
a Wes Anderson-themed burger shop in downtown Detroit — despite the fact that downtown already
has quite a few
burger restaurants. But if you're looking to franchise, then now might not be the time to enter the metro Detroit burger market.