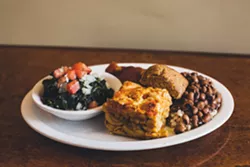 The first annual Detroit Black Restaurant Week is set for Aug. 21 and organizers Kwaku Osei-Bonsu and Lauren Bates of BlackMetroEats.com are pulling together the line up.
So far, participants include:
-Sweet Soul Bistro
-River Bistro
-Detroit Vegan Soul (both locations)
-Yum Village West African food truck
-1917 American Bistro
-Le Crepe
House of Pure Vin will also host a wine tasting on August 24 from 5:30 p.m. to 8:30 p.m. that will feature food pairings from some of Detroit's up and coming female chefs.
Fine dining establishments are offering a $25 three course lunch and $35 three course dinner. Casual dining establishments are offering a meal that includes one entree, two sides and a beverage for $15.
Osei-Bonsu tells
Metro Times
that organizers are working through registrations from other restaurants and he expects to add more before the event. Stay tuned for updates.